Golteum(GLTM) And Aptos(APTOS) Go For Increased Scalability and Security
Disclaimer: The text below is a press release that is not part of Cryptonews.com editorial content.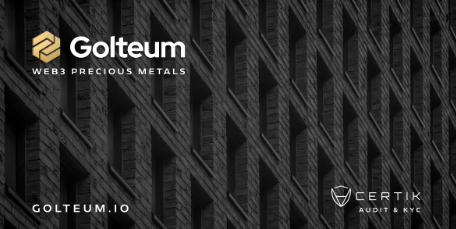 The popularity of cryptocurrencies and blockchains is increasing at a rapid rate, as are the number of users and transactions.
While it's easy to see how revolutionary blockchain is, scalability and security have always been a challenge.
A selected few coins, including Golteum (GLTM) and Aptos (APTOS), stand out for offering a novel approach to security and scalability.
While Aptos (APTOS) leverages Meta's Move programming language to help scale its network, Golteum (GLTM) employs Ethereum's polygon layer-2 solution to scale its network.
However, there's more buzz around Golteum(GLTM), with its revolutionary 100% decentralized Web3 platform that seamlessly combines trading of tokenized precious metals and other cryptocurrencies into one user-friendly interface.
This innovative strategy has positioned Golteum as a prominent player within the industry for several years to come.
Aptos(APT) Utilizes Meta's Move ''Prover'' To Improve Security & Scalability
APT is the underlying token for Aptos, a layer-1 blockchain network developed by Aptos Labs which aims to be safe, scalable, and upgradable.
To ensure the security and scalability of the network, Aptos is using the Move programming language developed by Meta.
Despite a recent rise in the trading volume of APT, overall market sentiment remains weak and buyers are going to be waiting for price stability before entering the market.
Golteum on the other hand offers stability and potential for explosive growth.
Golteum (GLTM) As A Revolutionary Platform
Golteum(GLTM) is a revolutionary platform and its offering puts it ahead on the radar of top crypto investors.
Golteum is multi-asset Web3 platform that enables trading of crypto assets and precious metals and it poses some great prospect as the platform approaches launch.
Golteum delivers a more cost-efficient and secure purchase experience with new features that have not been seen before on any Web3 trading platform.
Beyond the platform's scalability, the benefits of Golteum are fascinating. The integration of Fireblocks cyber security technology to ensure the safety of its platform against any form of cybercrime.

Also leveraging Chainlink's proof-of-reserve & Oracle price feeds to provide real-time price and safety of assets, and Certik's full security evaluation of both the smart contracts and team members positions it as the industry top shaker for years.
These top-tier alliances set Golteum up for some interesting price trends ahead and early investors are looking to capitalize on the prospect.
GLTM is the primary utility token that unlocks exclusive benefits within the ecosystem of Golteum.
As a utility token, it grants you access to a wide range of advantages, including payment discounts, rewards, staking, priority support, private events, lending schemes, and other premium features.
The presale phase offers early investors the opportunity to acquire GLTM tokens at a discounted price before the public sale.
The initial round of the presale was privately sold out within just 2 days. The public presale round 2, allows early buyers to get in at $0.012 with a 15% exclusive discount.
Experts predict the token price could go as high as $5 in the coming weeks as the total market cap of tokenized assets is expected to reach $ 16 trillion by 2030.
With Golteum, individuals can diversify their investments and engage in the growing ecosystem of fractionalized NFTs, providing potential for long-lasting returns. Join Golteum Now.
For more information about the GLTM Presale:
---