Golteum (GLTM) Strong Presale Performance Highlights the Resilience of Aave (AAVE) and Arbitrum (ARB) in the Face of Market Fluctuations
Disclaimer: The text below is a press release that is not part of Cryptonews.com editorial content.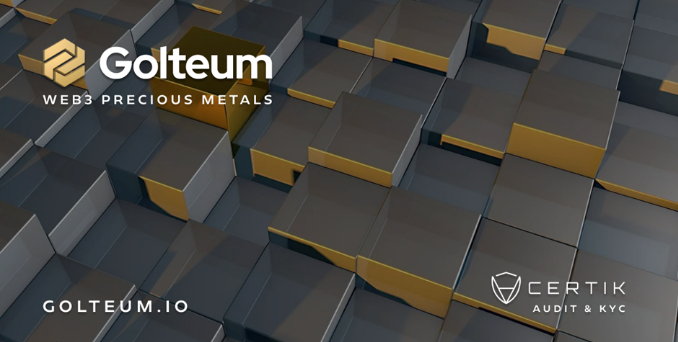 The cryptocurrency industry is a space filled with advanced technologies and innovative solutions.
Nevertheless, established crypto platforms like Aave (AAVE) and Arbitrum (ARB) have taken further steps towards global awareness by introducing new crypto projects and solutions even during fluctuating markets.
Another innovative platform is Golteum (GLTM) which has attracted massive attention from the industry with the upcoming launch of its multi-asset trading platform, which has capitalized on metal-backed tokens.
Golteum's strong performance in its first presale has spurred a frenzy leading to investors vying for a chance to purchase the GLTM token and be a part of the metal investment revolution.
Arbitrum DAO Takes a Gamble: $770 Million Worth of Arbitrum (ARB) Tokens Set to Stay Locked for Four Years
Arbitrum (ARB) is a layer-2 scaling solution built on the Ethereum blockchain, designed to improve scalability and efficiency.
Recently, Arbitrum DAO voted in favor of AIP.1, a proposal that will lock up a staggering $770 million worth of ARB tokens for four years.
The news comes amid shaky governance in the Arbitrum (ARB) ecosystem.
Earlier in April, the Arbitrum (ARB) ecosystem experienced backlash after proposing a grants program to transport 700 million ARB tokens to the Artbitrim Foundation.
A proposal was put forward to return the allocated Arbitrum (ARB) tokens; however, it was rejected.
This spurred skepticism and concerns over the transparency of the crypto project.
The rejection prompted the adoption of AIP 1.1 and locking of millions of Arbitrum (ARB) tokens in a vesting contract.
Aave (AAVE) Token Holders Decide Fate of 1,600 Ether with Proposal for wstETH and rETH Conversion
Aave (AAVE), one of the world's leading decentralized finance (DeFi) crypto protocols, is witnessing a critical governance moment that may have significant implications or cause major changes in the Aave (AAVE) ecosystem.
Aave (AAVE) token holders have proposed to convert $3 million worth of Ether (ETH) cryptocurrency to wstETH and rETH tokens to diversify all available collateral options within the Aave ecosystem.
As the DeFi space continues to grow and expand rapidly, Aave (AAVE) has decided to focus on its protocol's flexibility and efficiency, allowing users to engage the cryptocurrency platform further while providing a secure collateral pool.
After the announcement, Aave (AAVE) cryptocurrency increased by 7.24%, and the proposal has gotten favorable votes to issue the Ether conversion.
GLTM Token Mania: Investors Racing to Seize Golteum's Metal-Backed Investment Opportunities
Reports have disclosed that Golteum, an innovative precious metals-backed Web3 trading platform, has officially launched its second presale round.
During Golteum's first presale, which was a private event, the GLTM token was selling for $0.0074.
However, due to its high market value, the GLTM token now values at $0.012 and may increase higher as the innovative Web3 cryptocurrency platform advances.
This is because Golteum is an unparalleled Web3 trading platform allowing investors to trade cryptocurrency and precious metals intuitively.
Golteum offers users vast accessibility to metal markets and enables them to invest in tokenizes precious metal assets like gold or silver.
The platform utilizes a proof of reserve mechanism, which enables transparency in tokenization processes and provides users with advanced scalability features.
As a DeFi protocol, Golteum also allows users to trade their GLTM tokens or swap their tokens for any alternative cryptocurrency.
This makes it the first platform to offer both the trading of tokenized precious metals, as well as cryptocurrencies.
Golteum's tokenization process is further secured with Fireblock's security protocols and comprehensive range of connectivity features, which ensures versatility in the Golteum ecosystem.
Golteum utilizes the Fireblocks tokenization engine for issuing all asset-backed tokens in the ecosystem.
Golteum has recently undergone an audit by Certik, a leading blockchain security firm, and six team members underwent a KYC verification, following which they were awarded silver badges.
Experts have predicted a 700% return on investments for GLTM token holders as they continue to invest in the innovative platform.
Likewise, the Boston Consulting Group expects tokenized assets market to become a $16 trillion industry by 2030.
Given this, Golteum is poised to grow alongside this market till it hits its explosive phase.
Explore Golteum's innovative Web3 trading platform today and take advantage of its 15% bonus on GLTM tokens in the current presale round to build your portfolio of metal-backed investments and reap massive rewards.
For more information about the GLTM Presale:
---