Golteum (GLTM) to Reach $5? And What Happened to Aptos (APT)?
Disclaimer: The text below is a press release that is not part of Cryptonews.com editorial content.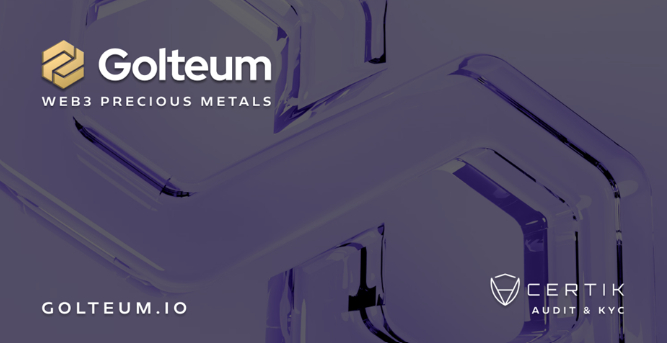 Cryptocurrency traders and investors constantly look for the next big thing in the crypto ecosystem.
In recent times, Golteum (GLTM) has been the coin on everyone's lips and has caught the attention of investors due to its impressive functionalities and price performance.
In this article, we shall examine why Golteum is enjoying a successful outing amid increased demand from investors.
Before that, let's look at what happened to Aptos and why some holders are also getting in on Golteum (GLTM).
Why Aptos' (APT) Holders are Considering a Move
Famously dubbed 'the Solana Killer,' Aptos (APT) has failed to reach the heights many projected.
The layer-1 blockchain claimed to have answers to the problems that other networks faced and promised to solve the trilemma issues of scalability, decentralization, and security.
However, since its launch, Aptos (APT) has failed to deliver on those promises and hasn't seen much action, with many decentralized platforms still opting to build on top layer-1 blockchains like Ethereum and Solana.
Also, Aptos (APT) hasn't been in the news for the right reasons. Most recently, hackers hacked the Aptos Foundation's Twitter account to promote airdrop scams.
This has become worrisome for holders who joined the Aptos community, hoping that Aptos' security proposition will be a game changer for the crypto space.
As such, these holders are considering their options and looking for safer investment options like Golteum, especially considering that the Boston Consulting Group has forecasted that tokenized assets will be a $16 trillion industry by 2030.
Golteum (GLTM) Provides A Safer Investment
Golteum is a multi-asset platform that enables users to trade and invest in precious metals and cryptocurrencies.
With the aid of non-fungible tokens, users can have fractional or complete ownership of precious metals like gold, silver, and platinum.
Golteum is undoubtedly revolutionizing precious metals with decentralized tokenization, a unique selling point that has caught the attention of investors.
Furthermore, the platform has gone to great lengths and adopted several technologies to ensure that the whole investment process is transparent and decentralized.
For instance, Golteum's precious metal treasury is backed by Chainlink's Proof of Reserve. This technology allows access to real-time monitoring of the off-chain reserves.

It is also important to state all NFT tokens are backed 1:1 with accredited precious metals, and users can redeem their physical assets at any time.
Investors can also rest assured that their physical assets are safely stored at Golteum-affiliated vaults worldwide.
These vaults are regularly audited by external auditors and with Golteum having several vault networks, the possibility of a single point of failure is eliminated.
Golteum is bringing exciting possibilities (alongside precious metals) on-chain, and its success so far has transcended the ecosystem's utility token GLTM.
The first presale round for the token was a huge success despite being a private sale, with 32.5 million tokens selling out within 48 hours.
Going back to transparency and accountability, it is worth mentioning that GLTM's smart contract has been audited by Certik and found to be clean and secure.
Furthermore, six members of the team have been KYC'd and awarded the silver badge for compliance.
Join The Golteum (GLTM) Presale Now
Other investors still have a chance to invest in the presale stage as the second presale round is ongoing, alongside a 15% bonus for those who participate in this round.
Each token costs $0.012, which is a steal considering many experts predict that GLTM's price could rise to as high as $5 once it gets listed on major exchanges.
Buy GLTM now on the presale and secure your early spot.
For more information about the GLTM Presale:
---