This Gaming Startup is Changing the Rules of Play to Earn With an Ecosystem That Betters The Sandbox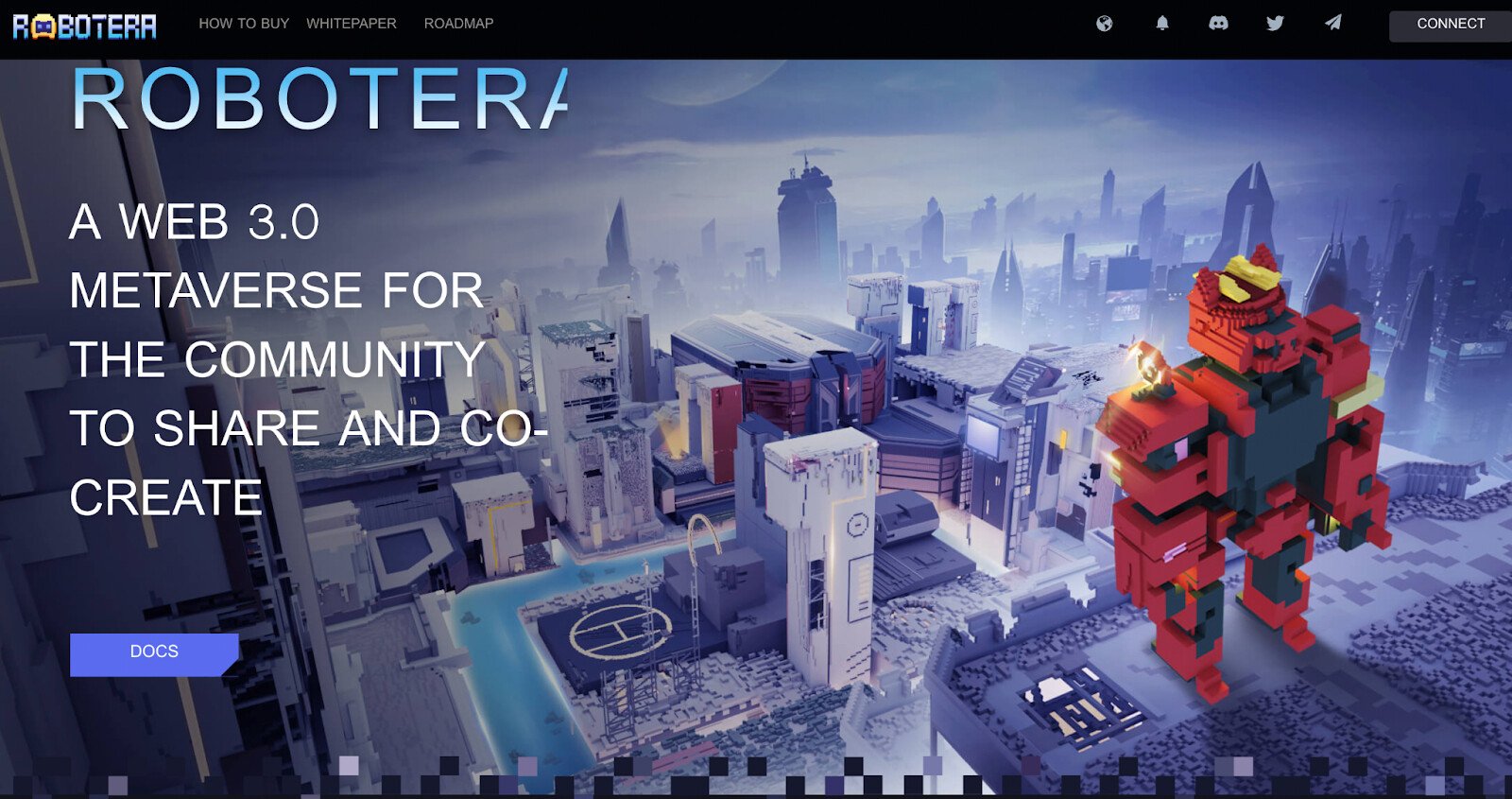 With the popularity of metaverse platforms exploding, gaming enthusiasts are spoiled in their choice when it comes to metaverse gameplay experiences. One such platform, RobotEra, is set to emerge as a top contender in this rapidly growing field.
Drawing comparisons to metaverse giant The Sandbox, RobotEra is looking to set itself apart with an unprecedented ease of use, along with greater sophistication in creative capabilities. It aims to provide players with a highly immersive Web3 gaming experience that is designed to cater to both novices and seasoned players alike. Let's take a closer look at why RobotEra is quickly becoming a game-changer in the metaverse gaming world.
First, RobotEra aims to bring NFT-powered gaming to a wider audience than the Sandbox by making a much more streamlined building interface that allows players to more easily build sophisticated game assets.
As a robot within this metaverse game, players will be able to acquire resources, manage their own land, create robot companions, and participate in the creation of a brand new world, all with complete freedom to imagine and create anything they can dream up, while also collaborating with other players to bring their ideas to life.
But RobotEra is much more than just a game; it is a new era of interactive, immersive gaming experiences that has been designed to take advantage of the power and potential of cryptocurrencies and digital assets. By leveraging the power of blockchain technology, RobotEra is able to offer a fully shared world that connects the unique lands of its players together, opening up endless possibilities for concerts, theme parks, museums, and much more.
Players will be able to use their creativity and strategic thinking as they explore the vast, immersive metaverse, create their own unique lands and robots using the powerful editor tool, and discover special hidden spaces that offer tradable rewards. At the heart of RobotEra is the Central City, a bustling hub of activity that offers challenging quests, special rewards, and a chance to connect and collaborate with other robots in the metaverse game.
The platform has been designed to be accessible and easy to use for players of all levels, with a user-friendly interface that offers intuitive navigation and simple yet powerful tools for creating and sharing your own unique creations within the game. And with the ability to earn cryptocurrency and digital assets as you play, RobotEra offers a new and exciting way to build wealth while having fun.
RobotEra's Driving Story Makes Metaverse Game More Intriguing
The story of RobotEra is just as compelling as the gameplay itself. Set in the alpha galaxy, the game takes place on the planet Taro, which has undergone a great cataclysm. Once a vibrant planet with a prosperous civilization, Taro was devastated by a brutal war between the aborigines and the robots, leaving it a desolate and barren wasteland. But at the last moment of the war, the humanoid scientist, Prosius, achieved a major breakthrough in his research on the "robot singularity." He activated a "new life" and detailed his plan in a protected document called "The Last Chance."
With the last aboriginal survivor gone, 10,000 robots with human-like thoughts and emotions now open their eyes, and a new era for Taro begins. The robots have become the masters of this new world, tasked with restoring the planet to its former glory and bringing forth a new civilization and a brighter future.
NFT Driven Gameplay Tokenizes All Game Assets
RobotEra provides a new and engaging Web3 gaming experience that allows players to transform into robots and explore an expansive and immersive universe. Players can customize their land, craft custom robot companions, and mine resources to build assets and buildings in an immersive and massive game universe.
Within the game, robots belong to seven different factions, each with its own set of attributes and benefits. As players acquire Robot NFTs, they can gain access to several advantages, such as the right to trade and rent their secondary robot companions, mine minerals, and receive airdrops.
Robot Companions are essential allies in the game, and they can help players complete a variety of tasks beyond what they could do with just their initial primary robot, enhancing their overall gaming experience.
These unique companions can be created through the machine component workbench and the robot companion workbench, with customizable appearances using the Robot Editor. Every Robot Companion is an NFT and can be traded or leased within the metaverse game.
Land is also a crucial component of RobotEra's gameplay experience, and each piece of land is a unique NFT generated by the system. Players can use their creativity to build anything they desire on their land, from a beautiful sky gardens to an underground bunkers or castles.
By holding Robot NFTs, players can mint their own land, which can be traded or leased to others. There are several benefits to owning land, including the opportunity to operate, build, and acquire resources from it.
RobotEra's ultimate goal is to offer a powerful metaverse game platform that seamlessly integrates entertainment, creation, management, exploration, and interaction. This allows players to enjoy a fully immersive experience while also earning money through their contributions to the in-game economy.
RobotEra Editor Enables Players to Build a Customized Metaverse
RobotEra empowers players with an easy-to-use editing suite that helps them build structures and characters on their land, generating corresponding NFT digital assets.
The RobotEra Editor is a game-changing feature that allows players to personalize their creations without requiring coding skills. With the editor, players can build production factories, mine for components, and power blocks on their land, construct buildings and decorations with item blocks, and create robot companions.
In essence, the RobotEra Editor is a tool that lets players unleash their creativity, allowing them to construct and customize their land and characters in any way they desire. The characters and land created by players generate unique digital assets that can be traded, adding a new dimension to the metaverse experience.
Players can create anything they want on their land, from mines to factories and other structures, and the RobotEra Editor enables them to bring their creations to life. With its comprehensive set of features, the editor provides players with a platform to express themselves in the metaverse, creating works of art or high-tech assets.
RobotEra: A Dynamic, Immersive Metaverse Powered by NFTs
RobotEra's primary goal is to create a dynamic and immersive metaverse platform that seamlessly integrates entertainment, creation, management, exploration, and interaction, creating a frictionless play-to-earn experience. Players will have several ways to earn significant income, such as cultivating "sacred trees," selling NFTs, advertising, staking tokens, and more.
RobotEra seeks to provide an interactive and engaging Web3 metaverse gaming experience where players can unleash their creativity, explore new worlds, and build lasting connections with other players. The metaverse's DAO ensures that all players can propose or decide the implementation strategy of their own faction, as well as determine the use of tokens in their treasury.
Players who have good ideas and make significant contributions can apply for RobotEra rewards, which provide them with additional income. This incentivizes players to get more involved in the game, resulting in a more interactive and dynamic community.
With its dynamic and immersive metaverse game, RobotEra is determined to bring the world of blockchain gaming to a wider audience. With the ability to create their own robot character, explore new parts of the world, and own land, this game has something for everyone.
Disclaimer: The Industry Talk section features insights by crypto industry players and is not a part of the editorial content of Cryptonews.com.
---