Futures: The Future of the Crypto Space, and a New Battlefield for Crypto Exchanges
Disclosure: Crypto is a high-risk asset class. This article is provided for informational purposes and does not constitute investment advice. By using this website, you agree to our terms and conditions. We may utilise affiliate links within our content, and receive commission.
Disclaimer: The text below is an advertorial article that was not written by Cryptonews.com journalists.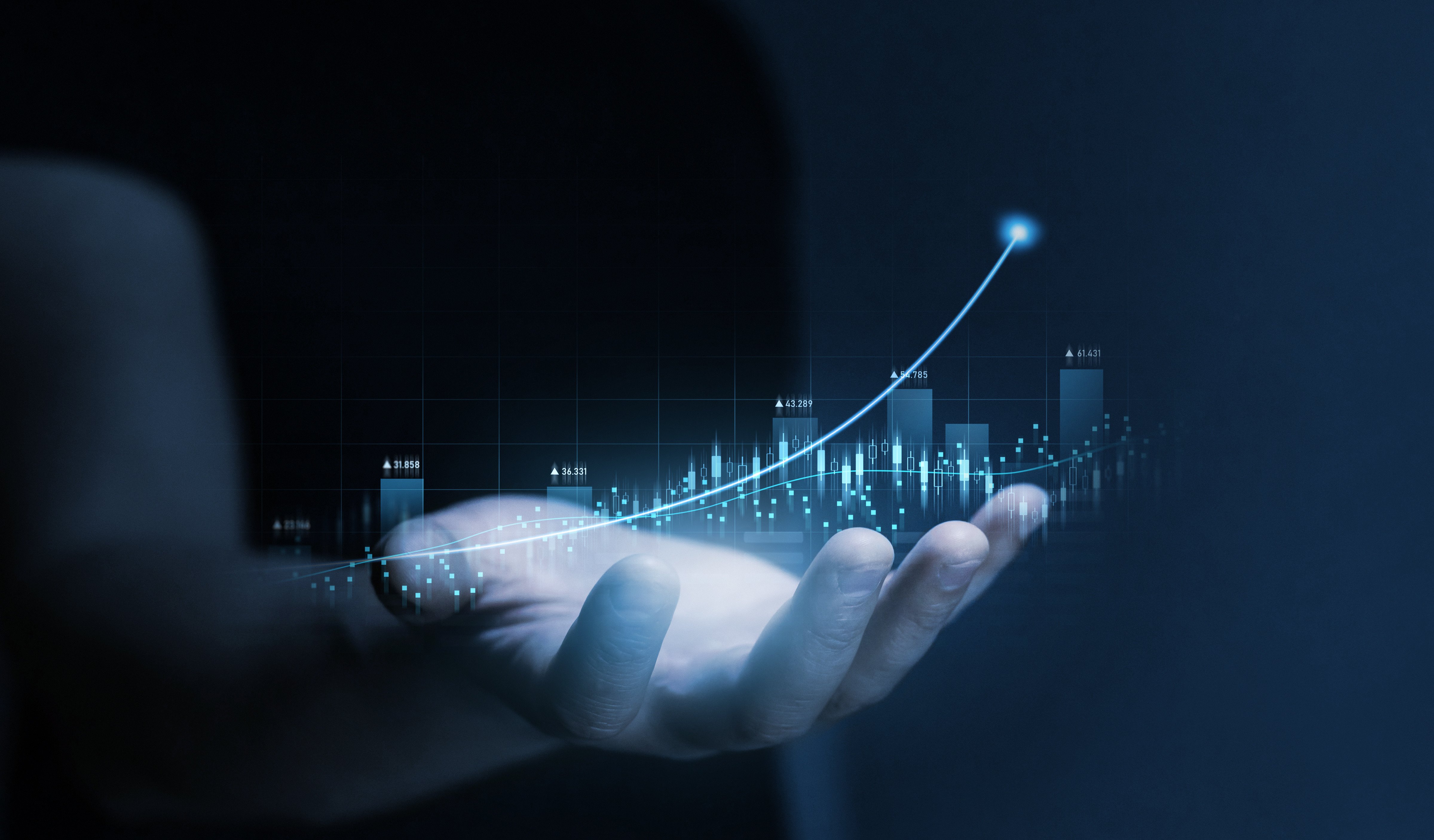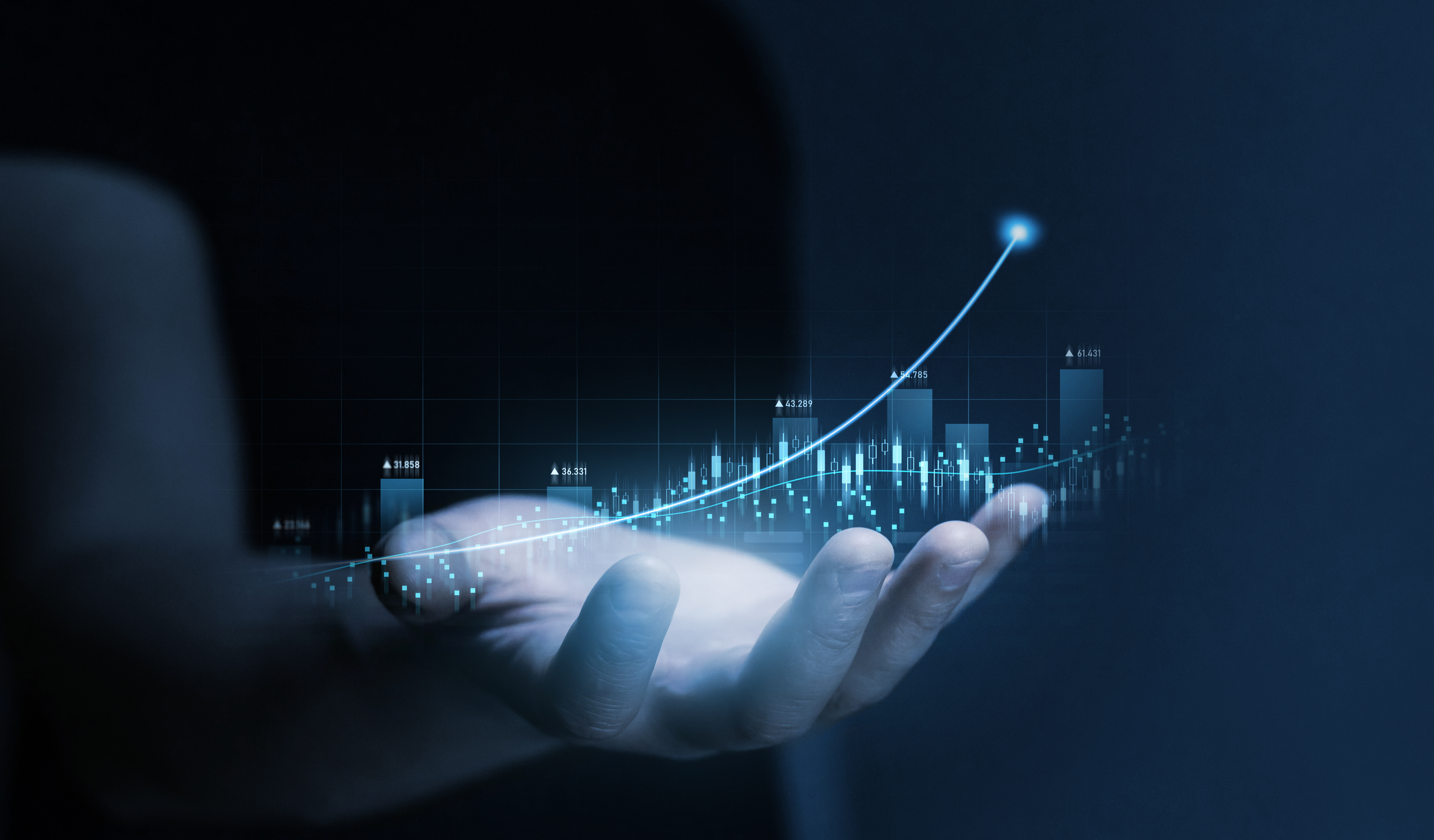 Over the past few years, the crypto market has continued to expand, and the total market cap of cryptocurrencies peaked at nearly USD 3 trillion last year. Thanks to their rising potential and outstanding performance, more users worldwide are starting to adopt and invest in this kind of leading emerging assets. As the number of crypto investors goes up, the market has expanded and matured. Meanwhile, derivatives, which are an essential component of conventional financial markets, are playing unique roles in the crypto space.
Futures trading volume increases and facilitates market growth
The introduction of conventional derivatives provides investors with more tools to avoid risks, hedge against depreciation risks, and built reasonable portfolios. As the crypto market expands in terms of both breadth and depth, the futures market often trumps the spot market when it comes to leading price discoveries. A big financial market facilitates the development of derivatives, and derivatives will in turn help the financial market become fully-fledged.
Perpetual futures contracts are the most widely used crypto derivatives. In 2018, BitMEX introduced perpetual futures contracts, making it the first crypto exchange to ever launch such derivatives. Later on, many more exchanges also released crypto futures, covering contracts margined by mainstream cryptos and USDT. Meanwhile, the trading volume of perpetual futures contracts has continued to grow.
According to a report by TokenInsight, the total spot trading volume recorded by centralized exchanges and decentralized exchanges in 2021 reached USD 49 trillion, while the total trading volume of perpetual futures contracts hit USD 56.8 trillion, a 358% increase compared with the USD 12.4 trillion derivatives trading volume in 2020.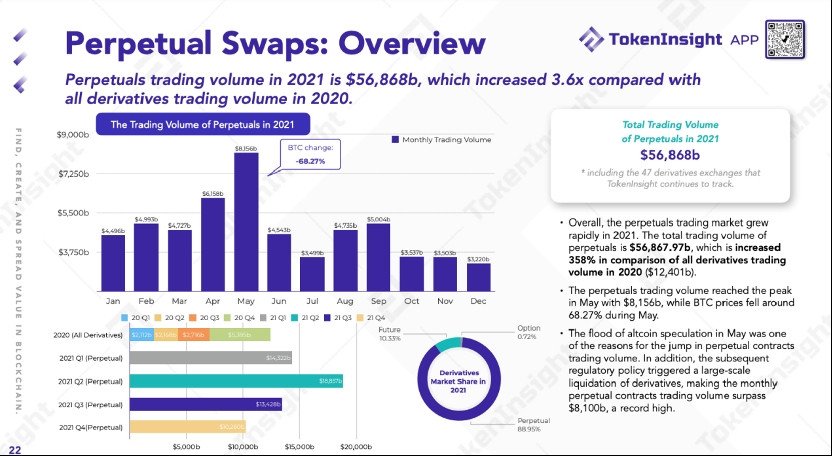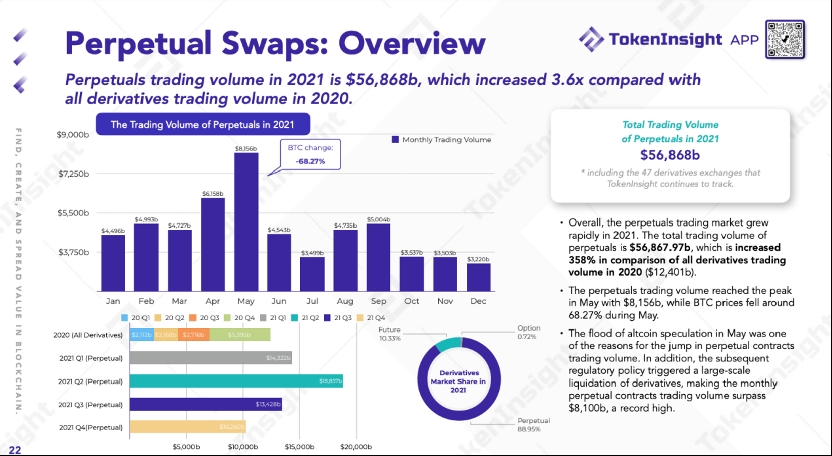 Perpetual futures contracts remain promising, bringing a sudden change to the field of crypto exchanges
Although the crypto perpetual futures market is growing rapidly, there is still huge room for improvement in the trading volume compared with conventional futures exchanges. Despite the sharp falls in the crypto spot price, the trading volume of perpetual futures has not been much affected, and most traders have stayed highly active, according to coinglass.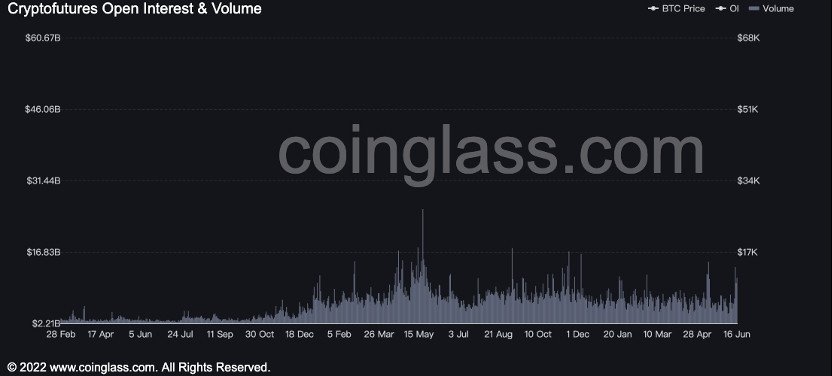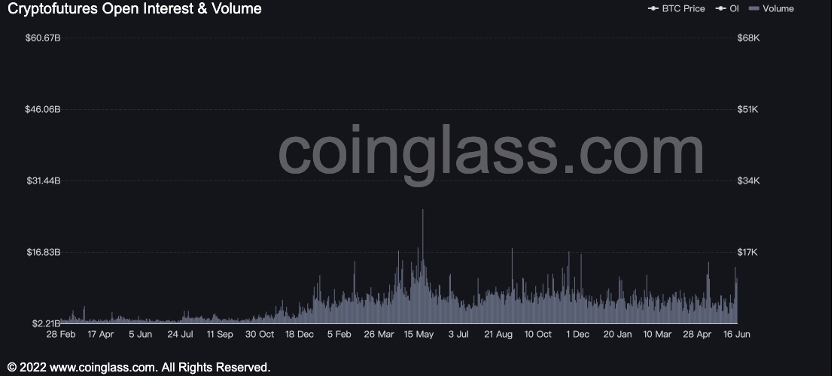 Exchanges are fully aware of how significant futures is to the crypto market. Right now, of the over 500 exchanges listed on CoinMarketCap, more than 50 of them provide derivatives services. Since BitMEX first launched perpetual futures contracts, we have seen many changes in the landscape of the top futures exchanges. Hit by compliance issues, the pioneer BitMEX gradually lost its leading position. Meanwhile, Huobi and OKEX, which had once been two of the top three exchanges in terms of futures trading volume, have their prosperity on the decline due to local policies.
As an emerging market with huge potential, crypto futures is becoming a new area of fierce competition among exchanges. So far, the result of the race remains uncertain. Some new exchanges have grown stronger over the years, especially those with unique features, covering the professional-focused exchange FTX and the easy-to-use exchange CoinEx.
A unique "challenger" that seeks to make futures trading easier
FTX was born to meet the demand of professional traders in conventional finance, and its products are also designed for veterans. The exchange bears a great resemblance with conventional exchanges in terms of the product webpage and user guides. Such a style has also helped it attract plenty of professional investors.
Committed to "making crypto trading easier", CoinEx is nothing like FTX. It has attracted numerous crypto newbies with its beginner-friendly features. Dedicated to product designs, the exchange offers more intuitive video tutorials and illustrated instructions. On CoinEx, it is extremely easy to open/close a position. More specifically, users can start a position or choose to close all on its website or mobile app. CoinEx provides detailed position information and 180-day PNL analysis, allowing investors to review their deals and make sound decisions according to the latest figures.
Furthermore, as a global platform, CoinEx is available in 16 languages and has earned the recognition of users from different regions with its localized services. To help retail investors stay ahead of others, the exchange now offers 100+ futures markets, and the figure has kept growing.
Backed by a strong tech team, CoinEx features enhanced security and has never suffered any security breach. Relying on its many advantages, including low trading fees, a versatile selection of simple and easy-to-use services, and a secure, stable system, the product-centered CoinEx might be the favorite exchange of more futures newbies in today's bear market.
The crypto market is never short of professional-focused exchanges. Meanwhile, conventional financial markets are also preparing to make a push into crypto derivatives. For instance, CBOE and CME took the lead and launched Bitcoin futures contracts in 2017. Subsequently, the SIX Swiss Exchange and Eurex have also introduced crypto derivatives. Exchanges that "took the road less traveled by" like CoinEx could be the new challengers in the futures race in 2022.
---