From USD 150k to 30m: How MicroStrategy CEO Sold Voice.com To Block.One
Prior to buying a total of BTC 38,250 for a grand total of USD 425 million, Michael J. Saylor, the CEO of MicroStrategy, an American software company, sold the Voice.com domain to the developers of Voice decentralized social media platform for USD 30 million - one of the largest publicly announced domain name sales to date.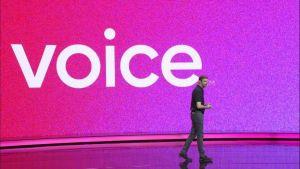 Block.one CTO Dan Larimer during the announcement of Voice in June 2019. Source: a video screenshot.
In the recent interview with Anthony Pompliano, Co-founder of Morgan Creek Digital, Saylor shared his story about the sale, which happened sometime around June 20, 2019. According to him, the initial offer was just USD 150,000 but he didn't get on the call with the buyers until the offer was raised up to around USD 22 million.
"Selling intangible assets like artwork, it all comes down to how much are they worth to you. So if you needed the 10 million dollars you would have taken the 10 million dollars but at this point, you know, I have 500 million dollars of cash in the bank, and I love my things, you know, maybe you can tell that I'm a little bit passionate about some of this stuff. So I would rather own it and not have the 10 million then sell it for that so I said no," the CEO said.
During the call, he admitted realizing that the buyer at the other end was some sort of anonymous whale who negotiated via a broker and a lawyer, so he decided to wait until they hit his bid.
"I said this is like my daughter: I'll marry her off but only to a man that's going to treat her better than I will treat her. So if you guys really value this, then give me the 30 million otherwise I'm keeping it," Saylor said, adding that "the word 'voice' in the English language is worth a hundred million." Also, according to Michael J. Saylor, the sale was his introduction to crypto.
Meanwhile, as reported in August, Voice, developed by EOS developer Block.one, is almost ready to go live, as its beta program opens its doors to the friends and family of the Voice Genesis community. Voice said it's opening up globally, now being available in 20+ countries and territories - with more coming every month.
____
Learn more: MicroStrategy CEO On Buying Bitcoin While Trillions 'Melting' In Treasuries
---