From $27 to $1M: After Pepe's Price Upswing, Could MillionaireGame ($MG) be the Next Hot Meme Coin?
Disclaimer: The text below is an advertorial article that is not part of Cryptonews.com editorial content.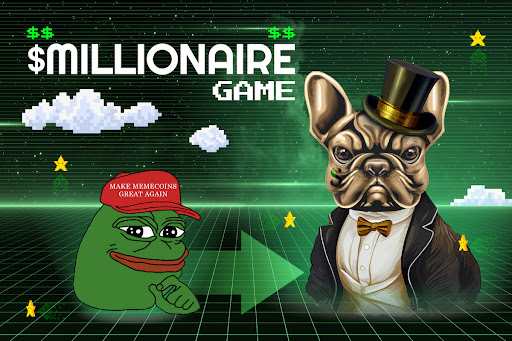 Rocketing 63% in just a month, PEPE Coin ($PEPE) recently set the crypto stage again after transforming a $27 investment into a $1 million for one investor, as tweeted by @DexGemsReal.
The latest contender, MillionaireGame ($MG) amazes investors by aiming to "MINT" a Millionaire Every Month.
$MG has just experienced an 18% increase within days since launch.Distinguishing itself from the crowd, MillionaireGame ($MG) is dedicated to fulfilling investors' dreams of becoming millionaires.
Without resorting to improbable catchphrases, it recognizes that the pursuit of rapid wealth is what drives investors of meme coins.
The Sustainability of MillionaireGame's Model
Each token holder has an equal shot at becoming a future crypto millionaire. Winning odds are directly tied to the amount of tokens owned, ensuring a level playing field.
Managed by smart contracts, the game upholds fairness and transparency.
The tokenomics design of MillionaireGame guarantees a thriving prize pool for over half a century. With a token supply limit of one billion tokens, MillionaireGame ($MG) is paving the path for sustainable expansion.
Pros and Cons: Should You Put Your Money on $MG?
Prioritizing returns, MillionaireGame dismisses fantastical promises, such as environmental advocacy or subculture. It understands that the real draw for meme coin investors is the potential for financial gain.
While the allure of becoming a millionaire is pulling in many to MillionaireGame ($MG), skeptics cast doubt on the coin's longevity. The team claims that the coin's value is backed by community power and our instinctive drive to fight for a better life for ourselves and for our families.
Similar to the initial skepticism faced by $PEPE, the team behind $MG believes it will be the standout meme coin of 2023 and invites the most steadfast players to participate.
Currently, MillionaireGame ($MG) is in its presale stage, suggesting a likely upward price movement and offering rewards to the daring investors who hang in there till the finish.
What's Next?
After the presale event, the token is slated to debut on top-tier exchanges, followed by the game's official start.
Plans are reportedly in place to first list on DEX, and then CEX, with the objective of mitigating liquidity risks via upcoming staking mechanisms.
As we witness the evolving narrative of meme coins, will MillionaireGame ($MG) become the next big hit? It's essential for investors to weigh the potential returns against careful assessment.
MillionaireGame (MG) Presale Information
Website: https://www.millionairegame.net/claim-discount
---