Four Must-Have Tokens For The Next Bullrun 2023: Optimism (OP), Renq Finance (RENQ), Lido DAO (LDO), And Aptos (APT)
Disclaimer: The text below is an advertorial article that is not part of Cryptonews.com editorial content.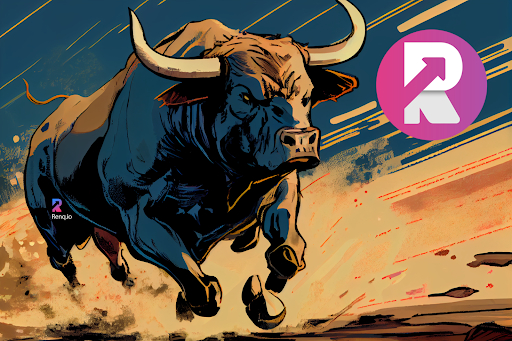 According to industry experts, Optimism (OP), RenQ Finance (RENQ), Lido DAO (LDO), and Aptos (APT) are the four must-have tokens when readying yourself for the next market rally. RenQ Finance (RENQ) leads the pack with its high potential to increase portfolio returns significantly and endorsement by most market experts, making it an attractive investment option.
APT has been tipped as one of the top cryptocurrencies for 2023, with its market price expected to rise further in the coming months and years. Investors can also be optimistic about the prospects of the innovative technology behind OP for the next year and beyond. Additionally, LDO has shown a strong bullish uptrend and could be a good investment for the remainder of 2023 and the next crypto bull run.
Optimism (OP): How it Works and Why You Need it in Your Portfolio
Optimism (OP) is a layer two chain that uses optimistic rollups to ensure data processing is done off-chain correctly, while Ethereum on layer 1 provides data integrity and availability. Transactions occur on Optimism, but data about transactions are posted to the Ethereum mainnet, where they are preserved. Its goal is to reduce costs and increase the speed of transactions on the Ethereum network.
With around $850 million in total value locked (TVL), Optimism has proven to be a successful layer 2 scaling solution, making it a great addition to any cryptocurrency portfolio. It provides users access to Ethereum's decentralized applications with cheaper transactions and a smoother user experience. Considering its recent phenomenal start in 2023, it is evident why investors should consider adding Optimism to their portfolios.
Lido DAO (LDO): A Deep Dive into the Token and its Potential for Growth in 2023
Lido DAO is a Decentralized Autonomous Organization that manages the liquid staking protocol through the governance token held by DPG holders. The organization enables users to stake their locked Ethereum into other protocols, and it currently has the highest total value locked of all decentralized finance protocols.
The Lido DAO builds liquid staking services and votes on future proposals within the ecosystem. The LDO token serves as the governance token for the organization and is based on Ethereum. The project has already undergone audits by Quantstamp, MixBytes, and SigmaPrime.
Lido DAO is a promising project offering liquidity solutions for staked assets and staking rewards. Its token, LDO, allows for governance decisions within the organization. With its high-value locked and dedicated team, Lido DAO has the potential for significant growth in 2023 and beyond.
>>>>> BUY RENQ TOKENS HERE <<<<<
Aptos (APT): What You Need to Know About this Emerging Token and Why it's Worth Adding to Your Portfolio
Aptos (APT) is an emerging token with key characteristics that set it apart from other alternative tokens. Aptos (APT) serves as both a governance and a utility token, and the team is committed to ensuring interoperability between the various components of the Aptos ecosystem.
Despite a rocky start with a drop in value from around $13.75 to $7.20, Aptos (APT) is the native currency of the Aptos (APT) blockchain, with a total initial supply of 1 billion and a current circulating supply of 130 million APT. Its distribution includes community, core contributors, foundations, and investors. Overall, Aptos (APT) is worth considering as an addition to your portfolio.
RenQ Finance (RENQ): An Overview of the Platform and Why it's a Must-Have Token for the Next Bullrun.
RenQ Finance (RENQ) is a DeFi platform that aims to make decentralized finance accessible to everyone, regardless of their level of expertise. The platform provides a seamless experience that combines the benefits of centralized and decentralized exchanges.
RenQ Finance (RENQ) is a disruptive multi-chain non-custodial DEX that elevates decentralized trading by allowing users to trade directly through the RenQ wallet app. The RenQ wallet app combines all DEXs into a single Decentralized App (dApp), giving users an extensive range of liquidity sources. With this feature, DeFi users can now successfully carry out all of the traditional DeFi activities, including swapping, farming, mining, staking, lending, borrowing, and shorting with a whole range of new offerings that are currently only being provided by large centralized exchanges. RenQ Finance (RENQ) is a pivotal addition to the DeFi ecosystem with benefits of a centralized exchange and more.
In its second presale stage, RenQ Finance (RENQ) is trading at $0.025, with six more stages before launching at $0.055. Investors who get in on the presale stages can make significant profits. The RenqQ Finance (RENQ) price is expected to soar to $1.5 by the end of 2023, representing a 75x return on investment for early investors. Market analysts predict gains to increase by over 1000x during the 2024 market rally.
Renq Finance (RENQ) has already raised over $2 million in the presale, a testament to the platform's potential. As the platform aims to make DeFi accessible to everyone, it has attracted the attention of investors looking for a user-friendly, intuitive platform to invest in. Renq Finance's (RENQ) unique approach to DeFi and potential for growth makes it a must-have token for the next bull run.
Click Here to Buy RenQ Finance (RENQ) Tokens.
Visit the links below for more information about RenQ Finance (RENQ):
Presale: https://renq.io
Whitepaper: https://renq.io/whitepaper.pdf
---