Forex Cryptocurrency Trading And How It Works
Disclaimer: The text below is a sponsored article that was not written by Cryptonews.com journalists.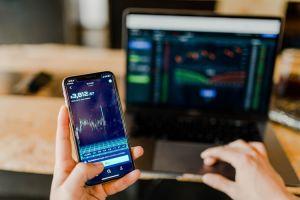 The attractiveness of cryptocurrency is growing exponentially every day. New technologies demonstrate potential power, proving that a currency that is not controlled by the state can really exist. And if earlier only Bitcoin could be called such, today a huge number of alternative forks have been created on blockchain technology. In this article, we will consider what cryptocurrency is, aspects of its popularity, as well as ways of trading on the Forex market.
What it is
So, first, let's figure out what cryptocurrency is. At its core, it is a decentralized digital network that is based on mathematical principles and is protected by cryptographic methods. It is based on blockchain technology - the so-called distribution database, in which all transactions between crypto-wallets are carried out. This currency is anonymous, genuine, and in fact, uncontrolled, so transfers between wallet owners anywhere in the world are carried out in a matter of minutes, and sometimes seconds, depending on the type of coins. At the same time, digital money is not tied to fiat currency, and their amount is initially limited by the algorithm.
The pioneer in this niche is Bitcoin, which appeared back in 2009. After Bitcoin proved its promise, which happened relatively quickly, other digital coins called altcoins began to appear at an active pace. Today, alternative "crypts" exist more than 950 items. However, not all of them are actively traded on exchanges and are attractive to investors, miners, as well as traders.
Where is the crypto express rushing?
The cryptocurrency market operates 7 days a week and 24 hours a day, which allows exchange participants to buy, sell, and exchange coins at any convenient time. This mode of operation also eliminates the concept of a trading session, which means that quotation fluctuations can be intense at any time of the day. Besides, the market is very volatile, which increases its speculative attractiveness, and a vast number of altcoins opens up more opportunities for exchange participants in terms of trade and investment.
In the first place in popularity is, of course, Bitcoin, and the percentage of its dominance to other currencies is 42.2%. The most popular altcoins today include: Ethereum and Ethereum Classic, Ripple, Litecoin, Dash, Namecoin and Zcash.
In general, in the crypto market today, there is an active growth of many currencies. Against this background, investments in altcoins increased, which also, in a certain way, influenced their development and increase in value. Undoubtedly, in the market of each cryptocurrency today, one can observe deep kickbacks or insignificant price corrections. However, the general growth trend is unambiguously present. Therefore many have already taken their savings out from under the mattresses and ran to buy dynamically developing altcoins.
Trading
Today, digital money is available on the platforms of brokerage companies as an alternative trading tool, which is implemented not only in direct trading on crypto assets but also indifference value contracts.
Now, many Forex brokers allow you to open crypto accounts and trade Bitcoin, Ethereum, Litecoin, Peercoin, Namecoin, Dash and EmerCoin and in pairs with EUR, JPY USD, RUR, and CNH! Replenishment of the account and withdrawal of funds is carried out through specialized payment systems. Therefore, after the withdrawal of profit, the trader will only have to exchange the earned coins for real money in online exchangers. Also, directly trading Bitcoin and Ethereum in tandem with the dollar is allowed by some brokers.
Cryptocurrency is a promising investment and trading tool in which everyone can find their own benefit. In fact, it is easiest to trade it on Forex, since you can earn with the same success both on the ups of the course and on its downfalls. The best Forex brokers to speculate on cryptocurrencies predict a continuation of the growth trend in the value of all coins, so those who are afraid that the bubble will deflate still have a chance to extract their part of the desired profit.
Those who do not have digital currency or simply do not want to risk the purchased coins can use CFD contracts for difference on ordinary types of trading accounts with similar efficiency - this service is available from Alpari, InstaForex, and Forex Club brokers.
Trading strategies
Despite the high market volatility and the other nature of the crypto-economics, even the simplest trending strategies based on technical analysis can be used in trading with digital assets, especially with the Moving Average indicator. Also, on the cryptocurrency market, the semi-automatic graphic tool Fibonacci levels and candlestick quotes analysis work well.
In general, trading on kickbacks, breakouts, and price impulses will allow achieving good results, while you should immediately forget about scalping. It is best to trade at intervals of H1 and older and for longer-term strategies.
---