Foreon Network On A Mission To Redefine Prediction Markets On Cardano, Set To Kick Off ISPO
Disclaimer: The text below is a press release that is not part of Cryptonews.com editorial content.

As the hype and interest in Cardano keeps increasing partly due to new Defi apps springing up on the ecosystem, with the total value locked across Cardano's de-fi projects soaring to record highs.
The total value locked in ADA across Cardano Dapps is sitting at almost 600 million ADA according to Defilama as at the time of writing this article.
Foreon Network, a new but very promising entrant building a decentralized prediction market on Cardano's efficient blockchain, is leading the way to becoming the first mover to build and launching a people powered prediction market on Cardano.
Foreon Network is proposing a stellar approach to decentralized prediction markets, offering the Cardano community an innovative alternative to traditional prediction platforms that typically come with high fees and various limitations.
Foreon Network today announced that the Foreon NFT Bonds offering which started on the 29th of May is almost 90% sold out, with just a few days left to go.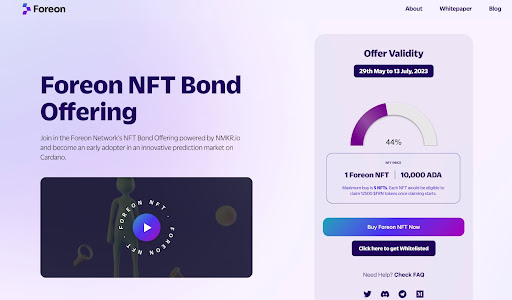 Users who wish to participate in the NFT Round can participate by joining here.
The Foreon NFTs which are very limited in number (just 80 of them) would play a crucial role in the upcoming ISPO as the holders of the NFT who also delegate their ADA to Foreon ISPO when it starts will be able to enjoy boosted rewards.
The Foreon Network team has also announced that the ISPO (Initial Stakepool Offering) which is on the next phase of the roadmap is scheduled to start in a few weeks time too.
This ISPO presents an exciting opportunity for the Cardano community to contribute to the growth of Foreon Network and reap the rewards of their participation.
The ISPO would enable the greater Cardano community who have been unable to join the NFT round due to the high minting fee participate in the
ISPO by staking their ADA to Foreon Network Pools and receiving $FRN tokens instead of ADA, albeit much lower that you would have gotten through the NFT round.
Additionally, each Foreon NFT would be able to unlock 12,500 $FRN tokens when the claiming starts and the NFTs have extra utilities on Foreon Network like giving the holder access to open up markets when the platform launches by the end of Q3 2023.
Conclusion
Foreon Network is committed to providing a superior, people-powered prediction market platform leveraging the power of Cardano to revolutionize the prediction market space, delivering enhanced value to the Cardano community.
Stay tuned for more updates and exciting developments ahead!
---