Floki Price Prediction as FLOKI Blasts Up 15% in 24 Hours – Can FLOKI Reach $1?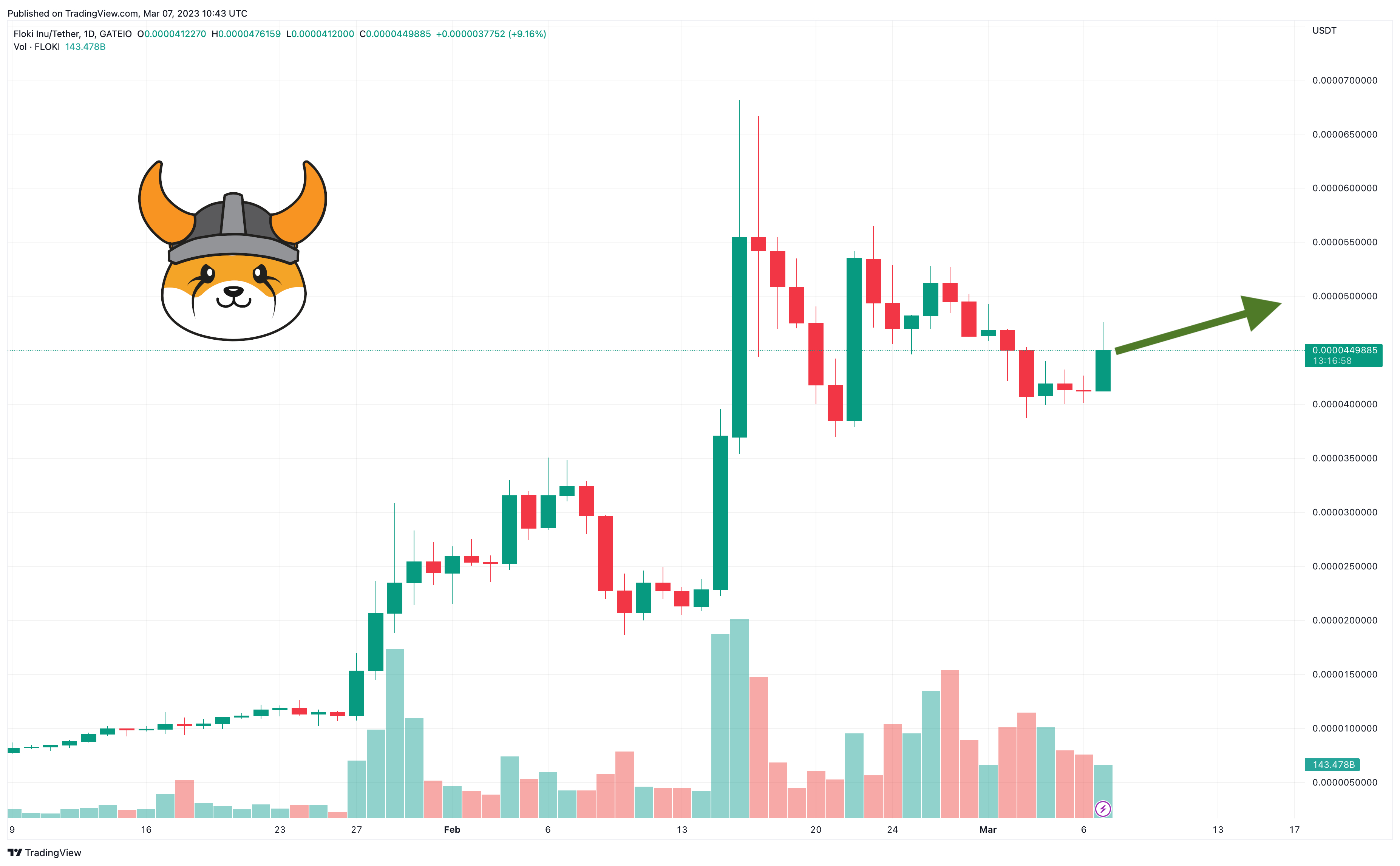 The price of Floki has risen to $0.00004534 today, marking a 24-hour period in which it rose by as much as 15%.
Its current price means that it has fallen by 8% in the past week but is up by 42% in the last 30 days, as Elon Musk's recent Doge-related meme-ing has helped to also boost interest in FLOKI.
And with Floki's development team also recently unveiling its roadmap for 2023, the market is increasingly expecting the new meme token to become one of the biggest new coins in the market.
Floki Price Prediction as FLOKI Blasts Up 15% in 24 Hours – Can FLOKI Reach $1?
FLOKI's indicators reveal some very strong momentum right now, with its relative strength index (purple) rising back towards 60 and 70 today after dipping in the past week.
If that weren't enough, FLOKI's 30-day moving average has rocketed way beyond its 200-day average and is still rising.
More sober traders might assume that it's due to come back down to earth, but it doesn't seem to be flattening out just yet.
There are a variety of reasons why FLOKI has become one of the hottest coins in the market's top 100, with Elon Musk being one of them.
After the Twitter and Tesla CEO tweeted a picture of his dog, Floki, the coin rose by as much as 200% in around 24 hours.
Since then, FLOKI has been riding a wave of momentum and increasing public interest, with even minor news helping to push the token further.
For example, today's rally appears to have been caused by the news that WazirX, India's biggest exchange by volume, is now listing FLOKI.
There has also been the news today that DigiFinex has launched perpetual trading in FLOKI, again helping to boost bullishness for the coin.
This all helps to create the market-wide sense that FLOKI is a coin on the up, with a growing number of traders and investors hoping to open positions before it gets too expensive.
Floki's team has also helped spark interest by partnering with the Indian cricket team, The India Maharajas, something which it hopes will introduce the coin to millions of potential users and buyers.
According to KuCoin, FLOKI is the second-most searched for cryptocurrency in the market right now, illustrating just how it has grabbed the market's attention.
More fundamentally, FLOKI has also benefitted recently from updates from its development team, which last month released a detailed roadmap for 2023.
This roadmap indicates how Floki is planning to become more than just another gimmicky meme token, with its developers planning to launch a staking program, its own DeFi platform, and even a Floki-themed debit card.
Based on such developments, there remains a good chance that FLOKI will witness steady price growth as the year progresses.
From its current level of $0.00004487, it can be expected to return to $0.0001 by the end of the year.
And once the market mounts a more sustainable and substantial recovery, it could very well pass its current record high, which stands at $0.00033651 (set in November 2021).
Is Now A Good Time to Buy Floki?
While indicators suggest that FLOKI may be due for a correction soon, the steady flow of good news and new exchange listings indicate that it may continue rallying for a little while longer.
However, traders seeking to avoid the all-but-inevitable comedown may prefer to look at other high-potential tokens.
Accordingly, we've put together a list of the top 15 cryptocurrencies for 2023, as analyzed by the Cryptonews Industry Talk team.

The list is updated weekly with new altcoins and ICO projects.
Disclaimer: The Industry Talk section features insights by crypto industry players and is not a part of the editorial content of Cryptonews.com.
---