Floki Inu (FLOKI) Eyes a $1 Billion Milestone, Innovative Altcoin Stirs Investor Interest During Presale
Disclaimer: The text below is an advertorial article that is not part of Cryptonews.com editorial content.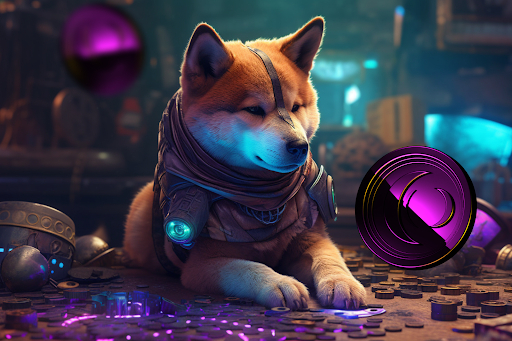 Floki Inu (FLOKI) has been making headlines as it sets its sights on a monumental milestone: reaching a $1 billion market capitalization. However, amidst the excitement surrounding Floki Inu, another innovative altcoin is also grabbing the attention of investors during its presale phase. Let's see what this new altcoin is all about and how it stands out from the rest of its competitors.
The Rise of Floki Inu (FLOKI)
Elon Musk, the famous CEO of Tesla, tweeted in June 2021 about his new Shiba Inu puppy, which he planned to name 'Floki.' This seemingly random tweet sparked a movement in the crypto world, leading to the birth of a new meme currency: Floki Inu (FLOKI).
Initially, people thought of Floki Inu as just another dog-themed joke coin, similar to Dogecoin (DOGE), but Floki Inu soon showed that it was more than just a meme — it had substance behind the silliness.
When you buy or sell Floki Inu, a 3% fee is applied, similar to a sales tax in a retail store. This 'tax' money goes into the Floki Inu treasury — like a communal piggy bank — that's used to grow the Floki Inu project and get more people to use FLOKI.
Floki Inu also offers its own digital universe game called Valhalla, named after the heavenly hall where heroic Vikings are believed to go after death in Norse mythology. It's a 'play-to-earn' game, where the more you participate, the more rewards you earn.
All of this combines to make Floki Inu more than just a meme project, and investors are taking notice. Floki Inu (FLOKI) started the year trading for $0.0000079209 but has grown 355% to a current price of $0.0000360251.
Analysts now believe that the current market cap of $348 million can quickly reach the $1 billion milestone, making Floki Inu (FLOKI) one of the top 45 most-valued cryptocurrencies in existence.

The Altcoin Attracting Huge Investor Interest
While Floki Inu (FLOKI) is doing well, Collateral Network (COLT) is the new altcoin that is stirring up investor interest during its presale, driving the price by 40% in less than a month.
Imagine a world where you can easily get a loan without the need for complicated paperwork or waiting for approval from a banking institution. Enter Collateral Network, an innovative peer-to-peer lending platform that's poised to disrupt the $4.5 trillion global lending market.
Collateral Network works by allowing you to put up your valuable physical assets as collateral to unlock liquidity from a pool of lenders. But unlike a traditional pawn shop or bank, Collateral Network doesn't just store your physical asset — it transforms it into an NFT that is divided into smaller portions, which are sold to several investors on the open market. The project currently accepts a variety of physical assets as collateral, including properties, cars, jewelry, watches, and artworks.
In this model, anyone can invest in a loan for as little as $10, making it far more accessible than the traditional model, where you would need to invest thousands of dollars. Furthermore, lenders capitalize on the loan, as they get a weekly passive income from the loan´s interest.
This allows lenders to build a portfolio of loans, diversifying this investment further. Collateral Network's process brings a lot of cash flow into the loan market, allowing investors to quickly turn their investments into cash whenever they need to.
COLT also has its own token, which serves multiple purposes within the platform. You can use it to bid on auctions of distressed items, pay transaction fees, or simply stake it to earn passive income. The more COLT tokens you hold, the more benefits you can enjoy on Collateral Network (COLT).
COLT tokens are currently available in the presale, with one token at $0.014, following a 40% increase from the original price of $0.001. This is the perfect moment to acquire COLT tokens, as experts predict that the price will increase by a total of 3500% to $0.35 before the presale ends and a further 100x once it hits major exchanges.
Find out more about the Collateral Network presale here:
Website: https://www.collateralnetwork.io/
Presale: https://presale.collateralnetwork.io/register
Telegram: https://t.me/collateralnwk
Twitter: https://twitter.com/Collateralnwk
---