Floin Tackles Crypto Compliance by Embracing it: Why More Projects Should Follow Suit?
Disclaimer: The text below is a press release that is not part of Cryptonews.com editorial content.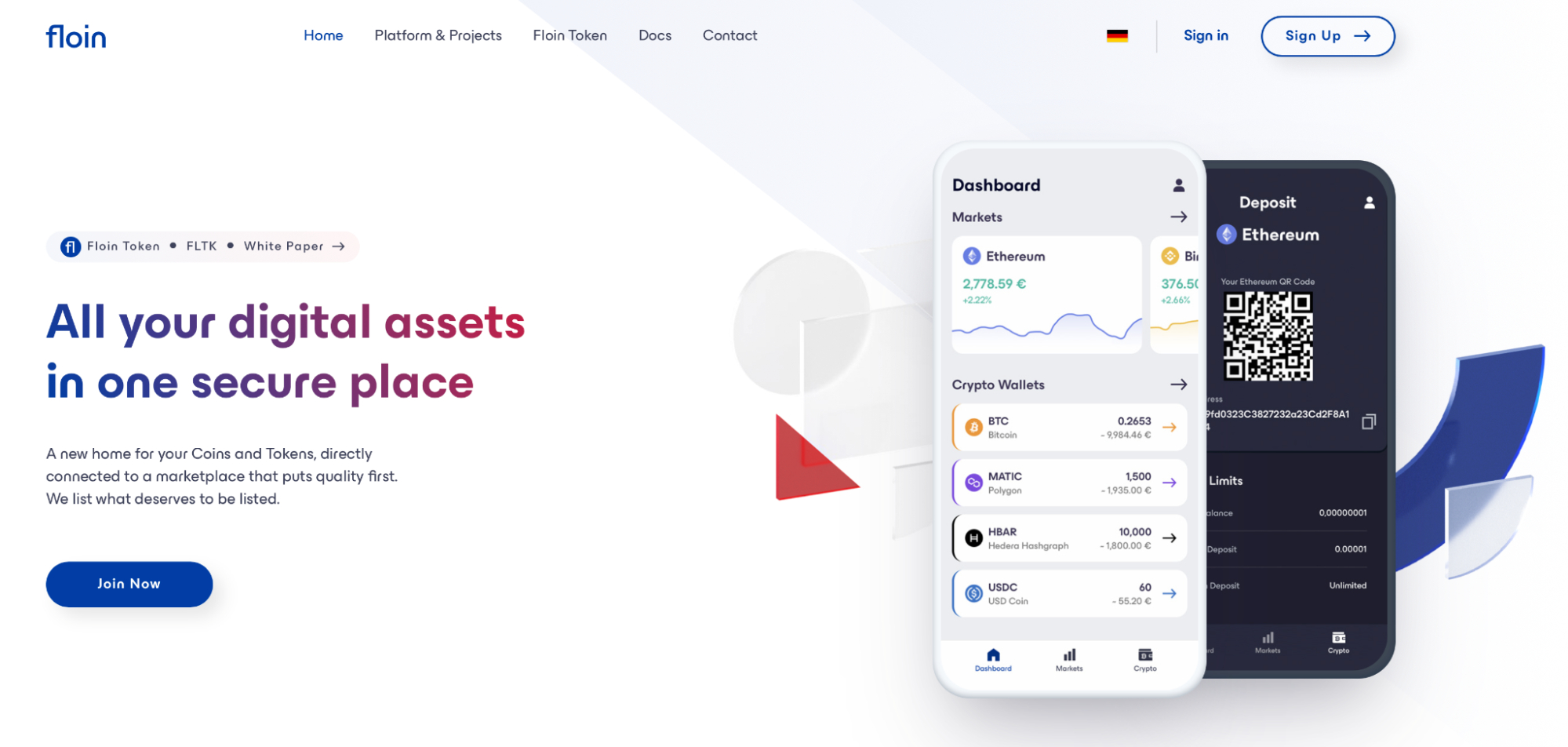 Floin is a fintech project that is building a safe and reliable platform for crypto purchases, sales, and storage. It introduces a new crypto business model where quality and security take precedence over quantity and hype. Let's find out how the approach works out better in the long run when compared to the popular model of regulatory evasion.
Floin chooses to embrace compliance, rather than evade
Crypto compliance can get nasty. The Paxos-SEC clash is a recent example. It didn't just pull down BUSD – the asset in scrutiny – but also most of the market. Even if the projects win the case over time and resume their activities, the repercussions are far-reaching. They create a sense of fear and uncertainty in potential users, hindering the mass adoption of digital assets.
Why do crypto projects choose to circumvent regulations, then? The vaguely defined rules and hostile regulators are partly to blame. But so is the carefree approach of most projects, even when they are sitting on millions in market cap. A single piece of bad news can bring the project tumbling down.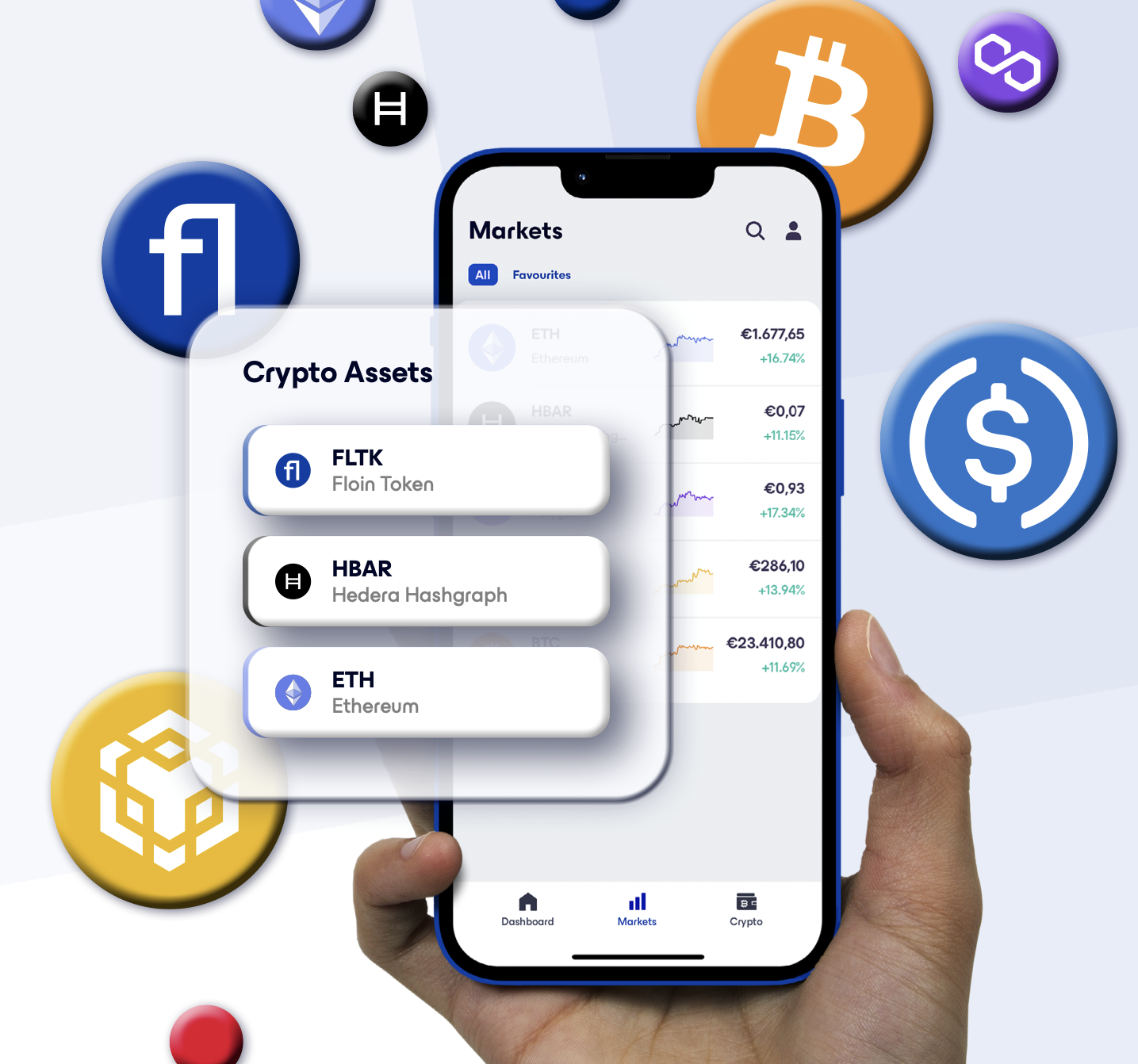 That doesn't mean crypto projects are inherently unsafe and unreliable, however. Floin introduces a compliance-first business model designed to withstand regulatory storms. Given that there is no better way to tackle compliance than to embrace it, the project instills faith in the future of digital assets.
Floin is a startup based in Liechtenstein. Maybe it's your first time hearing about this German-speaking, 25 km-long principality between Austria and Switzerland. But it has a unique place in crypto history. Why? It is one of the first countries in the world to recognize the potential of blockchain solutions and develop a complete legislative coverage of the digital assets market. That allows Floin to be compliant, without turning a blind eye to regulations or compromising its operations.
Floin is compliant with the Lichtenstein Blockchain Act (TVTG), Due Diligence Act (SPG), and Due Diligence Ordinance (SPV) which have become the standard of quality in the crypto market. It is worth noting that Floin is a fully certified VASP by the FMA (Financial Market Authority) – Liechtenstein's regulatory agency.
All your digital assets in one secure place
Floin is building a new home for crypto coins and tokens, directly connected to a first-of-its-kind marketplace. Here is a glimpse of the key features of the platform:
Crypto and fiat wallets
A dynamic NFT marketplace
VISA cards with Apple Pay and Google Pay
Multiple on and off-ramp solutions
And an upcoming marketplace where you will find the most exciting tokenized projects.
While crypto wallets are now available, features like fiat wallets, NFT marketplace, VISA and other on/off ramps will be launched in the next two months.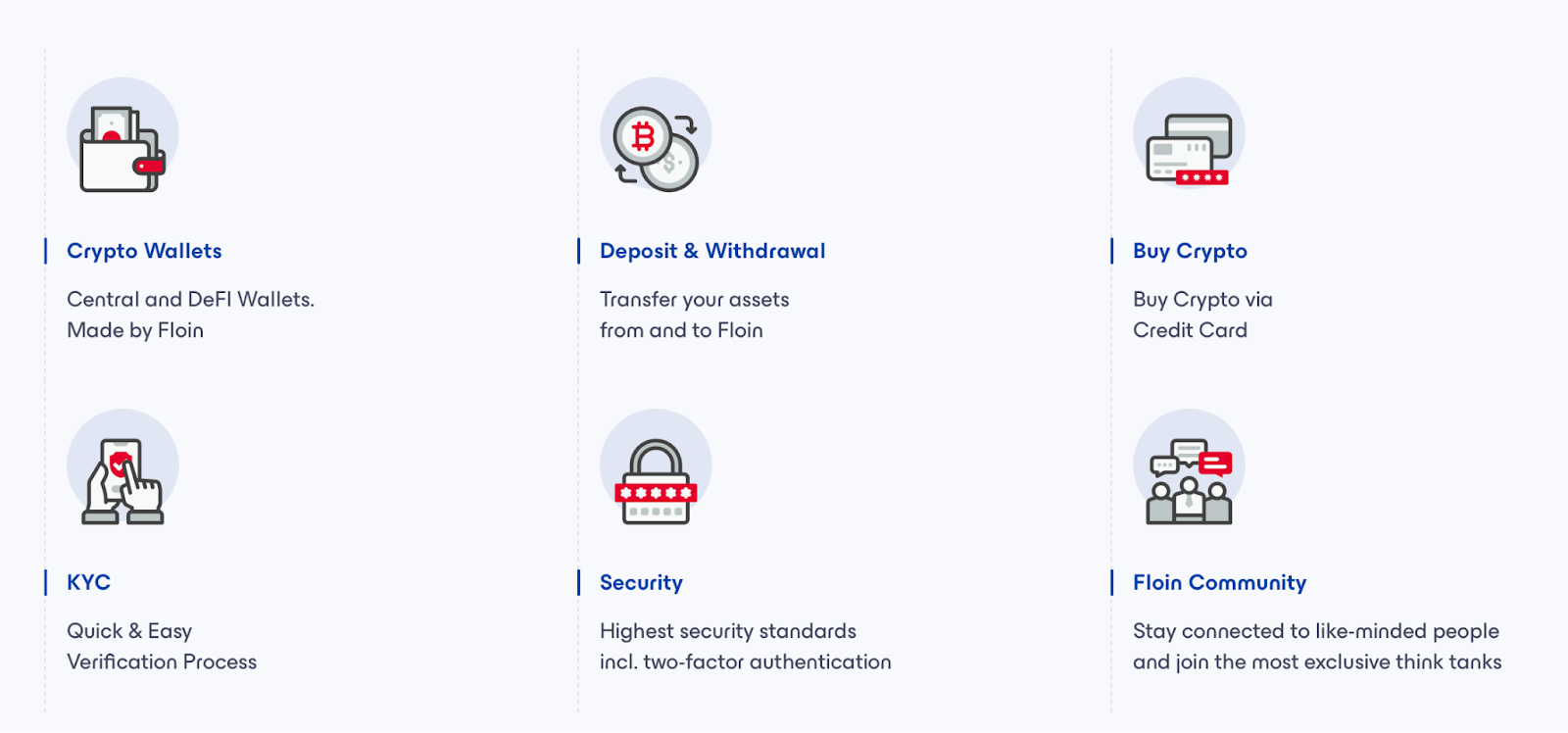 The principle that guides Floin is to "list what deserves to be listed". You will find all the established coins and tokens, trending crypto assets, and verified projects here. Hollow tokens and flimsy projects, on the other hand, are filtered out by the platform's stringent vetting process.
The most-awaited product from the project is the security token marketplace, which will open up attractive investment opportunities to retail investors. It is made possible by blockchain tokenization. For example, derivatives and other advanced financial products are difficult to understand for an average investor. Only users who are willing to spend the time and effort can take advantage of them. They are limited by their lack of fungibility and transferability. Blockchain tokenization can take them to a large user base with an enhanced user experience and transparency.
Another good application is real estate ownership, which is only accessible to the rich in the traditional market. But fractional ownership allows people with low incomes to invest in opportunities previously reserved for the elite. With blockchain tokenization, you might be able to own 0.5% of a luxury apartment in the Burj Khalifa in Dubai with your small monthly savings.
The Floin ecosystem is centered around the Floin token (FLTK) – a deflationary, ERC20-based token minted on Polygon. The platform intends to create a total of 1 billion FLTK tokens which will power the ecosystem. The Private Phase of the ICO started on March 16th and is now available to everyone.
Here, quality takes precedence over quantity
The Floin team believes that quality matters more than quantity when it comes to the long-term growth of a project. Keeping in line with this principle, Floin has chosen to take the hard path and develop its technology in-house. That helps it ensure regulatory compliance and utmost quality.
It follows the same principle when forming third-party partnerships for KYC (Know Your Customer), KYB (Know Your Business), KYT (Know Your Transaction), AML (Anti-Money Laundering), and on and off-ramp solutions. Floin's partners are industry-leading SumSub, Modulr, and NotaBene.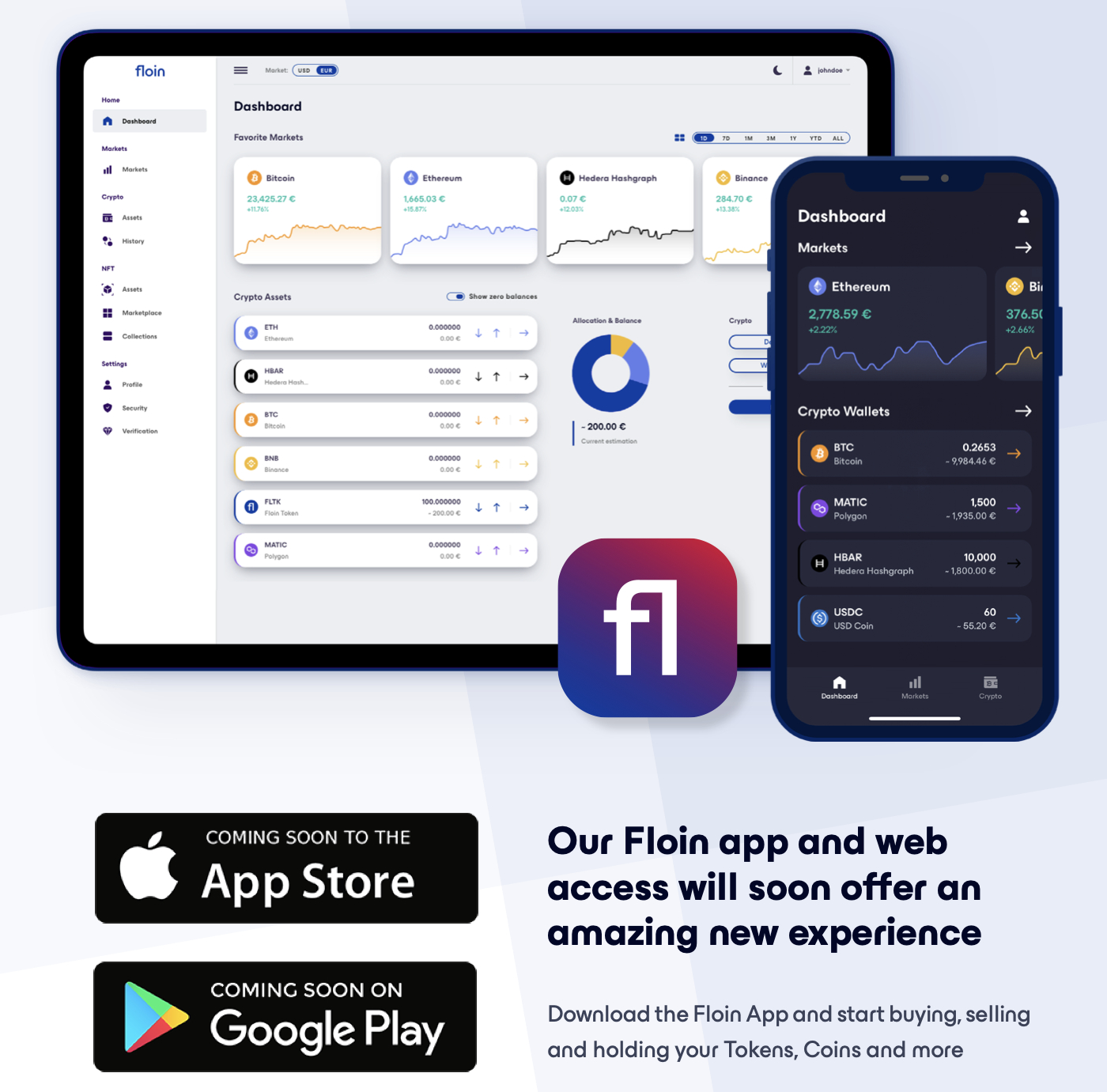 Everything that Floin does has to pass the"Floin test," which is based on the robustness of regulation, transparency, and quality. That explains why all security tokens listed on Floin have to go through a rigorous vetting process by Floin's Quality Control Committee (QCC).
To onboard a wide range of users, Floin features a beautiful UI and intuitive UX that will be unparalleled in the crypto space. It will follow a clean and minimalistic design that enables you to navigate smoother, find things quicker, and see features you've always wanted.
Backed by a credible, competent team
Marc Weber, the project's founder and CEO, leads Floin's growing team of experts : CTO Saša Saftić, Project Manager in charge of Development and Compliance Filip Trivić, Head of Design Bojan Saftić and Tech Lead Rok Šerak. To ensure they meet the highest legal and regulatory standards, Floin has partnered with Prof. Dr. Josef Bergt, the managing partner at Bergt Law, and Nicolas Graber, Founder and Chairman of Graber Advisory. Each core member is a highly-qualified specialist who excels in their own field and puts their passion and commitment into their work. Their key positions are supported by a group of distinguished employees who work to unlock the vast trove of opportunities in the crypto space.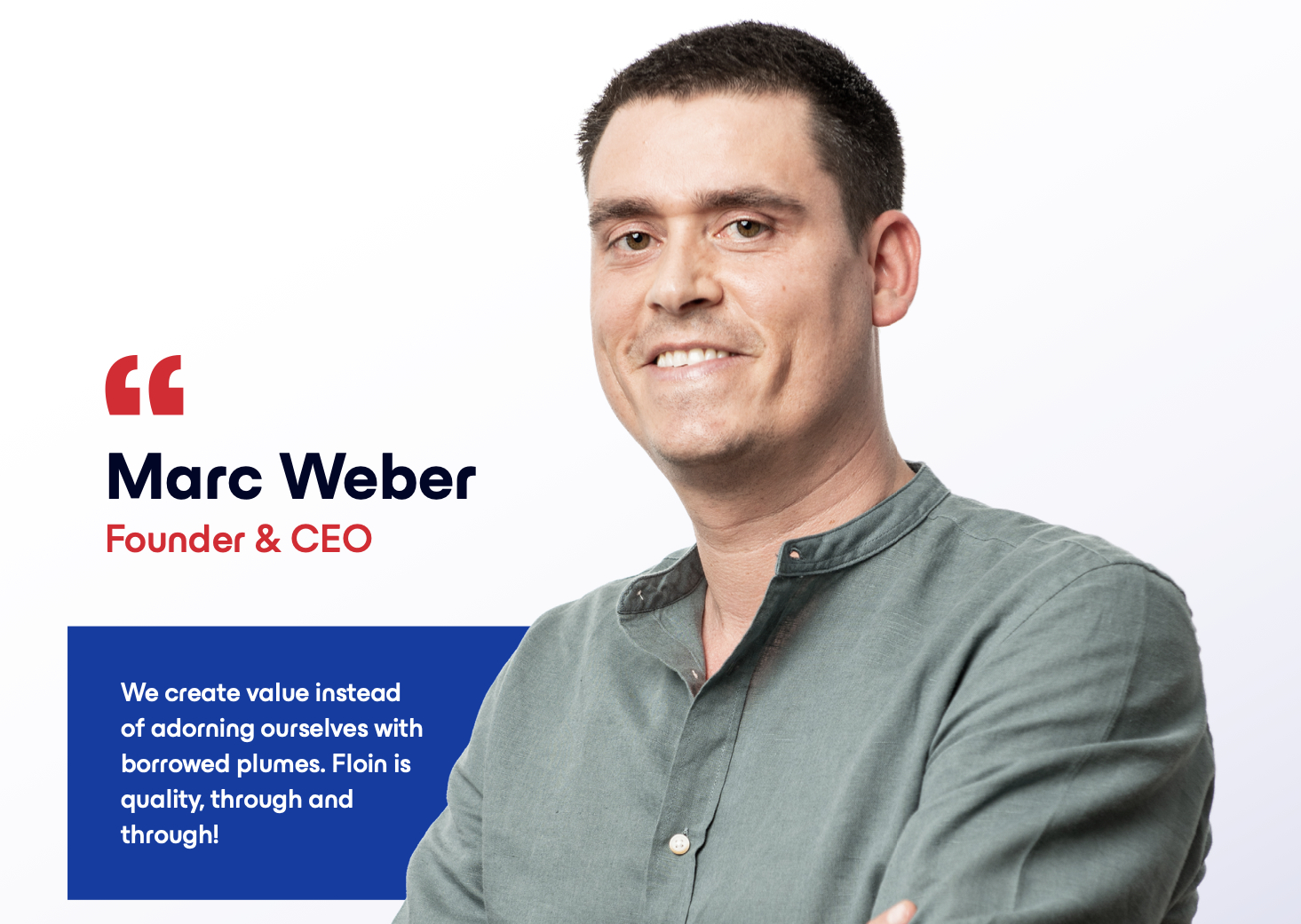 Summing Up
Floin demonstrates how a project can thrive in a regulated digital asset market. The laws are here for a reason – to protect crypto users and investors. A crypto service and asset provider should work with the regulatory authorities instead of ignoring them. At the end of the day, crypto regulations are integral to the mainstream adoption of the industry.
It's about time existing and emerging crypto projects adopted Floin's compliance-first business model and worked together to build a safe crypto environment. Or else, they wouldn't stand the test of time.
---