Floin Introduces a Fully-Regulated Platform for Digital Asset Purchases, Sales, and Storage
Disclaimer: The text below is a press release that is not part of Cryptonews.com editorial content.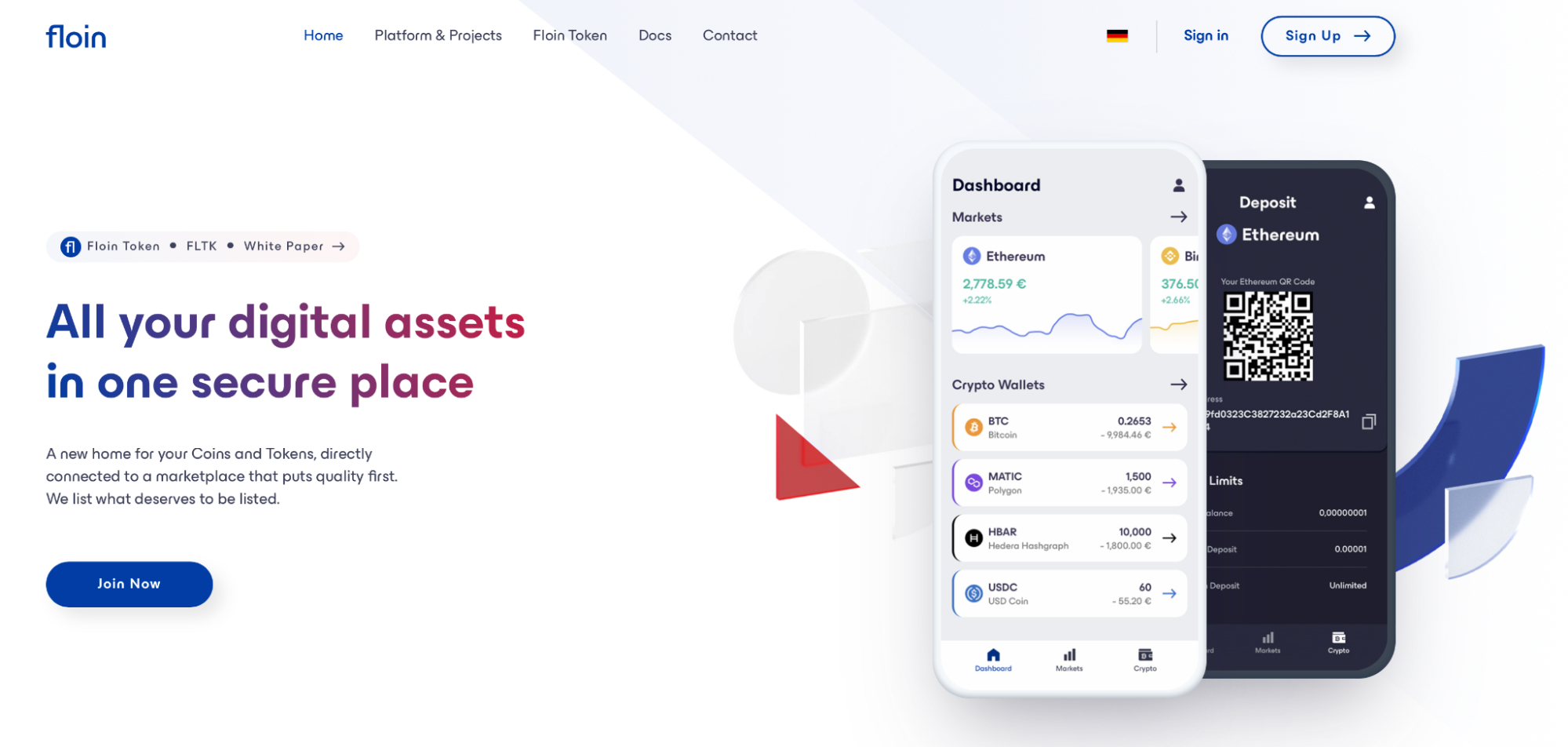 The crypto market is in dire need of a regulatory overhaul to win the trust of the masses and penetrate the mainstream. Although crypto regulations are mostly vague now, projects have the option to move their businesses to regulated countries and secure digital asset users and investors.
And that's exactly what Floin has done. It is building a new platform dedicated to the purchase, sale, and storage of digital assets, following the highest quality and security standards. In this article, we take a closer look at Floin and how it sets an example in crypto compliance.
Floin is based in Liechtenstein, known for strict, pro-crypto regulations
Floin has chosen to base its operations in Liechtenstein, one of the pioneering countries to acknowledge the potential of blockchain solutions. Liechtenstein is known for its excellent financial authority and deep integration of blockchain into its legislation. The country's regulations are designed to protect customers' money.
Although Liechtenstein puts projects through the hard path, it allows them to be compliant, without compromising the quality of their operations. Floin is compliant with the Lichtenstein Blockchain Act (TVTG), Due Diligence Act (SPG), and Due Diligence Ordinance (SPV), which ensure the highest standard of quality in the crypto market. It is a fully certified VASP by the FMA (Financial Market Authority) – Liechtenstein's regulatory agency.
All products, assets, and projects featured by Floin have to pass the Floin Test. Based on regulatory, transparency, and quality parameters, it ensures their market resilience. Third-parties who provide KYC (Know Your Customer), KYB (Know Your Business), KYT (Know Your Transaction), AML (Anti-Money Laundering), and on and off-ramp solutions have to make it through the test as well.
Floin has joined forces with established industry players like SumSub, Modulr, and NotaBene, keeping in line with the goal. All security tokens have to pass the approval of Floin's Quality Control Committee (QCC). The system safeguards the project against regulatory storms and investor backlash, as we saw in the case of Paxos, Kraken, XRP, and most famously FTX over the years.
The key components of the Floin ecosystem
Floin is building a large ecosystem that offers a safe and transparent crypto experience. All key components of the platform were developed by the Floin team from scratch. They feature high-end UI and intuitive UX with a clean and minimalistic design, to bring both beginner and advanced crypto users aboard.
Here is a closer look at the Floin ecosystem and how it makes a difference:
Crypto and fiat wallets
A dynamic NFT marketplace coming
VISA cards with Apple Pay and Google Pay
Multiple on and off-ramp solutions
An upcoming marketplace that features utility-rich, tokenized projects.
While crypto wallets are already available, fiat wallets, NFT marketplace, VISA and other on/off ramps are coming in the next two months.
The Floin security token marketplace unlocks attractive opportunities for investors of all scales. How? It tokenizes assets that have been long confined to the wealthy, using blockchain. That improves the fungibility and transferability of the assets and makes them available for low initial capital. The assets can range anywhere from derivatives like options and futures to real estate properties.
You can discover new assets on Floin and purchase them using your Floin wallet. Or, you can move existing assets to your Floin wallet. The platform is highly flexible, except when it comes to quality. Floin's principle is to "list what deserves to be listed". You will find established digital assets and projects here. But hollow tokens and flimsy projects don't have a place in the ecosystem. They won't pass its strict vetting process.
Floin doesn't promise a long list of features that it can't deliver, unlike most crypto projects that mention larger-than-life milestones in their roadmap. It focuses on using the limited human resources with specialized skill sets to build use cases that matter. They are designed to stand the test of time and set a new benchmark for quality in the crypto market.
The centerpiece of the ecosystem is the Floin token (FLTK) – a Polygon-based deflationary token. The platform intends to create a total of 1 billion FLTK tokens which will power the ecosystem. The Private Phase of the ICO started on March 16th and is now available to everyone.
At the heart of Floin is transparency
Many of us have invested in digital assets launched by a team of self-proclaimed crypto experts. Most of the time – if not all – they shrink our wallets in weeks. How did these flimsy projects flood the market?
Anyone who presents themselves as an expert and makes vague, cash-grab promises can start a crypto business today. They raise funds in ten days, much bigger than a traditional start-up can dream of in ten years. It's easy to circumvent crypto regulations. For this, most projects look for less-restrictive countries.
Due to the blurry regulations in the crypto market, investors who fall prey to these traps have nobody to turn to. As a result, mainstream businesses and users are still wary of taking their plunge into the crypto market. The mass adoption of cryptocurrencies and NFTs is a long way ahead if investors and projects don't raise the bar.
"Coming from an investment banking background and working as a digital asset specialist, I have been surrounded by strict regulatory processes for most of my career. Entering the crypto arena was quite a shock because it was so unregulated. Rarely has there been such a density of irresponsible business concepts as in this industry," points out Marc Weber, the founder & CEO of Floin. Marc is a Zurich-based entrepreneur with years of experience as a digital asset specialist in the MENA and DACH regions. He is an LSBF (UK) Investment Banking graduate (MBA).
Floin is joined by a team of Finance and IT experts in the project. They are active users of blockchain, hold tokens of all kinds, trade coins, and have invested in allied technologies. They know what they're doing. Now they are on a mission to put their years of experience in structuring financial products to revive the crypto market.
The transparent, quality-first business model underscores Floin's unique place in the Web3 market.
Visit Floin
---