First Kin Apps Now Live - Check Them Out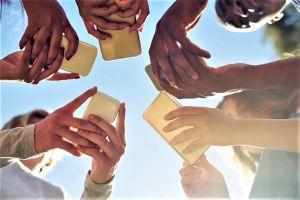 After Kik Messenger's Kin Foundation announced a new developer incentive program in order to foster more usage of and innovation around its cryptocurrency Kin in July, nine apps built around Kin are already live.
The foundation intends to give up to 25 developers a total of about USD 3 million in their cryptocurrency KIN as well as fiat to develop new apps or games. (Kik raised almost USD 100 million by selling the Kin cryptocurrency last year.)
Now, according to the Kin blog, in October, 32 apps in the Kin Developer Program were given either a green light to proceed to production, or were asked to make minor changes to their apps before moving forward. Their deadline to making it to an app store is November 14th, and nine of them are already live.
The apps have received an incentive payout of USD 15,000 and 50 million KIN (USD 2,550). The next two reward thresholds will require each app to reach a certain number of monthly users, or monthly active wallets (MAWs) by October 15th, 2019. Out of the nine live apps, four are categorized as "Communications & Social," while two are "Health & Fitness." The others span a few more categories.
Let's take a closer look at them!
First nine live Kin apps
Addme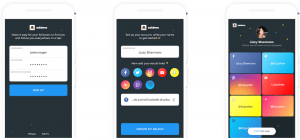 Category: Communications & Social
Overview: Addme is a way to connect all your social media profiles in one place, from Facebook, Messenger, over Snapchat, to Instagram - all under one account. You earn Kin by connecting your profiles and generating referrals, and spend the coins by tipping others for doing the same.
Platform: Android
App Store Rating: 5/5 (6 votes)
__
Find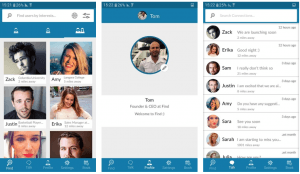 Category: Travel & Local
Overview: Find is an app for travelers and locals to connect with each other and meet new friends. It is currently only open for public beta testing. You can earn Kin by starting conversations with other users, and spend it by sending tips to other users.
Platform: Android, iOS
App Store Rating: none
Watch the latest reports by Block TV.
__
GoChallenge.Me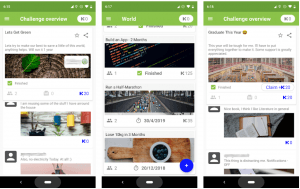 Category: Health & Fitness
Overview: GoChallenge.me is a social platform that is incentivizing people to achieve their goals through competition and accountability. You can choose to either create a challenge just for yourself, or to challenge other people too. You can chose a beneficiary for the reward or you can make it go entirely to a charity of you choice. Earning Kin is done by winning challenges and doing surveys and polls in the Kin Marketplace, while the coins are spent by either creating challenges, or joining, liking or donating to challenges created by others.
Platform: Android
App Store Rating: 5/5 (1 vote)
__
Pause For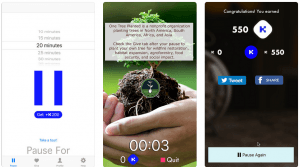 Category: Health & Fitness
Overview: Pause For is a productivity app, built to help users focus on their tasks while earning digital currency for their chosen charities. You can choose your own cause and turn time spent on-task and off your phone into hot meals, planted trees, or animal vaccinations. You earn Kin by completing a pause mission, which means staying off your phone for a certain amount of time. You spend it by giving to charity or tipping other users for meeting their own goals.
Platform: iOS
App Store Rating: 5/5 (34 votes)
__
Blastchat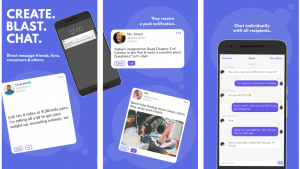 Category: Communication & Social
Overview: Blastchat is a mass communication platform that gives everyone (individuals and businesses) their own push notification so they can instantly connect with their audience. You can send messages to as many friends, fans, consumers and others as you want and a second later, all recipients will receive a push notification. When users reply they are replying to you only. It is described as similar to BCC on email but for mobile. You earn Kin by signing up for their products, sharing content and being tipped, while you spend it by tipping or liking other users and unlocking abilities.
Platform: Android, iOS
App Store Rating: 4.1 / 5 (43 votes on Android), 4.8 / 5 (24 votes on iOS)
__
Kinguist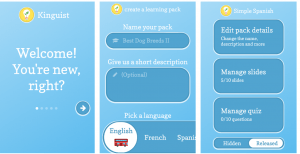 Category: Education
Overview: Kinguist is a community-driven ecosystem of learning packs and challenges for teaching yourself a new language while helping others learn your native tongue. Anyone can create a language-learning pack, complete with challenges and quizzes. You earn Kin by creating and selling your own modules, answering quizzes correctly and beating challenges. You spend Kin by unlocking new modules and asking questions of module creators.
Platform: Android
App Store Rating: 4.8 / 5 (26 votes)
__
Kinny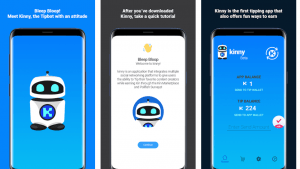 Category: Tools
Overview: Kinny enables users to earn Kin in-app and send and receive Kin through social media, like Reddit, Twitter and Discord, while the team says they will add support for other social media as well. You earn Kin by completing surveys and polls and being tipped, and you spend Kin by tipping other users.
Platform: Android
App Store Rating: 4.8 / 5 (70 votes)
__
Nearby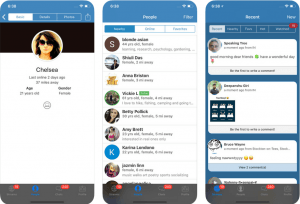 Category: Communication & Social
Overview: Nearby is a social network that helps you meet new people near you. The app lets you earn Kin by being the first to message a new Nearby user as well as complete polls and surveys, and you can spend Kin by purchasing Nearby Points (the app's native currency).
Platform: Android, iOS, Windows
App Store Rating: 4 / 5 (42,669 votes)
__
Reveald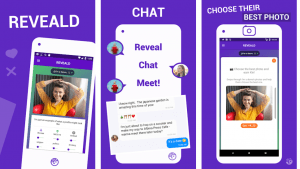 Category: Communication & Social
Overview: Reveald is a mobile dating app that throttles the rapid judgement that most modern dating apps promote by revealing a user's personality traits while simultaneously revealing their photos. You have to flip through people before their pictures are fully revealed. Kin can be earned by completing your profile, reviewing other profiles, completing quizzes and polls. It's spent by unlock the ability to have others review your profile.
Platform: Android
App Store Rating: 5 / 5 (9 votes)
__