Fight Out Price Prediction 2023 – 2030
Disclosure: Crypto is a high-risk asset class. This article is provided for informational purposes and does not constitute investment advice. By using this website, you agree to our terms and conditions. We may utilise affiliate links within our content, and receive commission.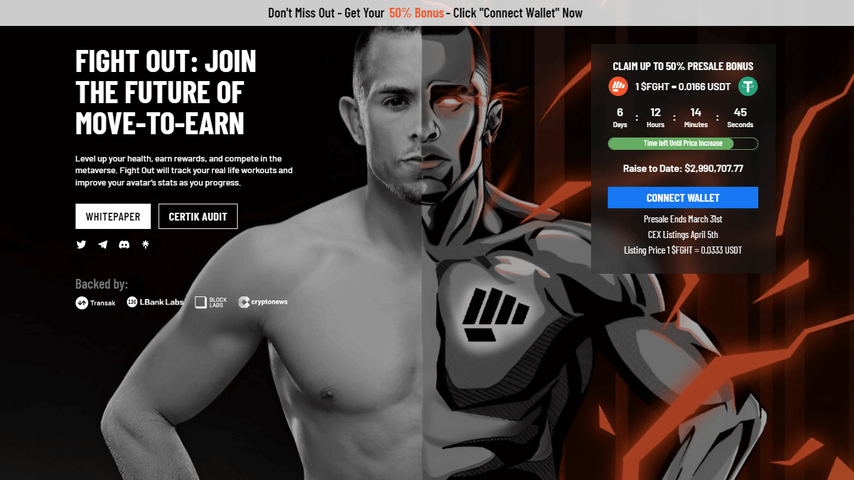 Disclaimer: The Industry Talk section features insights by crypto industry players and is not a part of the editorial content of Cryptonews.com.
With over $2.9 million already raised in its presale, investors are desperate to know how far the Fight Out crypto can go in the next bull market and beyond.
In this article, we will dive deeply into the Fight Out price potential, how value is derived from the project and why we are so excited about it. This is your all-in-one Fight Out price prediction. 
Let's begin!
Fight Out Price Prediction – Summarized
In case you are in a rush, here is a quick-fire version of the Fight Out coin's predicted prices.
| | | |
| --- | --- | --- |
| Year | Possible Low | Possible High |
| End of 2023 | $0.05 | $0.08 |
| End of 2025 | $0.24 | $0.32 |
| End of 2030 | $0.50 | $0.60 |
Fight Out Price History
Fight Out erupted into the mainstream crypto news in late 2022. Its innovative approach to solving pressing fitness industry issues using blockchain technology quickly made it a favourite of investors and the media.
Ultimately, this led to considerable demand for the Fight Out coin leading to almost $3 million in presale funding. The project is still in its stage one presale, priced at $0.0166 per FGHT token.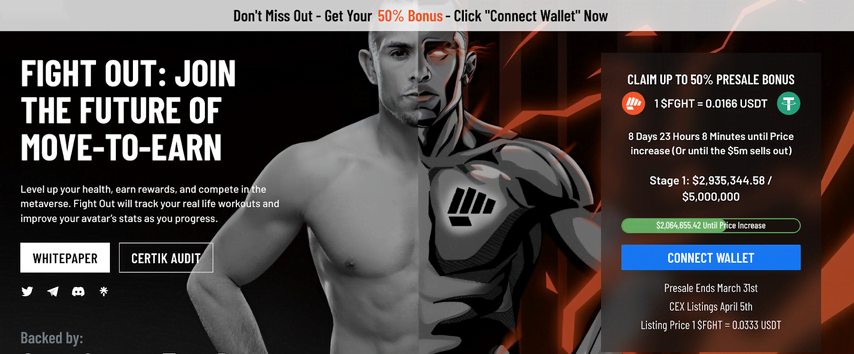 Because the Fight Out crypto is still in its stage one presale, this is the lowest price the token has ever been. Not only that, but in 8 days, the next phase of the presale will start, and the token price will increase. It's no doubt that most investors are flocking to buy Fight Out tokens right now.
The project aims to raise $5 million during the first phase of presale funding to help launch its app and first Fight Out gyms. Implementing these developments will secure Fight Out as one of the best cryptocurrencies of 2023.
Early investors of Fight Out are rewarded with extra tokens, receiving up to 25% rewards.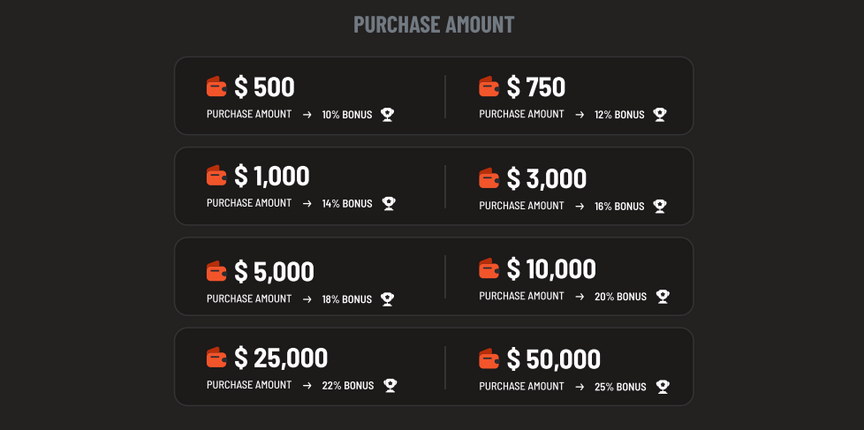 Also, presale investors can earn further rewards on their tokens through vesting. All presale tokens are automatically vested for three months, but users can make up to 25% on top of their investment by choosing to vest for longer. 
Overall, investors could earn 50% more Fight Out coins through the presale and vesting, lowering the initial investment cost to $0.0083 per token!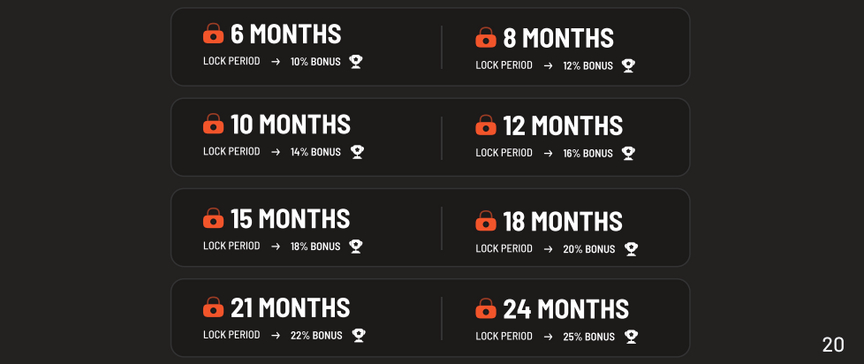 Fight Out has a total supply of 10 billion tokens, with up to 3 billion reserved for presale and an additional 15% dedicated for rewards to early investors. Another 5% of tokens will be used for exchange liquidity, and the remaining 50% will be vested and unlocked over five years to enable sustained growth for the project.
Fight Out is a crypto solving real-world issues with blockchain innovations. It has a proven team and a solid approach to tokenomics and sustainable development. Therefore, it is in pole position to be one of the best cryptos to watch this year.
Read the Fight Out whitepaper, or visit its Twitter account to learn more.
Fight Out Price Prediction 2023
This year is expected to be huge for Fight Out in terms of its roadmap. Firstly, Q1 will see its initial exchange listing (IEO).
The confirmed starting price for the IEO is $0.0333 per token. This is double its current presale price. 
Where the price goes from there ultimately depends on the demand for the token. However, the price could explode from here due to the three-month vesting schedule and many tokens being locked for up to five years. Could this be the next crypto to explode?

Q1 will also see the first Fight Out gym launched along with the official website and staking. So for the first quarter of 2023, demand will be driven more by investors and speculation than users. But we could see a surge in new investors based on the project's popularity so far. It could also spur the FGHT token to become one of the best staking coins on the market.
Q2 will see the Fight Out app go live. Also, the first pro-fighter workouts will be posted. In the second quarter, real demand for the coin will grow.

The partnerships with multiple high-profile fighters and the crypto's problem-solving approach could result in a massive growth of platform users during this quarter. And due to the token vesting schedule, there will be very little supply to fill the growing demand.
The third quarter of 2023 is when the app will begin to lock in or nurture its existing user base. It will start to provide new ways users can earn, social features and a beginner's boxing course. This is where the app will secure its place as a long-term crypto player in the fitness industry.

2022 was a challenging year for the cryptocurrency industry. Despite this, the team have achieved everything they have set out to so far. If this continues and the markets shift upwards, the FGHT token could see a much higher price by the end of 2023.
But even if markets remain flat, the long vesting schedule of the Fight Out token means there will not be a lot of sell pressure. Therefore, its real-world utility should cause the demand to outweigh the supply. So we could expect a price between $0.05 and $0.08 by the end of 2023.
Fight Out Price Prediction 2025
By 2025, the Fight Out ecosystem will have fully developed. This means workout programs, personalized workouts, in-real-life gyms, and its in-app marketplace will have all been launched.

The project will have had ample time to acquire users. Its incentivizing model, which creates a positive feedback loop to people who exercise, will likely have transcended beyond the crypto community and penetrated the fitness industry. 
Fight Out offers an accessible bridge between web2 and web3, allowing users to sign up with just an email. This should make the onboarding process easier for users outside the cryptocurrency community. 
The global virtual fitness industry is worth around $21 billion and experienced a compound annual growth rate of 39.4% from the previous year. If this trend continues, the industry will be worth approximately $40 billion by 2025. 
Fight Out is the first project to incentivize consumers from the industry. Although there are other Move-to-Earn crypto projects, Fight Out is the first with a sustainable business strategy and tokenomics – and it tracks more than just steps! This gives Fight Out a first-mover advantage in the market. 
Even if Fight Out were to capture just 4% of the total market share by the end of 2025, this would put the token at a $1.6 billion market cap or a $0.16 per FGHT coin valuation.
However, this only considers the fitness industry and not the crypto community. But with the crypto industry's support, it could easily double to a $3.2 billion market cap (or $0.32 per coin).
Fight Out Price Prediction 2030
It is difficult to say where the project will be moving into 2030.
But with its focus on collaborating with top industry sports people and continuous innovation, it could significantly impact the global fitness industry. With this, investors will likely continue to join the project with expectations of further growth.

By 2030, the vesting schedule will be complete, meaning the FGHT tokens will have been used to develop the project further. We have yet to determine precisely what this will look like, but we could expect to see more gym openings, collaborations, and app development. 
If all goes to plan, the end of 2030 could see a token price as high as $0.6! This would put the total market cap at $6 billion. Even in today's market, this would only put Fight Out as the 20th-highest coin by fully diluted market cap.
With the expected continued growth of the cryptocurrency industry, this is a conservative estimation, and there is even potential to see much higher.
Possible Highs and Lows of Fight Out
We have included our predictions in the table below to make them easy to follow.
| | | |
| --- | --- | --- |
| Year | Possible Low | Possible High |
| End of 2023 | $0.05 | $0.08 |
| End of 2025 | $0.24 | $0.32 |
| End of 2030 | $0.50 | $0.60 |
What Is the Fight Out Crypto?
Historically, cryptocurrencies which solve real-world issues have performed very well. For example, Bitcoin solved the problem of the centralized flow and control of money, and Ethereum solved the trust and permission issues for applications and systems.
Fight Out is the next generation of cryptocurrency, built on the Ethereum network to solve the number one issue in the fitness industry: people quitting exercise.
Have you ever noticed how busy gyms are in January? Many newcomers make positive life choices and begin to focus on their fitness. But new members steadily decrease until around late February when numbers return to normal. Why is this?
The Fight Out white paper explains there are three main reasons for this:
Traditional gyms lack guidance.
Personal trainers are too expensive for most people.
Gyms often lack social and community aspects.
All these findings result in many newcomers to the gym being unable to stick with it. This is where Fight Out comes in. A blockchain-powered fitness solution which incentivizes users to exercise.
It provides users with structured workout programs from high-profile personal trainers and martial artists. Every workout earns attributes for the users' avatar in the form of a soulbound token (a non-transferable NFT). These avatars can compete with others and give the app a competitive and social element.
Finally, users gain the REPS token, which can be used to purchase items from the Fight Out marketplace. The REPS token can be used to buy things such as supplements, apparel, in-game wearables or workout programs. Users can also swap REPS for the FGHT token and then exchange them for any other cryptocurrency.
What Affects the Value of Fight Out
Supply and Demand – The first thing which affects the token value is supply and demand. The price will increase if more buyers are in the market than sellers. The same goes for the other way around. Due to the token's long vesting schedule, there will likely be little supply. And due to its problem-solving approach, affiliation with influential figures and media coverage, there could be a lot of demand.
Cryptocurrency Adoption – If the cryptocurrency market grows, it usually brings all good projects with it. Fight Out is in a tremendous position to capture the broader market's liquidity if cryptocurrency adoption increases.
Fight Out Presale – The Fight Out token is currently in its presale. These presale price points will lead to strong buy walls from investors who missed the presale but want to get in at a low price, forcing the price to bounce upwards if it nears them.
Is Fight Out the Best Crypto to Buy in 2023?
Fight Out has already raised $3 million in its presale alone. Investors understand the crypto industry is moving beyond DeFi and NFTs, and the next bull market will see the industry tackling issues people face in the real world.
Blockchain has been touted to revolutionize the world as we know it. But until now, most blockchain innovations have come in the virtual world. But investors see the power in projects which solve everyday problems.

What gives Fight Out so much potential is that the cryptocurrency community already embraces it, and it has a first-mover advantage in the $21 billion virtual fitness industry. The combination of crypto community investment and real demand for the FGHT token to buy workout programs and marketplace items could make the token price explode.
Early this year, the coin will have its IEO, and what the roadmap calls its "CEX listing drive". The initial price is $0.0333, and exchange listings will include the likes of LBank.
Overall, Fight Out is a truly innovative project with enormous potential. It could be the coin to onboard the masses to cryptocurrency through social and incentivized fitness. With this in mind, now is the best time to buy Fight Out before its price increases for CEX listings. 
How To Buy Fight Out
Fight Out is currently in its presale, so you can only buy it from its website. To do so, you will need an Ethereum hot wallet. The two most common ones people use are MetaMask and Trust Wallet. 
Step 1: Create A Wallet
For this guide, we will use MetaMask, but the process is almost identical if you use Trust Wallet. If you are using a mobile, you can install the wallet to your phone via your app store and then use the in-app browser to visit the Fight Out website. But if you are on a desktop, you will want to install the extension to your browser.

Once you have installed the extension or app, you will be instructed to generate a new wallet, write down a seed phrase and create a password. Keep multiple copies of your seed phrase in separate secure locations. Losing this means you could lose access to your coins, and if someone else gets it, they could steal your crypto.
Step 2: Buy USDT or ETH
Next, you either have the option to get USDT or ETH. You can do this by paying with your bank card in the wallet or transferring it from another wallet into your hot wallet. If you are using MetaMask, just click buy, select Transak, and choose the amount of USDT or ETH you want. You will need this to purchase your FGHT tokens.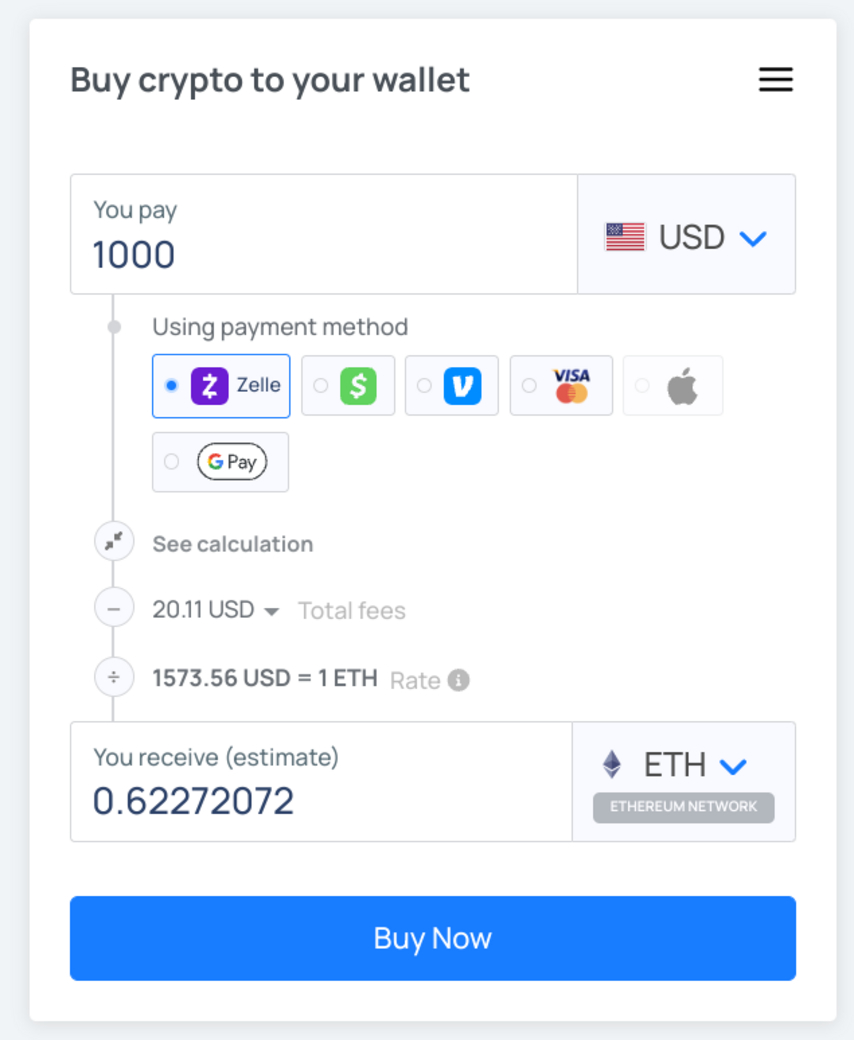 Step 3: Connect Wallet and Purchase FGHT
Now for the exciting part! Visit the Fight Out website, click connect wallet and follow the instructions. You have three options here, but if you followed along, you would pay with ETH or USDT, depending on the tokens you bought. Remember, you will have to pay gas fees, so keep some extra ETH to one side.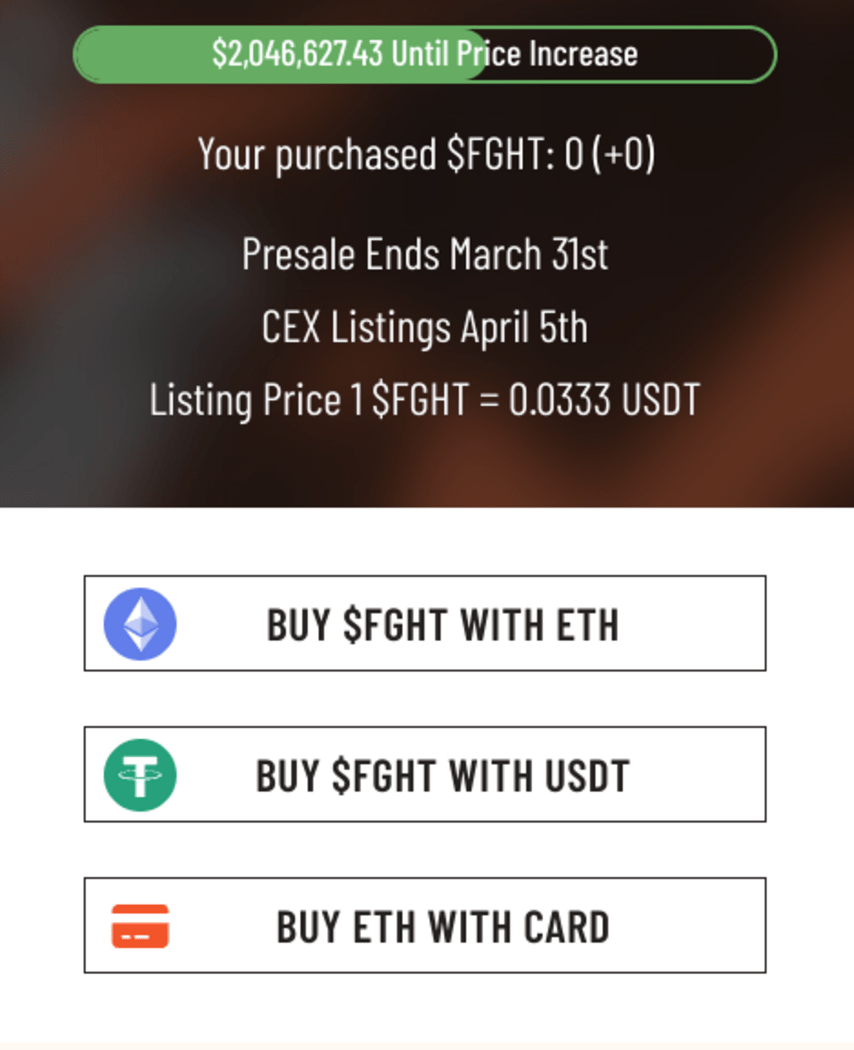 Step 4: Claim Your FGHT Tokens
All presale tokens are vested for three months, and you can choose to vest for longer for extra rewards. But once your vesting period is up, you can claim your FGHT.
Conclusion
Fight Out has already proven immensely popular. It is one of the first cryptos with real-world utility. It has already amassed a community of over 65,000 Twitter followers and $2.9 million in funding. 
The project is still in its early stages but is already showing positive signs for the future. Therefore, we have high hopes for the price of FGHT going forward.
FAQs
What is Fight Out?
Fight Out is a M2E crypto that generates real income through workout program subscriptions and in-app marketplace sales. Users can buy goods and services with the off-chain REPS token, which can be earned or purchased with the FGHT token.
How much will Fight Out be worth in 2023?
Although nothing is guaranteed, we expect a price between $0.05 and $0.08 per token by the end of 2023. This is due to the likelihood of the broader market reversing and the initial exchange listings of FGHT.
Is Fight Out a good investment? 
Cryptocurrency markets are volatile and unpredictable. Fight Out has proven it can attract investment and partner with high-profile individuals. It has a solid roadmap, with real income-generating streams and excellent tokenomics. So, Fight Out has substantial long-term potential as an investment.
 
---