Fantom Price Prediction as FTM Surges Up 15% in 24 Hours – How High Can It Go?
Disclosure: Crypto is a high-risk asset class. This article is provided for informational purposes and does not constitute investment advice. By using this website, you agree to our terms and conditions. We may utilise affiliate links within our content, and receive commission.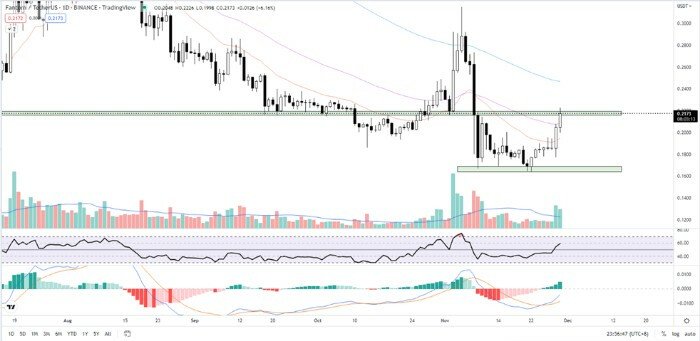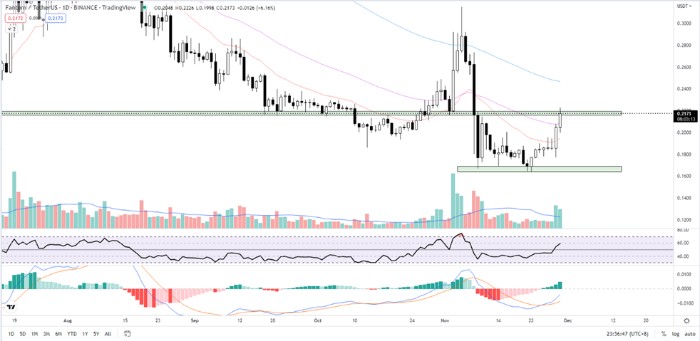 Fantom has been gaining momentum since Nov. 22 with the FTM price breaking out of EMA20 in the past days. As of writing, the coin has a strong follow-up to an initial rally that saw a rise of 15% in 24 hours at one point, with prices currently trading at $0.2187, up 9.62% for the day. The price is up over 32% since Nov. 22. Leading indicators RSI and MACD are showing a possibility of a healthy short-term bullish trend. Just how high can FTM go though?
FTM Technical Analysis and Price Prediction
Plotting reverse Fibonacci retracement levels from the previous high to the current low reveals significant levels that may act as potential resistance for the coin. As observed, we can see that the price is currently trading at the 0.382 fib level above $0.2218. In addition to this Fibonacci level, there is also a history of the $0.2158 to $0.2197 area acting as support turned resistance.
Moving forward, it is vital for FTM to break out of this area for a potential continuation to the upside. If the price breaks out, the immediate resistance would be at the 0.5 fib level of $0.2396 followed by the EMA100 at $0.2468. Otherwise, our support level is at the 0.236 fib level of $0.1998, which is close to the psychological support of $0.20.
FTM Fundamental Analysis
FTM's sudden move in the market came after Andre Cronje, a popular figure in the DeFi space, wrote an article revealing the company's financials. Cronje, an adviser to the company, revealed in the article that Fantom is significantly cash flow positive and has 30 years of runway.
Fantom was founded in 2018 and raised $40 million that year, mostly in ETH. In December of that year, they sold the ETH for less than it was worth, leaving the company with less than $5 million. Their major expenses included listing fees for exchanges and payments to influencers (sponsorship fees).
As a result of these expenses, Fantom became frugal, hiring only essential staff and freezing all marketing efforts. In 2019, Fantom had less than $2 million left; by 2020 they had increased this amount to just over $3 million. Their goal for 2020 was to grow to $8 million by the end of the year, which would give them a burn rate (the rate at which they spend money) of $1.5 million per year.
They were successful in reaching this goal due largely to their participation in the booming decentralized finance (DeFi) market, which allowed them to earn interest on their investments and purchase more FTM tokens. By 2021, their holdings had grown to over $51 billion. However, they experienced losses later that year when the value of some crypto assets dropped suddenly. Despite these losses, Fantom has significant capital left and a lot of room to grow.
Alternative Coins to Buy in the Bear Market
It is important to remember that cryptocurrency is a volatile investment and investment should only be done with money you can afford to lose. This is especially true of coins that have recently had a large rally like FTM, which may be riskier to bet on given the potential end to a rally and risk of a reversal.
In short, before investing in any coin, you must do your research and understand the technical indicators as well as the underlying fundamentals and potential for growth. A soon-to-launch platform, Dash 2 Trade, will help with this analysis, while TARO and RIA, two cryptocurrencies currently in presale, are worth taking a look at as they have serious potential for growth in 2023 and beyond.
Dash 2 Trade (D2T)
D2T is a platform that provides traders with forecasts, social analysis, and trading signals to help them make informed decisions when trading cryptocurrencies. The platform is designed for traders of all levels, from novice traders to those with more experience. D2T offers a range of services, including developing and evaluating trading strategies, keeping up with the latest cryptocurrency news, and extracting insights from blockchain analysis.
The goal of D2T is to provide traders with all the resources they need to make informed decisions when trading cryptocurrencies. This includes providing forecasts, social analysis, and trading signals. The platform is also designed for traders of all levels, from novice traders to those with more experience. In addition to developing and evaluating trading strategies, D2T also offers services like keeping up with the latest cryptocurrency news and extracting insights from blockchain analysis.
RobotEra (TARO)
The RobotEra project is based on the Ethereum blockchain and seeks to create a robot-themed metaverse that provides users land-buying opportunities and access to several interactive experiences. A key element of the project is that it gives users who don't code the ability to generate their own content and games and earn income in the in-game economy. Additionally, players can enjoy in-game concerts and other events. The first phase of RobotEra's TARO token presale recently hit $266k, passing the quarter million dollar mark.
Visit RobotEra Now

Calvaria (RIA)
Calvaria is an upcoming battle card game that is expected to have a big impact on the P2E market by 2023. The game has already generated a lot of buzz and has had a successful presale, even in the bear market. What makes Calvaria unique is its accessibility and engaging game mechanics, which have helped it form partnerships with some of the biggest names in the industry. Those who invest early can get tokens at a discounted price. Calvaria has raised $2.1 million and is now in its final presale stage with only 30% of its tokens left.
---