Exploring LYOPAY App - The Smartest Way to Connect Fiat and Cryptocurrencies
Disclaimer: The text below is an advertorial article that is not part of Cryptonews.com editorial content.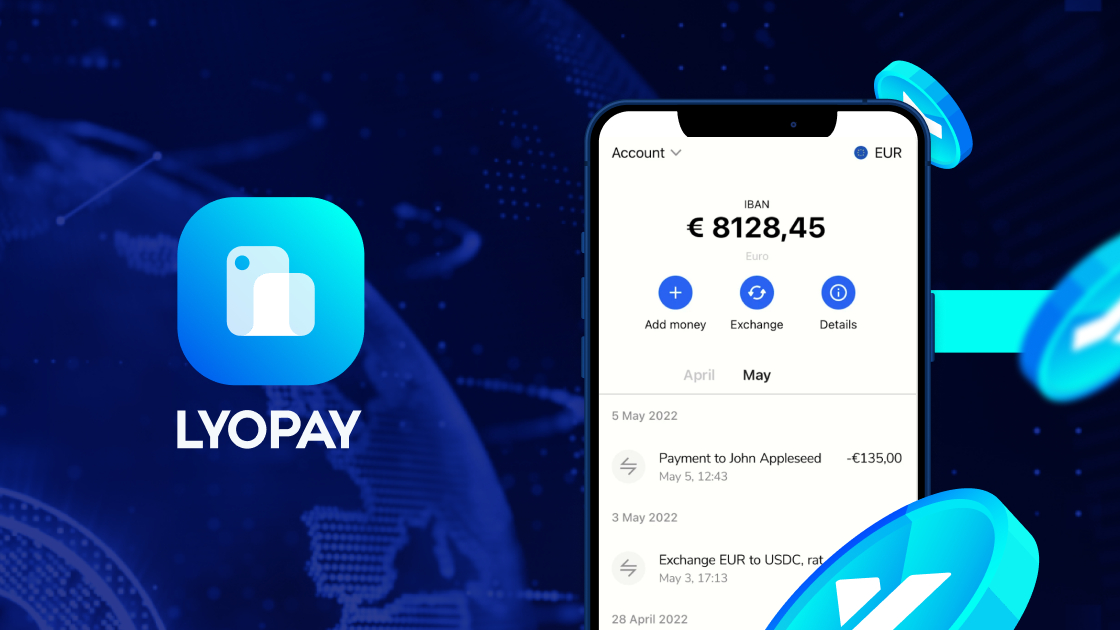 If you've just entered the world of cryptocurrency and are currently on the hunt for a reliable platform to store, exchange, and trade your precious cryptocurrencies, we recommend you to look no further, because we've got just the solution for you!
Simply Your Crypto Journey
Introducing LYOPAY App – the ultimate connection point between fiat and cryptocurrencies, designed to simplify the process of storing, exchanging, and trading cryptocurrencies. The app offers a range of features, including IBAN Account EUR, Crypto Wallet, Crypto Exchange, E-banking with SEPA, and Turbo Swap, and much more.
But LYOPAY isn't just your average crypto payments application - it has evolved into an entire ecosystem of crypto services. The project's ultimate goal is to equip people with the tools they need to incorporate cryptocurrencies into their daily lives, from trading to DeFi, and much more. In other words, LYOPAY is shaping the LYO Ecosystem for everyone.
LYOPAY App is the first platform and product of the LYO Ecosystem, starting from basic payment services and gradually expanding its features to other platforms. One of the app's most impressive features is the IBAN Account EUR, which allows for effortless wire transfers. LYOPAY App also promises fast SEPA withdrawals, typically processed in less than 24 hours.
Benefits
But wait, there's more! With the LYOPAY App, you can open your own bank account in Europe, store cryptocurrencies in your own wallet, and engage in Swap Trading. Plus, the platform operates in compliance with KYC, AML, OWASP, and European General Data Protection regulations, guaranteeing complete transparency and for all transactions.
Features
One of the most exciting features of LYOPAY is the Crypto Wallet, which enables users to safely store popular cryptocurrencies and tokens such as BTC, ETH, and USDT. The app also includes LYO Credit, making it easy to transact with other wallets and exchanges.
LYOPAY App's Crypto Exchange feature is another standout element, allowing users to trade cryptocurrencies instantly at the best market prices. And the best part? Users can trade with Euro, making it effortless to convert between fiat and cryptocurrencies.
The app's SEPA feature is also incredibly useful, enabling users to make fast SEPA transfers in Euros to external banks, with a unique IBAN provided for each user. And for those looking for an instant exchange between traditional money and cryptocurrencies, Turbo Swap offers low fees on over 100 exchange rates, making currency conversion a breeze.
The Perfect Solution to Market Problems
But perhaps what impressed us the most is LYOPAY App's dedication to solving common market problems faced by crypto-users. These include issues with trading fees and chargebacks, marketplace liquidity, security, and customer support. Thanks to LYOPAY App, not only do you get a centralized crypto exchange to help you trade cryptocurrencies at the best market prices, but you also get an extra layer of security for all your transactions and trading. And if you ever need help, customer support is available via chat, ensuring that any issues or queries are resolved promptly.
Explore More
With all these impressive features and benefits, it's clear that LYOPAY App is the ultimate platform for all your cryptocurrency needs. Don't wait any longer - head to https://docs.lyopay.com/ to find out more!
LYOPAY App is also available to download from:
App Store: https://apps.apple.com/lv/app/lyopay/id1537945402
Google Play: https://play.google.com/store/apps/details?id=com.lyopay&hl=en&gl=US
---