Experts Predict Pepe Coin (PEPE) Could Fall As Collateral Network (COLT) Rallies 40%
Disclaimer: The text below is an advertorial article that is not part of Cryptonews.com editorial content.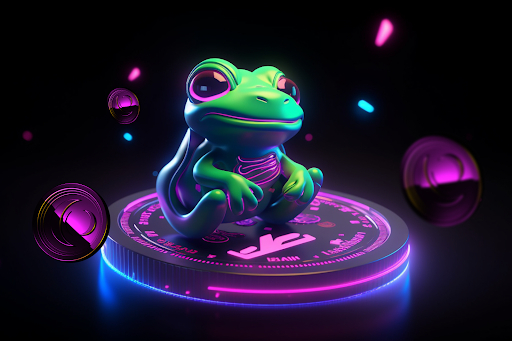 In the dynamic world of cryptocurrencies, new projects are constantly emerging, challenging the status quo and offering fresh opportunities for investors. One such project is Collateral Network (COLT), a groundbreaking peer-to-peer lending platform currently in its presale phase. This article will delve into the recent developments of Pepe Coin (PEPE) and how it compares to the upcoming Collateral Network.
Pepe Coin (PEPE) Reaches $1B Market Cap
Pepe Coin, a meme-inspired cryptocurrency, has recently made headlines by reaching a market cap of $1 billion. Despite this impressive milestone, experts predict a potential fall in the value of PEPE. This is due to a shift in trading volume from Uniswap to Binance, which could indicate a change in investor sentiment.
Pepe Coin, which started trading on April 15, 2023, at a price of around $0.000000001, has seen a significant increase in value. However, the recent accumulation of PEPE by crypto whales could be a sign of an impending price correction. This, coupled with the fact that a PEPE holder recently turned $250 into $1M in just four days, suggests that the coin's volatility could lead to a potential downturn.
Furthermore, the recent surge in Pepe Coin's price has been attributed to a series of tweets and endorsements from high-profile individuals in the crypto community. However, as the hype subsides, the price of Pepe Coin could potentially fall, making it a risky investment.
Collateral Network (COLT) Revolutionizes Lending
In contrast to the potential volatility of Pepe Coin, Collateral Network presents a unique opportunity for investors. As the world's first web3 peer-to-peer lender, Collateral Network allows users to unlock liquidity on-chain against physical assets on the Ethereum blockchain.
The platform offers numerous benefits to both lenders and borrowers. Lenders receive a weekly passive income, and the loans they provide are backed by tangible assets, offering a level of security not often seen in the crypto space. Borrowers, on the other hand, can unlock cash from their assets quickly and discreetly with competitive rates and flexible terms.
Notably, Collateral Network is the first project to mint NFTs against physical assets, which are used as collateral, fractionalizing them and allowing multiple people to fund the loan. This innovative approach could disrupt the traditional lending industry and bring it into the digital era.
Collateral Network's presale price is currently at $0.014, having surged 40% since its launch. Moreover, analysts predict a surge of over 3500% in the coming months.
Furthermore, notable whales in the Pepe Coin community have started accumulating COLT tokens, indicating strong investor interest in the project. Once listed on major exchanges, the value of COLT could far exceed $0.35, making it an ideal investment opportunity.
In conclusion, while Pepe Coin continues to make headlines, Collateral Network is quietly disrupting the lending industry. As the crypto market continues to evolve, it's projects like these that offer the most exciting opportunities for investors.
Find out more about the Collateral Network presale here:
Website: https://www.collateralnetwork.io/
Presale: https://presale.collateralnetwork.io/register
Telegram: https://t.me/collateralnwk
Twitter: https://twitter.com/Collateralnwk
---