Exclusive: CEO of Bankorus on Goal to Become Amazon for Crypto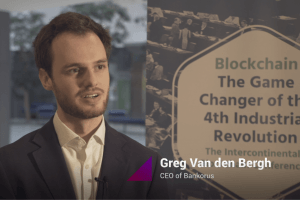 Bankorus, a developer of an artificial intelligence (AI) based crypto wealth management platform built on the blockchain, will be available to everybody, not only to the high net worth individuals (HNWI), co-founder and CEO Greg Van den Bergh told Cryptonews.com.
"It's technically for everybody," he said, explaining that the reason the company is now focusing on HNWI is the strategic one, as "traditionally, it's the HNWI who write the first checks."
He explained that the vision of Bankorus is to become the one-stop shop with everything to do with security tokens.
"It's like Amazon or Alibaba for crypto," Van den Bergh said.
The company expects first application of its bReport, a reporting and performance tracking function, this quarter, while other modules of the platform should be launched within a year. bMarket is set to become the main module. It's a marketplace where product providers, such as funds and asset-based tokens, can distribute and sell their products to investors and private wealth management companies.
The roadmap of the entity includes a public token sale this quarter, too. However, the CEO declined to comment in more detail, only saying that discussions with the lawyers are still ongoing and the official announcement is coming soon.
Bankorus has already raised over USD 5 million from venture capital funds and angel investors including the CEO of Morgan Stanley Bank AG and Crystal Stream Capital, according to the company.
In 2013, Van den Bergh with his team launched the first robo-advisor in China under their former brand name MiCai, and the company claims it's now "entrusted to manage a combined assets under management of USD 30 billion, with over 200,000 of the world's wealthiest clients across China, USA and Europe."
The company said it generated around USD 1 million in revenue last year.
Watch the full interview and hear the CEO talking about the current status of the company, its plans and why he thinks 99% of all the tokens will be security tokens:
__________
Disclosure: Among advisors of Bankorus is Antanas Guoga, Member of European Parliament, a serial entrepreneur, investor, and backer of Cryptonews.com.