Everyone Should Enter Metropoly's $1M Burj Khalifa Apartment Giveaway Contest
Disclosure: Crypto is a high-risk asset class. This article is provided for informational purposes and does not constitute investment advice. By using this website, you agree to our terms and conditions. We may utilise affiliate links within our content, and receive commission.
Disclaimer: The text below is a press release that is not part of Cryptonews.com editorial content.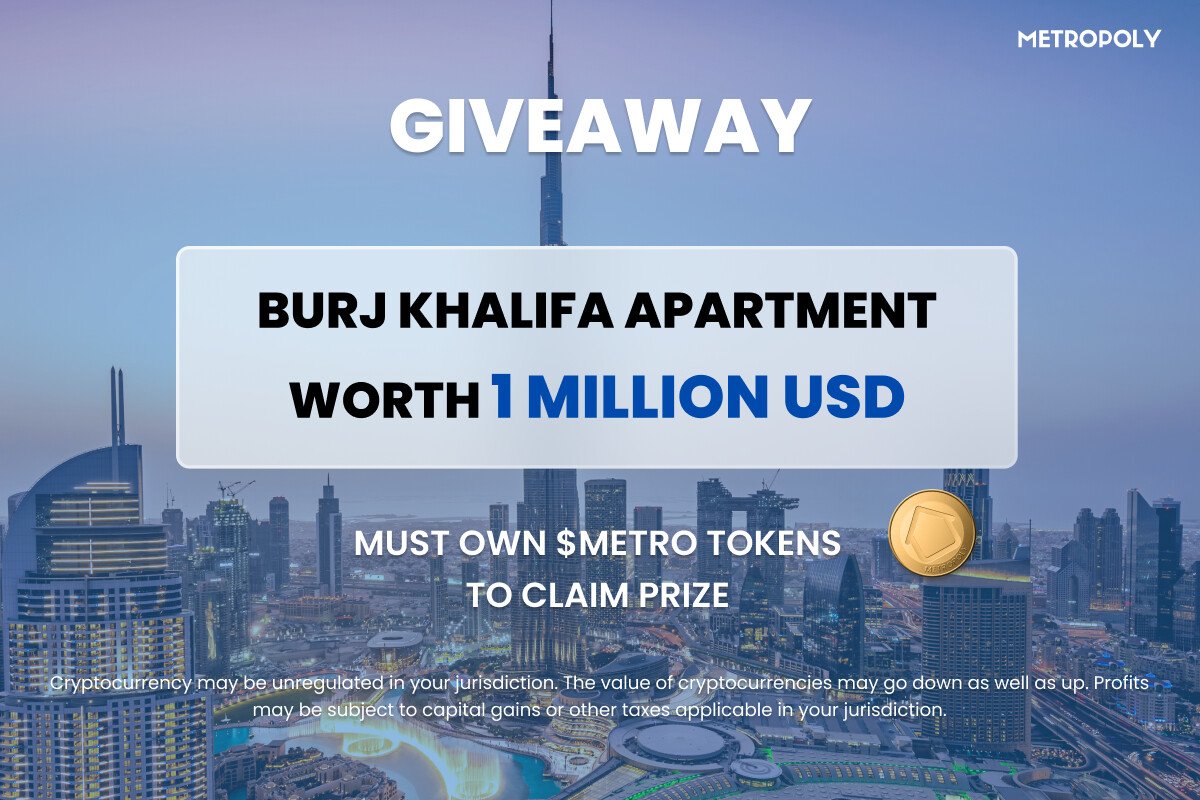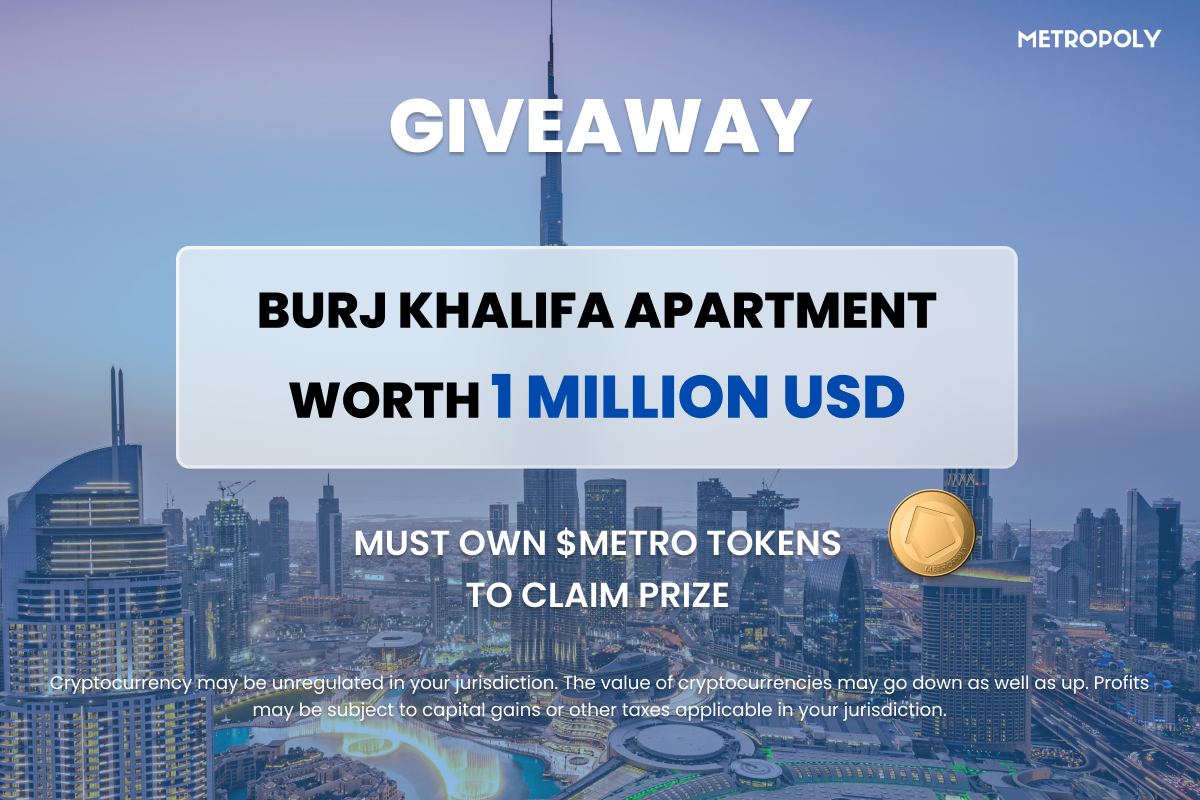 Owning a home is a long-standing goal for many individuals. It has been a source of pride for generations and provides a sense of security and stability. Having a home also removes some of the biggest concerns about survival.
However, the reality is that real estate has become unaffordable for the majority of the population. Renting is the only option for many, leading to a constant threat to one's peace of mind. It would be beneficial if there was a way to access a premium apartment or invest in real estate more affordably and conveniently.
Metropoly is revolutionizing the real estate industry with its NFT-based marketplace. The project offers a new way for people to invest in real estate, making it easier and more accessible for the average investor. With Metropoly, you also have the chance to win a $1 million premium apartment in the Burj Khalifa.
Win a $1 Million Dubai Apartment through Metropoly
METROPOLY $1,000,000 GIVEAWAY IS LIVE!💰

TO WIN THE GIVEAWAY, YOU HAVE TO:

1 – BUY $METRO TOKENS:https://t.co/iMNSYw7ljZ

2 – COMPLETE THE CONTEST TASKS: https://t.co/OdxkxCCNLx pic.twitter.com/NhrTov1vWH

— METROPOLY (@metropoly_io) February 5, 2023
Metropoly is giving away a $1 million premium apartment in the Burj Khalifa in Dubai, providing potential investors with a glimpse of the types of properties available on the platform. This grand apartment is part of Metropoly's $1 million giveaway.
To participate in the giveaway, individuals must complete one or more of a series of social actions, such as retweeting tweets, joining social channels like Telegram or Discord, referring friends, signing up for the newsletter, etc. The cost to enter the competition is low, making it a great opportunity for anyone to consider.
Holding fractional shares in Metropoly properties also offers the potential for passive income. Participants in the giveaway have the chance to earn rental income, with the potential to reach as high as $100,000. This makes the $1 million giveaway even more appealing, providing a unique opportunity to invest in premium real estate.
The Dubai apartment reflects the kinds of properties one will find on the Metropoly platform. Investors will be able to easily afford all sorts of luxury properties. However, the real benefit is not this, but the fact that it will bring the increasingly unaffordable real estate market within the reach of more ordinary investors.
Why is Metropoly Necessary?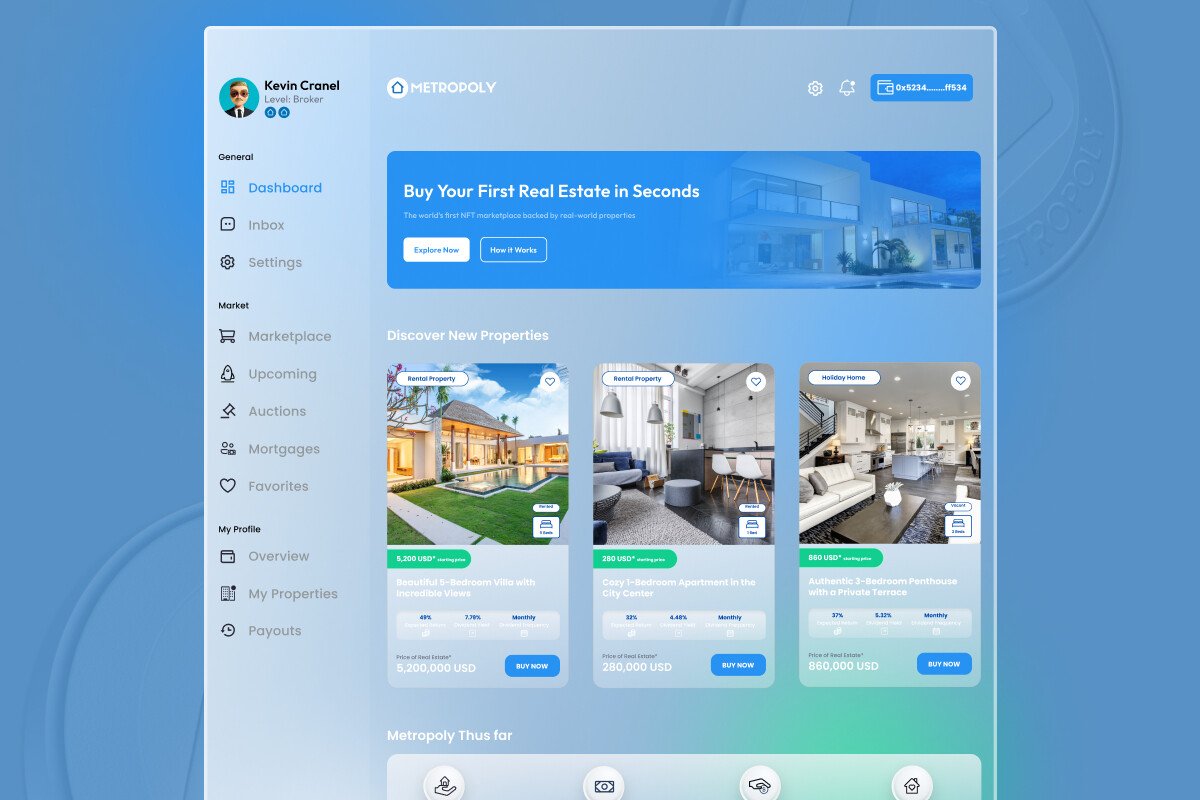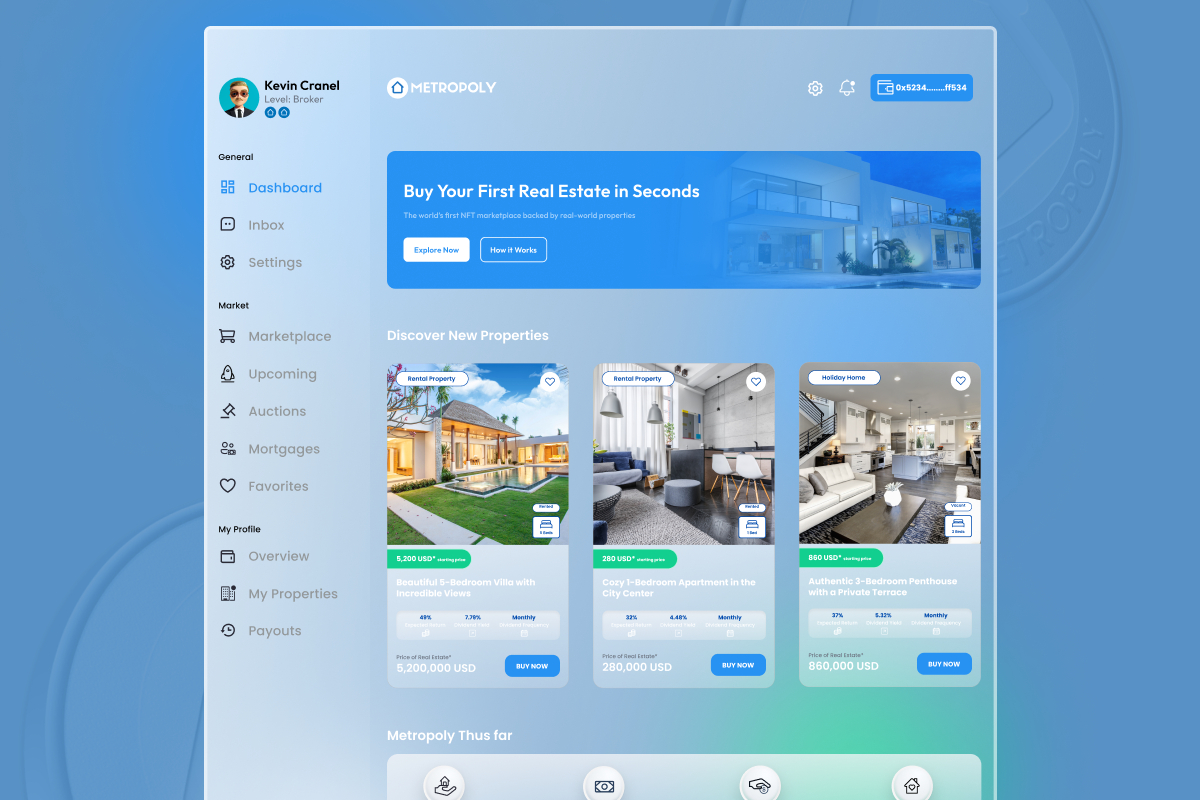 The rising cost of housing and lack of affordable options has sparked a new movement among individuals globally. The real estate market is in dire need of change, as evidenced by the median house price-to-income ratio in the US, which is higher than it was during the 2008 financial crisis.
The unaffordable cost of housing has made it difficult for people to secure their own homes and, with inflation on the rise, the situation becomes even more dire. This is where Metropoly steps in with its innovative solution for real estate investment.
Metropoly's fractional real estate investment model makes it possible for the average individual to invest in real estate, diversify their portfolios, hedge against inflation, and earn passive income through rental earnings. With a minimum investment of just $100, the real estate market is now accessible to everyone.
The real estate marketplace of Metropoly features a prototype that showcases the platform's capabilities. Although the properties listed in the prototype are for illustration purposes only, the platform's final features and functionality can be seen. Investors can view data such as the number of fractions of real estate owned and dividends received on an all-time leaderboard.
Investors can purchase properties from around the world for as low as $100, making the real estate market accessible to the masses. The digitized process through NFTs allows for quick and easy investments, which can be made in under 30 seconds. Additionally, the investment can be made from any country and does not require a credit score.
In conclusion, Metropoly is revolutionizing the real estate market by making it more accessible and affordable to everyone. The platform offers a solution to the housing crisis, enabling individuals to secure their own homes and earn passive income through rental earnings.
The Metropoly Presale is Almost Done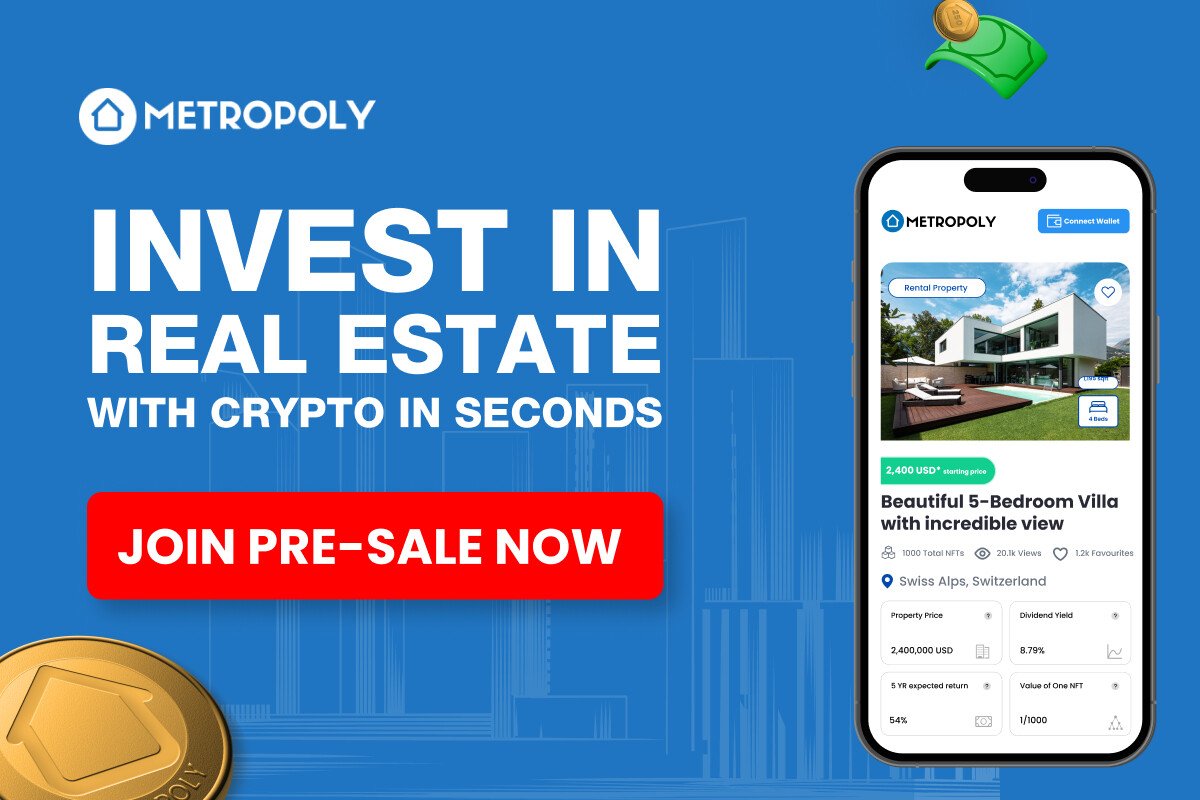 In addition to the $1 million giveaway, potential investors can also consider participating in Metropoly's ongoing presale. The presale offers several benefits and can be a more lucrative option for those who really want to delve into this exciting use case of cryptocurrencies and blockchain technology.
The project has managed to raise over $432,000 so far and it looks like it will very quickly hit its $500,000 fundraising goal. As such, investors will want to get in as quickly as possible to get presale prices for METRO before it runs out.
Investors can purchase METRO tokens at $0.05 each. The tokens are ERC-20 utility tokens and have a maximum supply of 1 billion. Payments can be made in ETH, UDST, and BNB.
One important aspect to consider is that by participating in the presale, investors are automatically enrolled in the Metropoly Platinum Member's Club. This club provides several perks, including early access to the Metropoly Beta, a Metropoly NFT, cashback on rental income, and real estate NFTs worth up to $10,000. The more one invests and the earlier one invests, the better the benefits one receives.
This is the best opportunity for investors to get in on this project. Metropoly is making waves in the crypto space. It's not unreasonable to think that it will do the same in the wider world when it launches. The real estate market is ripe for revolution and Metropoly looks like it will lead the way, bringing fairness to the industry.
Metropoly's $1M Giveaway is Worth Participating In
The opportunity to win a luxurious apartment in Dubai is enticing to everyone, and with no significant cost involved, participating in the giveaway is worth considering. Additionally, the ongoing Metropoly presale offers more advantages beyond access to affordable real estate investments.
The real estate market is undergoing significant changes, with Metropoly leading the way in making it accessible to a wider audience. With its fractional investment model, people can now diversify their portfolios, protect against inflation, and earn passive income from rental earnings.
---