Ethereum: Sharding News Wins Over SEC Scrutiny
Two big news have rocked the world of Ethereum platform yesterday, May 1st: the announcement of a quicker, more scalable future through sharding, and the report of the world's biggest altcoin having come under particular the U.S. Securities and Exchange Commission (SEC) scrutiny on whether to classify it as a security under US law.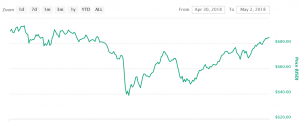 "Sharding is coming," tweeted Vitalik Buterin, co-founder of Ethereum, to the delight of his followers. Sharding is a solution that optimizes the process of verifying transactions and smart contracts by splitting the blockchain network into partitions called shards. This way, there is no need for every single node to go through the entire transaction history on the network - instead, certain nodes are assigned to certain shards, optimizing the process of nodes verifying transactions.
Meanwhile, The Wall Street Journal reported that regulators are debating whether or not Ethereum is to be classified as a security in the US. Citing sources familiar with the matter, they report regulators having proclaimed ETH to be in a regulatory "gray zone." Since Ethereum raised around USD 18.3 million back in July 2014 through what was one of the world's first initial coin offerings (ICOs), and many investors likely bought the coins speculating that they would eventually rise in value, the SEC argues that the ICO was effectively a securities sale.
The market, however, seems more inclined towards bullishness. According to Coinmarketcap data, although Ethereum dipped slightly within the first few hours of the SEC news being published, it quickly regained. Especially once the news of Sharding was shared on Reddit: the coin records a net increase of 3.32% as of the time of writing (~GMT 7:30 AM).
---