Ethereum Price Prediction Following SEC's Exemption of ETH as a Security in Binance Lawsuit – Time to Buy?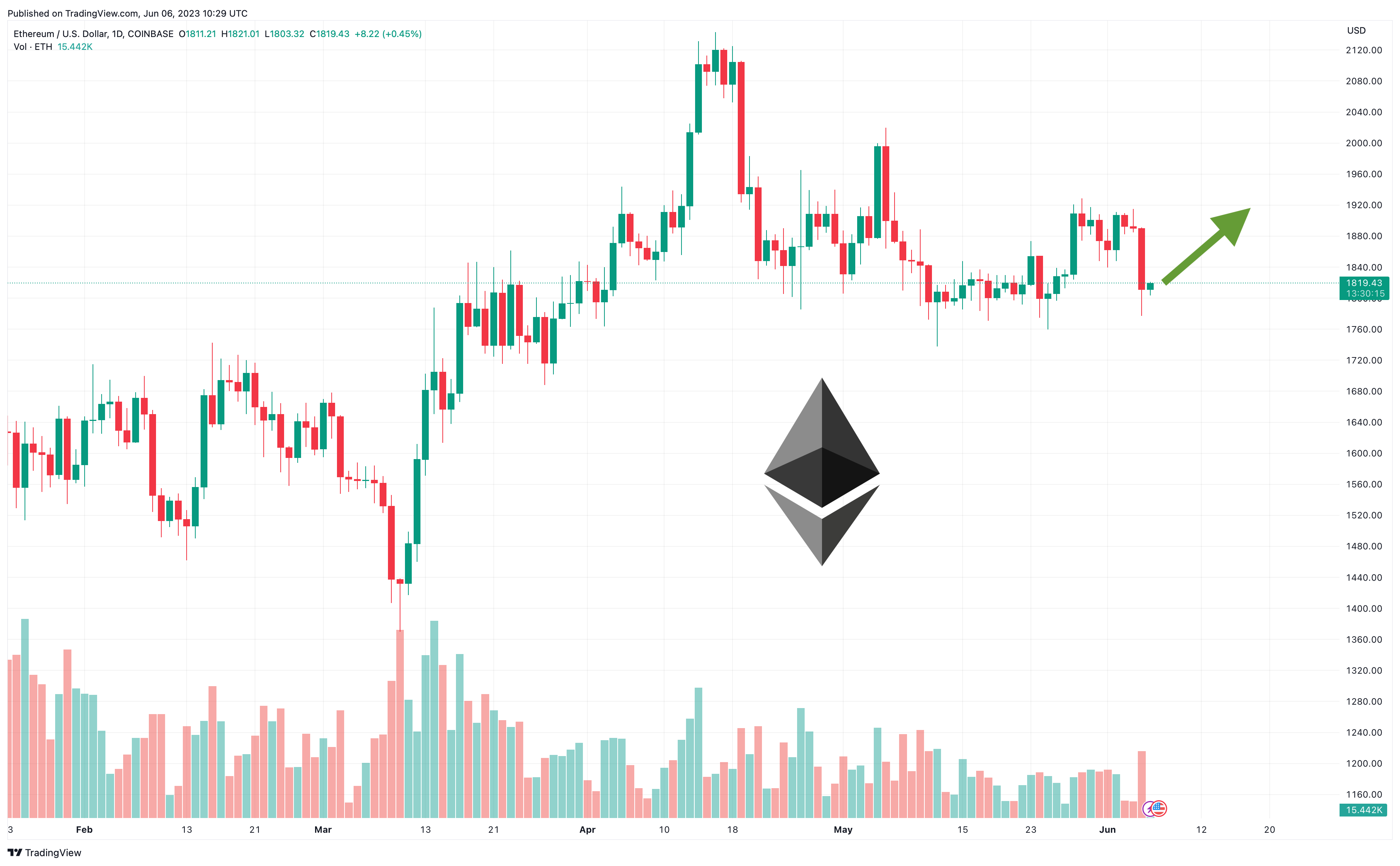 The price of Ethereum (ETH) has dropped by 3% in the past 24 hours, slipping to $1,816 as the cryptocurrency market reels from the news that the SEC has sued Binance and its founder Changpeng Zhao with 13 violations.
ETH hasn't been as badly affected as other cryptocurrencies by this news, with the altcoin down by 4.5% in the past week, but still up by 51% since the beginning of the year.
And in contrast to other altcoins, ETH has arguably benefitted from not being named as an unregistered security in the SEC's charges against Binance, with such rivals as Cardano (ADA), Algorand (ALGO), Solana (SOL) and Cosmos (ATOM) being included (and suffering more as a result).
As such, once the dust has settled on the SEC's latest legal action, ETH could find itself recovering more strongly than many other utility tokens, particularly when combined with an increase in staking.
Ethereum Price Prediction Following SEC's Exemption of ETH as a Security in Binance Lawsuit – Time to Buy?
ETH's indicators are all in a pretty weak position right now, in line with the rest of the market.
This includes its relative strength index (purple), which declined below 30 yesterday and has only just begun creeping slowly back up.
Similarly, ETH's 30-day moving average (yellow) is now dropping sharply towards its 200-day average (blue), and is likely to fall below the longer-term average in a few days, at which point a rebound is due.
It's possible that ETH won't fall much further in price than it already has, in that its support level (green) has held up fairly well around $1,800.
And unlike BNB and various other coins which have been named in the SEC's charges against Binance, ETH has effectively been provided with a clear path towards recovery.
In addition to BNB and Binance USD (BUSD), the altcoins cited as securities in the SEC's complaint are the following:
SOL
ADA
MATIC
FIL
ATOM
SAND
MANA
ALGO
AXS
COTI
It's worth highlighting that the tokens above have fallen harder than many other in the market, with The Sandbox and Axie Infinity, for example, down by 14% and 9% in the past 24 hours.
The fact that ETH coin was not named in the list above suggests that it may escape any future SEC action against it and/or its founders.
However, some observers are concerned that the SEC complaint highlights burning as a mechanism which creates an expectation of profit, something which may result in it turning on ETH in the not-too distant future.
On the other hand, it's not only an expectation of profit that qualifies something as a security (otherwise BTC would be a security), so it's certainly not a certainty that ETH will one day face its own data with the SEC.
In fact, some commentators are actually optimistic that the SEC's complaint provides a relatively clear outline on how cryptocurrency platforms and organizations can avoid offering unregistered securities in the future.
Either way, ETH has been less severely affected today by the SEC's latest legal foray, and it's likely that it will recover strongly in the coming weeks and months.
As we've written before, it successfully introduced staking withdrawals last month, and in the aftermath of this update Ethereum staking has actually increased.
Such an increase in staking will inevitably reduce the circulating supply of ETH, and in conjunction with reported increases in ETH outflows away from exchanges, it suggests that the altcoin's price will recover steadily in the near and more distant future.
From its current price of around $1,800, it's likely to return to $1,900 in the next few weeks, before passing $2,000 in the next few months.
Hedging Bets with Other High-Growth Alts
While ETH continues to have good prospects, even with some uncertainty hanging over it, its recovery may be gradual and may require several months to develop.
Accordingly, some investors may prefer to buy newer altcoins that show more potential in terms of above-average in the shorter term.
Such altcoins include presale tokens, with some of the best of these likely to experience big rallies once they list on exchanges for the first time.
One example of such a presale token is Wall Street Memes (WSM), a new cryptocurrency associated with the meme stocks movement that emerged out of the 2021 GameStop and AMC rallies.
Wall Street Memes has already raised more than $4.4 million in its presale, which kicked off only last week.
As a meme token, WSM has no real fundamentals other than the community which will support it, and given that it has already raised a large sum of money so quickly, it seems as though its community of holders will be a healthy one.
This suspicion is also supported by the fact that the Wall Street Memes Twitter account now has more than 225,000 followers, all of which are potential WSM buyers.
WSM could therefore rally big once it lists, with investors able to join its presale by visiting its official website.
1 WSM token is currently selling at a discounted price of $0.0274, although this will climb to $0.03370000 by the time the sale reaches its 30th stage.
---