Ethereum Price Prediction: ETH Up 0.5% with $6 Billion Trading Volume – Are Whales Accumulating?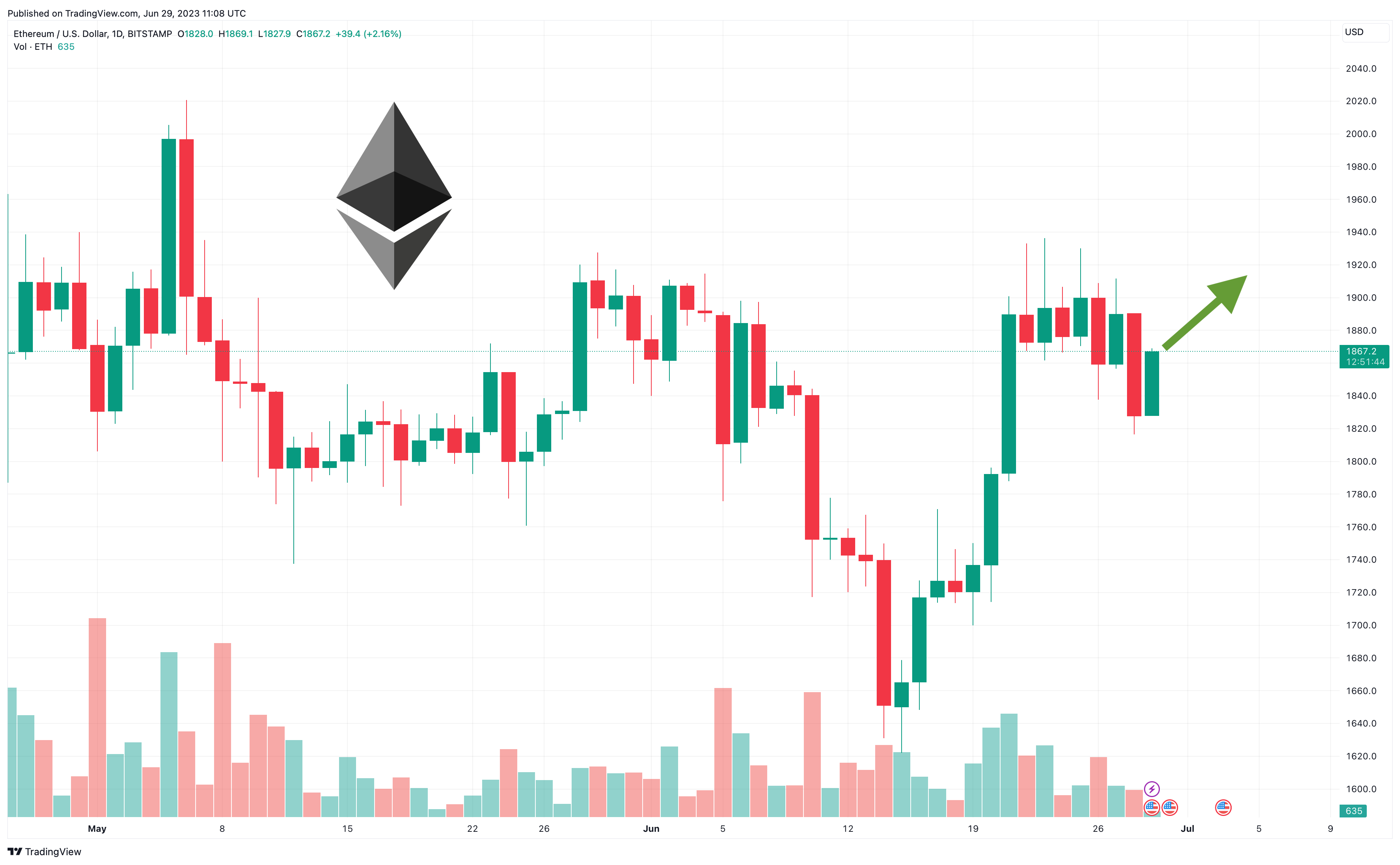 The Ethereum price has risen by 0.5% in the past 24 hours, reaching $1,866 as the cryptocurrency market enjoys a similar gain today.
ETH is now down by 2% in a week but up by 14% in the last 14 days, with the market's biggest altcoin also increasing by 56% since the beginning of the year.
And with its 24-hour trading volume now passing $6 billion, ETH could be in line for further gains in the next few days, especially when there have been signs of big whale transfers involving the cryptocurrency.
Of course, ETH's fundamentals mean that, even if it doesn't rally in the short term, it will almost certainly see sustained increases over the medium and long term.
Ethereum Price Prediction: ETH Up 0.5% with $6 Billion Trading Volume – Are Whales Accumulating?
ETH has seen a slight uptick in the past hour, with its chart and indicators reflecting this apparent increase in momentum.
For one, its relative strength index (purple) has jumped from just under 40 yesterday to just over 50 today, indicating a growth in buying pressure that has plenty of room to intensify further.
Similarly, its 30-day moving average (yellow) has flattened out after looking as though it might be falling towards its 200-day average (blue), something which could indicate further gains to come.
This suspicion is strengthened by ETH's support level (green), which has risen over the past couple of weeks and which is now forming an interesting pennant with the altcoin's resistance level (red).
This implies that a break should be coming in the next few days, with ETH's price action converging on a point at which it could see a big move in either direction.
However, given ETH's fundamentals and general position, it's more likely that such a move is up (rather than down).
This argument is supported by the fact that whales have spent much of the week apparently selling ETH, suggesting that they are now due to begin accumulating the coin again.
More importantly, if there's one altcoin that should be rising when the market becomes more bullish, it's Ethereum.
It continues to account for the lion's share of the DeFi market, while its introduction of staking has resulted in some 23 million ETH – about 20% of the altcoin's supply – being taken out of circulation.
Combined with the burning of transaction fees, this all points to a future in which ETH's supply is increasingly squeezed, and in which demand for the token ramps up as a result.
By extension, this also points to a gradually rising price for Ethereum over the long term, while it should also be pointed out that ETH hasn't been labelled as a security by the SEC (unlike Cardano, Solana, Polygon, and numerous other alts).
From its current level of just below $1,900, it's likely to return to $2,000 in the next few weeks.
And by the end of the year, it could easily climb to $2,500, with a potential bull market in 2024 pushing it beyond $3,000 once again.
New Meme Tokens Promise Big Gains
As fundamentally sound as ETH remains, it's unlikely that it will see any huge growth spurts in the coming months, with its appreciation likely to be more gradual and longer term.
Traders looking for more immediate gains may therefore prefer to look towards newer altcoins that still haven't experienced any initial rallies yet, with presale tokens among the most promising sources of such rallies.
One of the newest presale coins at the moment is Thug Life Token (THUG), a meme token that has adopted the trappings of gangsta rap and hip-hop culture in a bid to attract investors.
It launched its presale only a couple of days, and has already raised more than $100,000.
With a maximum total supply of 4.2 billion THUG, Thug Life Token has allocated 70% of this total to the presale, meaning that ownership over the new meme token will really be in the hands of its community.
In contrast to many other recent token offerings, the presale will have only one stage, which makes THUG available at a price of $0.0007.
The sale will end after hitting its hard cap of $2,058,000, meaning that it's basically already 5% of the way there.
Given that meme tokens have probably been the biggest success story in crypto this year, THUG has every chance of rallying massively once it launches on exchanges in the next few weeks.
Investors can buy some by going to the official Thug Life Token website and connecting their software wallets, with THUG buyable using ETH, USDT or fiat currency.
Disclaimer: Crypto is a high-risk asset class. This article is provided for informational purposes and does not constitute investment advice. You could lose all of your capital.
---