Ethereum Price Prediction as Shanghai Upgrade 24 Hour Countdown Begins – What Happens Next?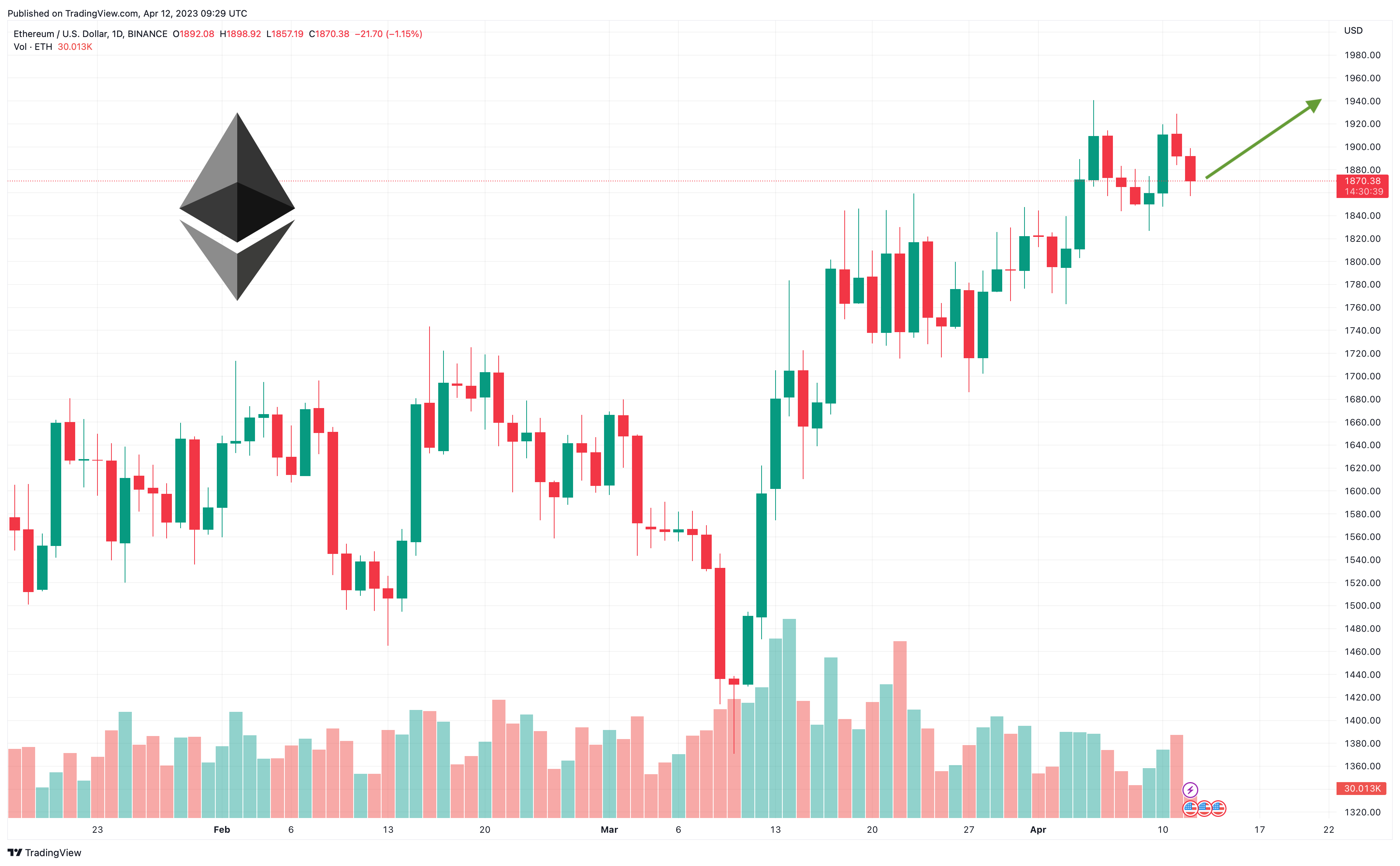 The Ethereum price has fallen by 2.5% in the past 24 hours, dipping to $1,872 as the market awaits the full rollout of the long-awaited Shanghai upgrade today.
Shanghai will enable the withdrawal of staked ETH, with many investors expecting an increase in selling with the update, resulting in further losses for the altcoin.
However, daily limits on withdrawals will prevent any selloff from being particularly large or from happening all at once.
At the same time, the update in itself is a big boost for Ethereum insofar as it effectively completes its transition to a proof-of-stake consensus mechanism.
As such, expect ETH to continue rising in the medium-to-long term, especially as more investors acquire the altcoin for staking purposes.
Check the latest ETH price on CoinCodex.
Ethereum Price Prediction as Shanghai Upgrade 24 Hour Countdown Begins – What Happens Next?
Despite today's fall, ETH remains up by 18% in the last 30 days and by 56% since the beginning of the year.
And even with its slight correction, its indicators continue to signal positive buying momentum, which may continue with the successful rollout of the Shapella (Shanghai) upgrade.
Indeed, its 30-day moving average (red) continues its ascent above its 200-day (blue), showing no signs of slowing down or descending just yet.
Similarly, its relative strength index (purple) hovers around the 60 mark, a position from which it could rise beyond 70 upon Shanghai's deployment.
Of course, some people are suggesting that Shanghai could trigger an ETH selloff, given that it effectively unlocks around 16.3 million ETH (worth some $30.5 billion).
However, it's completely impossible for all of this ETH to be dumped onto the market at once.
That's because developers have designed Ethereum's staking process in a way that sets limits on how many full withdrawals can be processed on a single day.
This limit is currently set at 1,575 full withdrawals per day, given that the total active validator count is between 458,752 and 524,288.
To put this differently, with 512,000 active validators and a limit of 1,575 full withdrawals per day, it would take around 325 days for all staked ETH to be unstaked.
On top of this, around 50% of stakers are sitting on a loss, meaning that they may likely wait for further gains before unstaking and offloading their holdings.
This arguably makes Shanghai a big win for Ethereum overall, with some analysts suggesting that it will precipitate a sustained rise in ETH staking.
For instance, JPMorgan analyst Nikolaos Panigirtzoglou published a research note in February which predicted that Ethereum's staking ratio would rise to 60% once Shanghai is complete.
This would equal a big reduction in ETH's circulating supply, and combined with the fact that ETH has become a semi-deflationary token ever since the Merge and EIP 1559, the market could see steady increases in the altcoin's price.
ETH could therefore pass $2,000 in the weeks following Shanghai's completion today, while it could even rise to $3,000 by the middle of the year.
And in the event of another bull market (most likely coming next year), ETH could easily break its current all-time high of $4,878.
New Altcoins Could Compensate for ETH Losses
While there does remain a real chance that ETH could decline further in the coming days as stakers offload their tokens, traders and investors do have options for offsetting any potential losses and finding gains elsewhere.
One of the most promising new altcoins in the market is Love Hate Inu, an Ethereum-based polling platform that launched the sale for its native LHINU token around three weeks ago.
As of writing, this sale has raised $3.5 million, which is a very impressive figure for such a new platform.
Due to launch later this year, Love Hate Inu's decentralized polling platform will enable users to earn rewards (in LHINU) for participating in online surveys and the like.
Its polls will cover a wide variety of topics, events and issues, with Love Hate Inu planning to tap into the most controversial and trending news in order to give its community their say on important matters.
On top of this, Love Hate Inu is also aiming to sign a variety of partnership deals with recognized brands, something which will enable its platform to offer exclusive branded rewards and opportunities.
Investors can participate in the LHINU presale by visiting the official Love Hate Inu website, where they can use either USDT, ETH or fiat currency to purchase their LHINU.
With the sale currently in its fourth stage, 1 LHINU token costs $0.000105, although this will increase to $0.0000115 when the fifth stage begins in three days.
The price will eventually rise to $0.0000145 by the time the sale ends, meaning that people who invest now will be sitting on a 38% increase.
And that's before LHINU even lists on exchanges.
Disclaimer: The Industry Talk section features insights by crypto industry players and is not a part of the editorial content of Cryptonews.com.
---