Ethereum Price Prediction as Lido ETH Staking Withdrawals Approved - What's Next for ETH?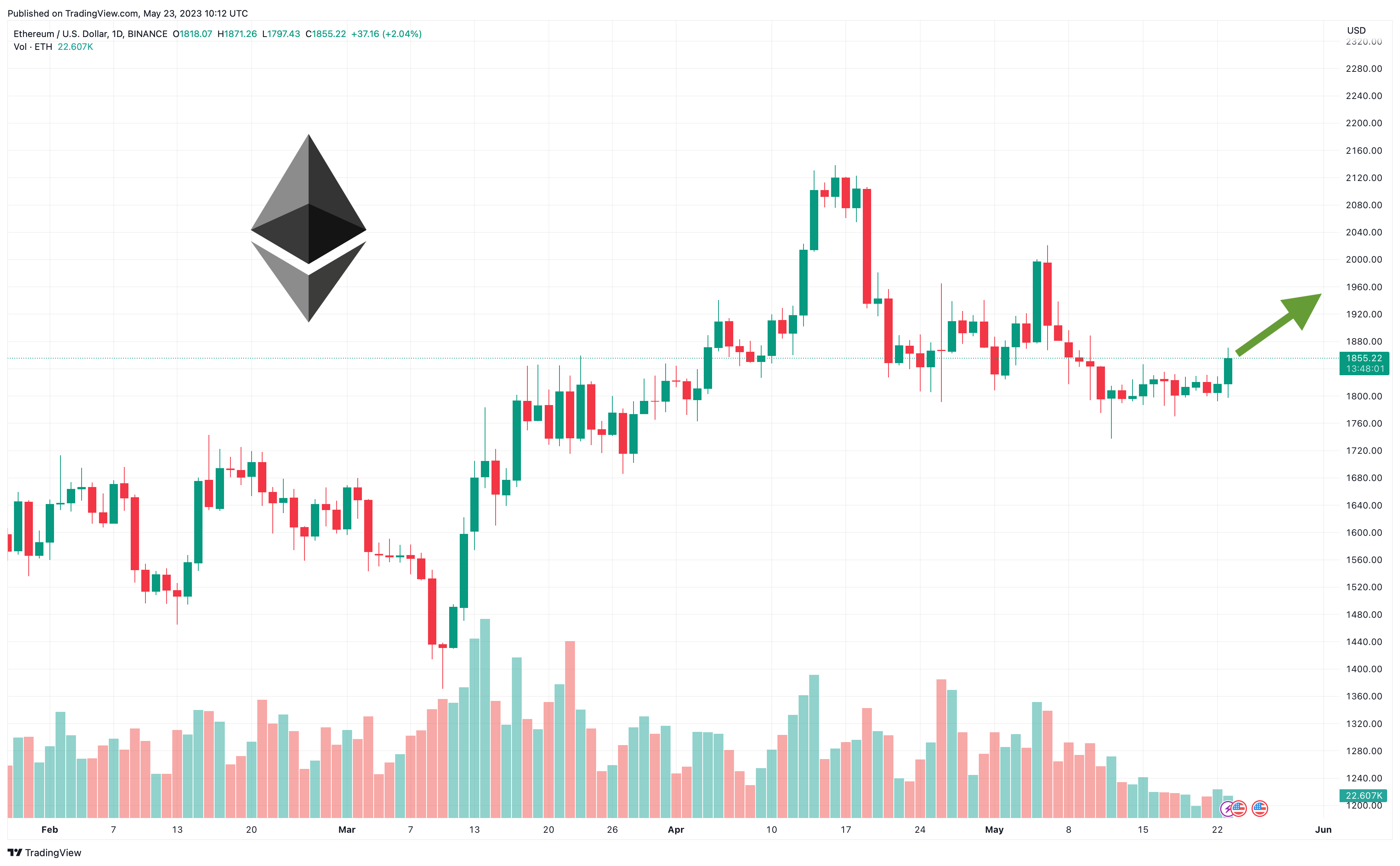 The Ethereum price has gained by 2% in the past 24 hours, with its price of $1,855 also representing a 2% rise in the past week.
These movements come in the wake of ETH staking withdrawals being enabled on Lido, which has seen a net outflow of ETH since it opened withdrawals last week.
However, the vast majority of these outflows have come from one party, bankrupt cryptocurrency lender Celsius, meaning that everyone else has generally been depositing ETH for staking (and not taking it out).
This sets Ethereum up nicely for a steady increase in its price, with rising staking likely to put a squeeze on ETH's supply, not that the market's bigger layer-one platform necessarily needed another source of growth.
Ethereum Price Prediction as Lido ETH Staking Withdrawals Approved - What's Next for ETH?
ETH's indicators are in a very promising position, with its relative strength indicator peaking above 70 this morning, as more buying momentum comes in.
Just as bullishly, ETH's 30-day moving average (yellow) has risen over its 200-day average (blue), indicating a breakout that may continue for several days yet.
Key in any rally will be the coin's ability to break the $1,870 resistance level, which it failed to do earlier today.
Still, with its trading volume moving clear of $7 billion, ETH seems to have the impetus to reach new levels in the not-too distant future.
Its ascent will be helped by the arrival of staking withdrawals on Lido, which is the largest staking platform in the cryptocurrency ecosystem.
Lido currently holds around 6.6 million in staked ETH on its platform, and while it has seen net outflows since opening withdrawals, these have mostly come from a bankrupt company -- Celsius -- that desperately needed the funds.
What this means is that, contrary to any doom-mongers, the ability to withdraw staked ETH hasn't resulted in an avalanche of selling.
On the contrary, it will likely encourage more ETH staking in the longer term, with data on Dune revealing that the total amount of staked Ethereum has indeed increased overall since the Shanghai update in April.
This bodes well for the future, with Ethereum also witnessing periods where it has been deflationary, given that it burns transaction fees and has seen high traffic recently.
Add this to Ethereum's recent adoption news (e.g. Societe Generale, Visa, Coinbase's layer-two network), and the cryptocurrency is in a prime position to ride the next bull market to higher price levels.
From its current position of around $1,800, it could easily reach $2,000 in the next few weeks, before seeing out the year at around $3,000.
Alternative Altcoins
As strong as Ethereum, it isn't the only high-potential altcoin in the market right now, with several other newer tokens also raising the possibility of big gains in the coming weeks.
This includes ecoterra, an Ethereum-based recycle-to-earn platform that has raised more than $4.1 million in the presale for its ECOTERRA token.
Due to launch in the next few months, Ecoterra's platform offers users the opportunity to be rewarded (in ECOTERRA and NFTs) for recycling household waste at designated recycling points.
This exciting premise has helped its sale attract interested investors, with the token offering currently in its seventh stage, with 1 ECOTERRA costing $0.008500.
This will rise to $0.001 by the time the sale ends in the next few weeks, with ECOTERRA's price likely to rise even higher once the token lists on exchanges.
Another highly promising project is AiDoge, an AI-powered meme-generating platform that has already raised over $11.5 million since beginning the sale of its $AI token at the end of April.
Due for launch in Q3 of this year, AiDoge exploits advanced AI algorithms and big datasets to generate memes, with users needing simply to enter short descriptions of the memes they'd like created.
Users can also earn rewards in $AI for their memes if they receive enough upvotes from AiDoge's community.
On top of this, they can also use $AI for staking and for paying to create memes, giving the token some real utility.
Such utility should mean that AiDoge enjoys considerable success when it launches in the next few months, and along with ecoterra, it could end up becoming one of the most successful presales of 2023.
---