Ethereum Price Prediction as ETH Spikes Up 5% in a Week – Where's ETH Heading Now?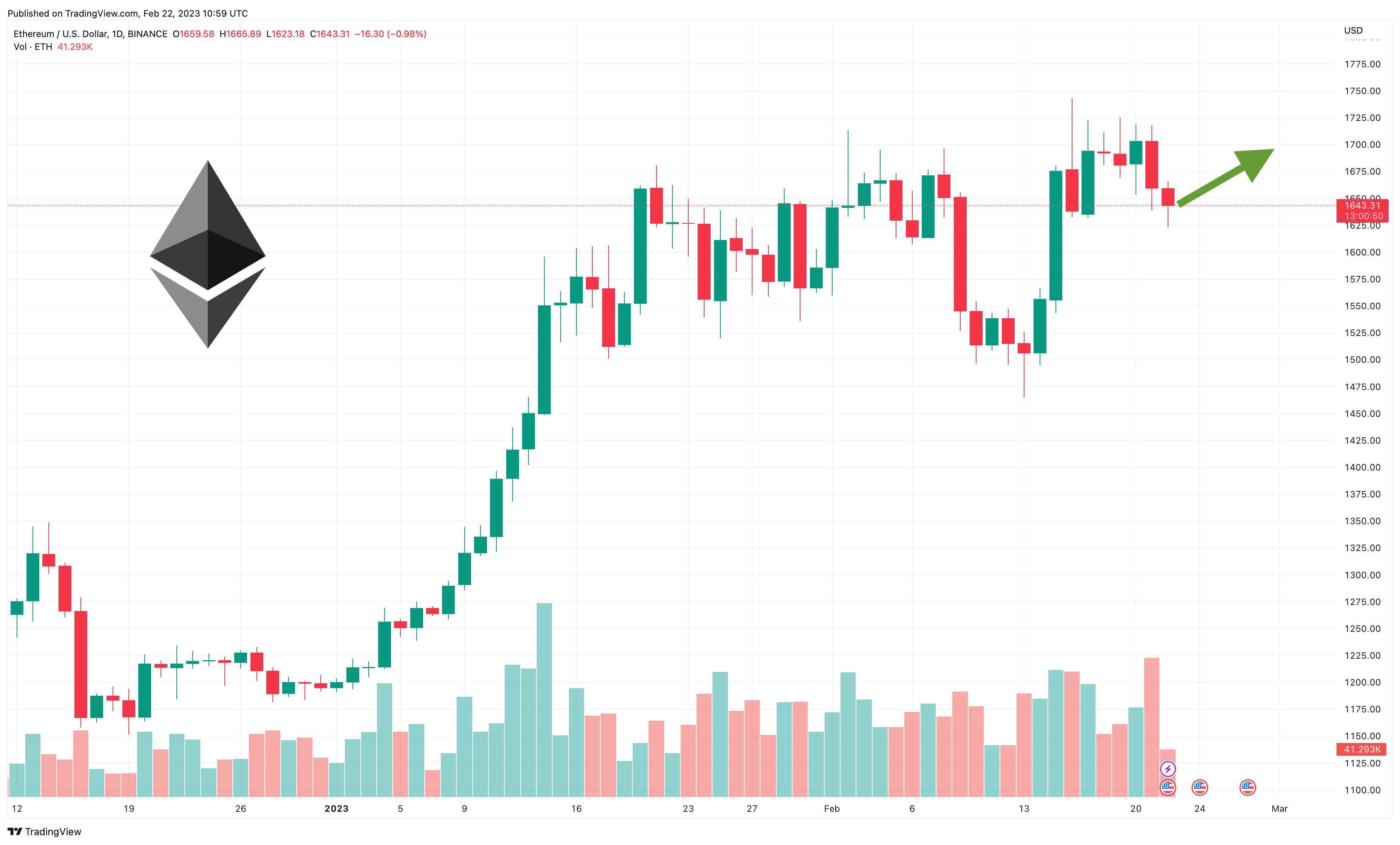 The Ethereum price has dipped by 2.5% in the past 24 hours, reaching $1,641 amid a 2.5% fall for the market as a whole today. Despite this drop, its current price means that it has gained by 5% in a week, while being up by 37% since the start of the year.
As the cryptocurrency market continues to recover this year, ETH is one of the best-placed tokens to rally. With arguably the best fundamentals in the market and enviable network effects, it could witness some big price increases as 2023 plays out, as it cements its position as the biggest layer-one smart contract platform.
Ethereum Price Prediction as ETH Spikes Up 5% in a Week – Where's ETH Heading Now?
ETH's indicators suggest that the altcoin may be due a fall in the coming days, with its relative strength index (purple) beginning to sink down from 60. Likewise, its 30-day moving average (red) has stopped its ascent in relation to its 200-day (blue), and looks ready to come back down, bringing ETH's price with it.
A key support level to watch here is $1,600. If ETH falls below this price, a more substantial selloff may be on the cards, with the coin's last descent below $1,600 leading to a drop to just under $1,500.
These misgivings aside, ETH continues to have some of the strongest fundamentals in the market. Its total value locked in, at $28.85 billion, accounts for 58.7% of the entire DeFi sector, although this percentage would be even higher if Ethereum-based layer-two networks (such as Polygon) are also included.
Given its early-mover advantage and huge network effects, Ethereum continues to attract investors and users who want to be on the platform that 'everyone else' is on. And with Ethereum successfully completing its transition to proof-of-stake in September, it has laid the foundations to increase its speed, scalability and efficiency.
Indeed, it seems that Ethereum has only grown in stature since September's Merge, with the beginning of the month bringing the news that payments giant Visa is testing USDC stablecoin payments on the Ethereum blockchain. Added to previous Ethereum cheerleading from Visa, this development is very bullish for Ethereum, suggesting that the big players are betting on its success.
In addition, Ethereum is gearing up for the Shanghai update, which will enable the withdrawal of staked ETH. While some have argued that this will result in a flood of newly-released ETH entering the market, it will likely have the opposite effect in that it completes Ethereum's transition to a proof-of-stake consensus mechanism.
Indeed, the fact that people can withdraw their staking rewards will encourage more people to invest in the Ethereum ecosystem. At the same time, Shanghai introduces numerous updates that are necessary if Ethereum is to implement such innovations as sharding, which will enable it to process transactions in parallel.
In other words, Shanghai sends Ethereum further down the road of becoming a more scalable network, and the result of which will likely be Ethereum price rises.
From its current price, ETH could move to $1,700 once its current dip has played out. After that, the arrival of Shanghai and of other positive adoption news, could push it up to $1,800 and higher, potentially reaching $2,000 by the middle of the year.
More generally, there are various reasons to suspect sustained price rises in 2023. To begin with, the Merge and such upgrades EIP 1559 have given ETH a tendency to become deflationary during periods of busier activity.
On top of this, whales and other bigger investors have been taking ETH off exchanges in the past few months. For instance, data compiled by Santiment suggests that the value of ETH stored by exchanges has fallen by 37% since the Merge (in September), with the total amount of ETH falling by 30% over the same period.
As Shangahi is implemented and staking becomes more widespread, we can expect even more ETH to be taken off exchanges. The upshot of this is that, along EIP 1559 and other 'deflationary' updates, ETH''s supply will be squeezed, causing the coin's price to rise higher.
Is Now A Good Time to Buy Ethereum?
While ETH is definitely undervalued right now, it may not experience a substantial rally until after the Shanghai upgrade, at the earliest. In light of this, we've taken a look at other high-potential coins and put together a list the top 15 cryptocurrencies for 2023, as analyzed by the CryptoNews Industry Talk team.

The list is updated weekly with new altcoins and ICO projects, so be sure to check back for new entries.
Disclaimer: The Industry Talk section features insights by crypto industry players and is not a part of the editorial content of Cryptonews.com.
---