Ethereum Price Prediction as ETH Falls 10% – Time to Buy the Dip?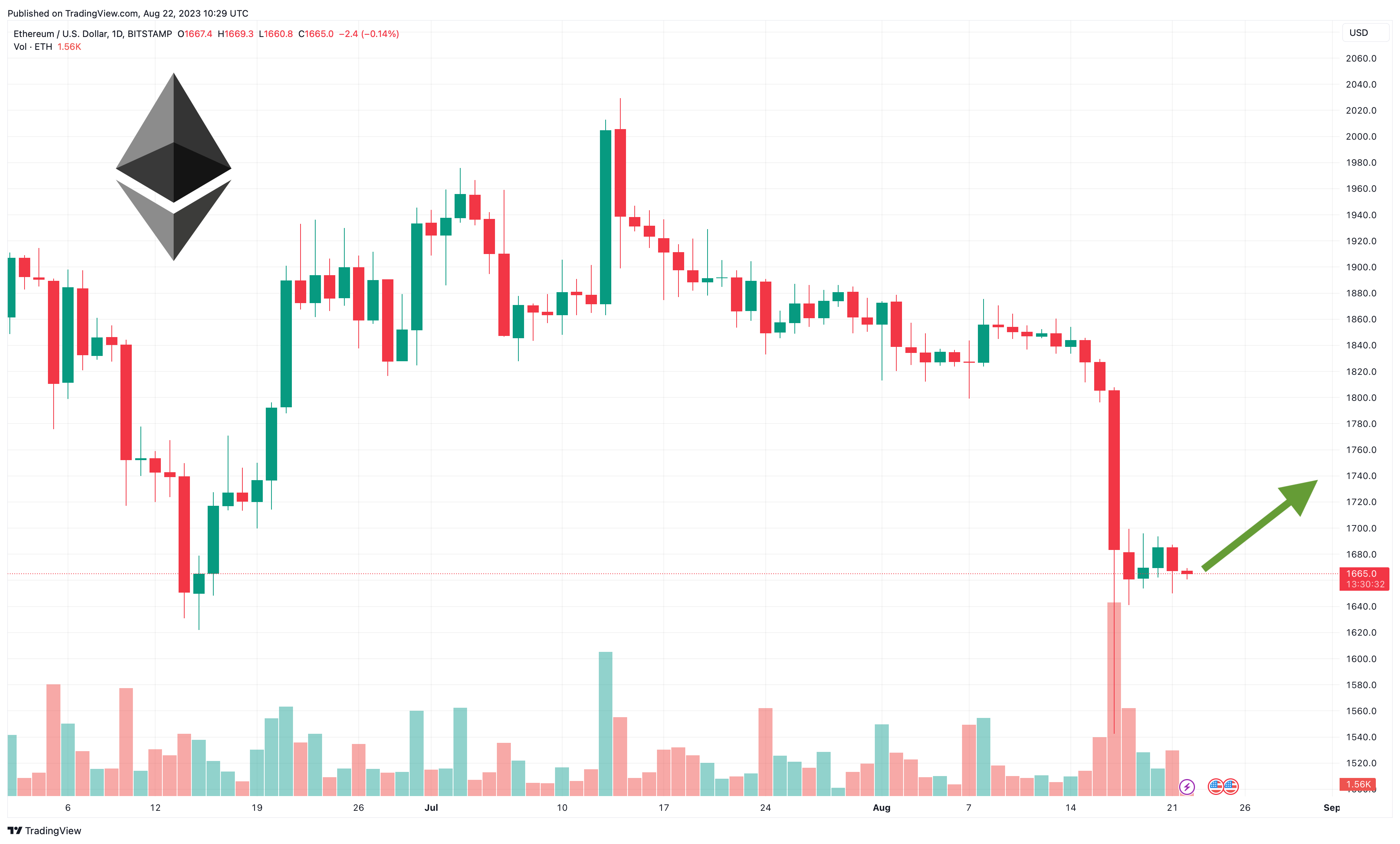 The Ethereum price has dropped to $1,664 today, representing a 0.4% fall in 24 hours and a 10% loss in the past week.
ETH is also down by 11% in the last 30 days, with the altcoin's losses coming amid a period of market-wide negativity that has been caused macroeconomic fears (e.g. China) and reports that SpaceX has sold its BTC holdings.
However, ETH remains up by 39% since the beginning of the year, with the altcoin's fundamentals remaining as strong as ever, despite recent losses.
As such, ETH can be expected to recover in due course, with the current downturn providing investors with a prime opportunity to buy the dip.
Ethereum Price Prediction as ETH Falls 10% – Time to Buy the Dip?
A buying-the-dip opportunity is indicated very clearly by ETH's chart and technicals, with the coin's relative strength index (purple) having plunged below 30 in recent days.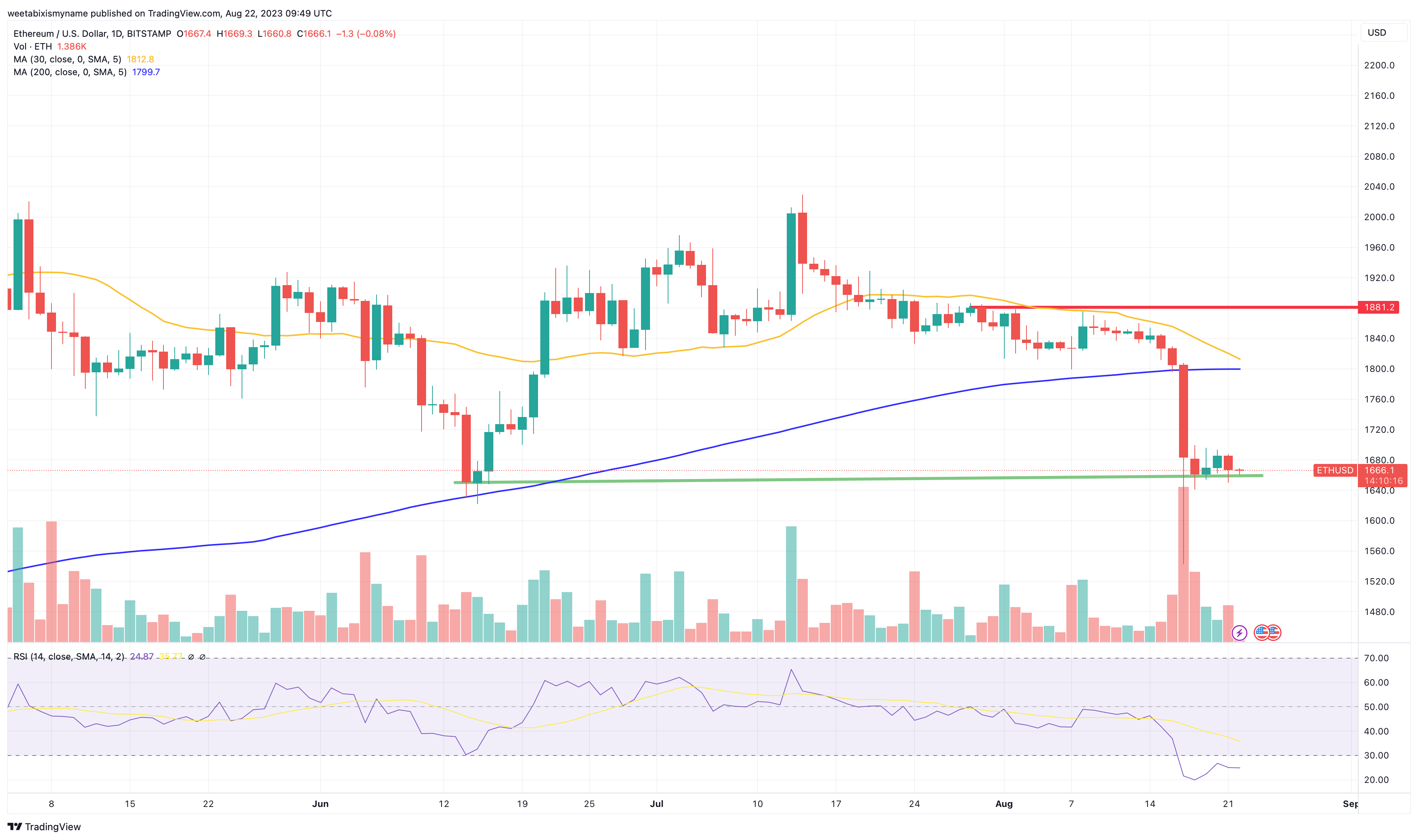 This means the coin has been strongly oversold relative to its recent levels, something which is also indicated by the fact that its 30-day moving average (yellow) is about to drop below its 200-day average (blue).
Once this happens, and once the 30-day average finds itself at some distance below its 200-day counterpart, then ETH should make a recovery.
That the coin won't fall much lower is suggested by its medium-term support level (green), which has remained stolidly at around $1,660 for a couple of months now.
As mentioned above, investor appetite for risk-on assets (including cryptocurrencies) has been dampened in recent weeks by concerns surrounding the state of the Chinese economy, which has been slowing.
This has bled into the cryptocurrency market, and when combined with the apparent SpaceX selloff and ongoing bearishness, the effect has been to depress cryptocurrency prices further.
Fortunately, Ethereum is one of the strongest cryptocurrencies in the market, so it can be expected to rebound healthily once conditions are more favorable.
It's currently looking forward to the launch of the Holesky testnet, as well as the later arrival of the Dencun upgrade, which will introduce Proto-Danksharding.
This upgrade will make layer-two rollups cheaper and more efficient, which in turn should invite increased Ethereum usage and adoption.
And it's not as though Ethereum necessarily needs new upgrades in order to attract more adoption, with the network recently marking the fact that PayPal is to launch its own Ethereum-based stablecoin.
As such, ETH can be expected to return to $1,700 soon enough, with the coin potentially on course to reach $1,900 or $2,000 by the end of the year.
New Altcoins For New Rallies
Anyone looking to build a solid crypto portfolio should probably have some ETH, yet it's also arguable that such a portfolio should include some newer tokens, given the potential of newer coins to outperform the market.
And while many newer tokens can be risky, presales often provide a good way of locking in gains, since the best sales can end with tokens rallying big once they list on exchanges.
One good candidate for doing this is Sonik Coin (SONIK), an ERC-20 meme token that began its presale last week and has already raised more than $300,000.
Taking inspiration from the long-running video game character Sonic the Hedgehog, SONIK is aiming to be the fastest cryptocurrency to reach a market cap of $100 million.
In line with its source material, SONIK has also adopted a playful and in-your-face character, with its social media presence likely to help it win over supporters and investors, as indicated by the fact that it has raised $300,000 so quickly.
With a hard cap of $2,098,547, SONIK's sale will offer 50% of the coin's overall supply of 299,792,458,000 (which happens to be the speed of light in mm/s).
On top of this, another 40% of this overall supply has been reserved for staking rewards, meaning that investors will be able to earn an income from SONIK by just holding the token.
This helps to explain why the market appears to have become fond of the new meme token in a short space of time, and why it will most likely meet its sale's hard cap with time to spare.
To join the SONIK presale, new investors can simply head over to the coin's official website and connect their software wallets.
1 SONIK costs $0.000014, a price that could rise significantly once the coin lists on exchanges in the next few weeks.
Disclaimer: Crypto is a high-risk asset class. This article is provided for informational purposes and does not constitute investment advice. You could lose all of your capital.
---