Ethereum Price Prediction as ETH Experiences a 5% Weekly Decline – Is the Bearish Trend Set to Continue?
Disclosure: Crypto is a high-risk asset class. This article is provided for informational purposes and does not constitute investment advice. By using this website, you agree to our terms and conditions. We may utilise affiliate links within our content, and receive commission.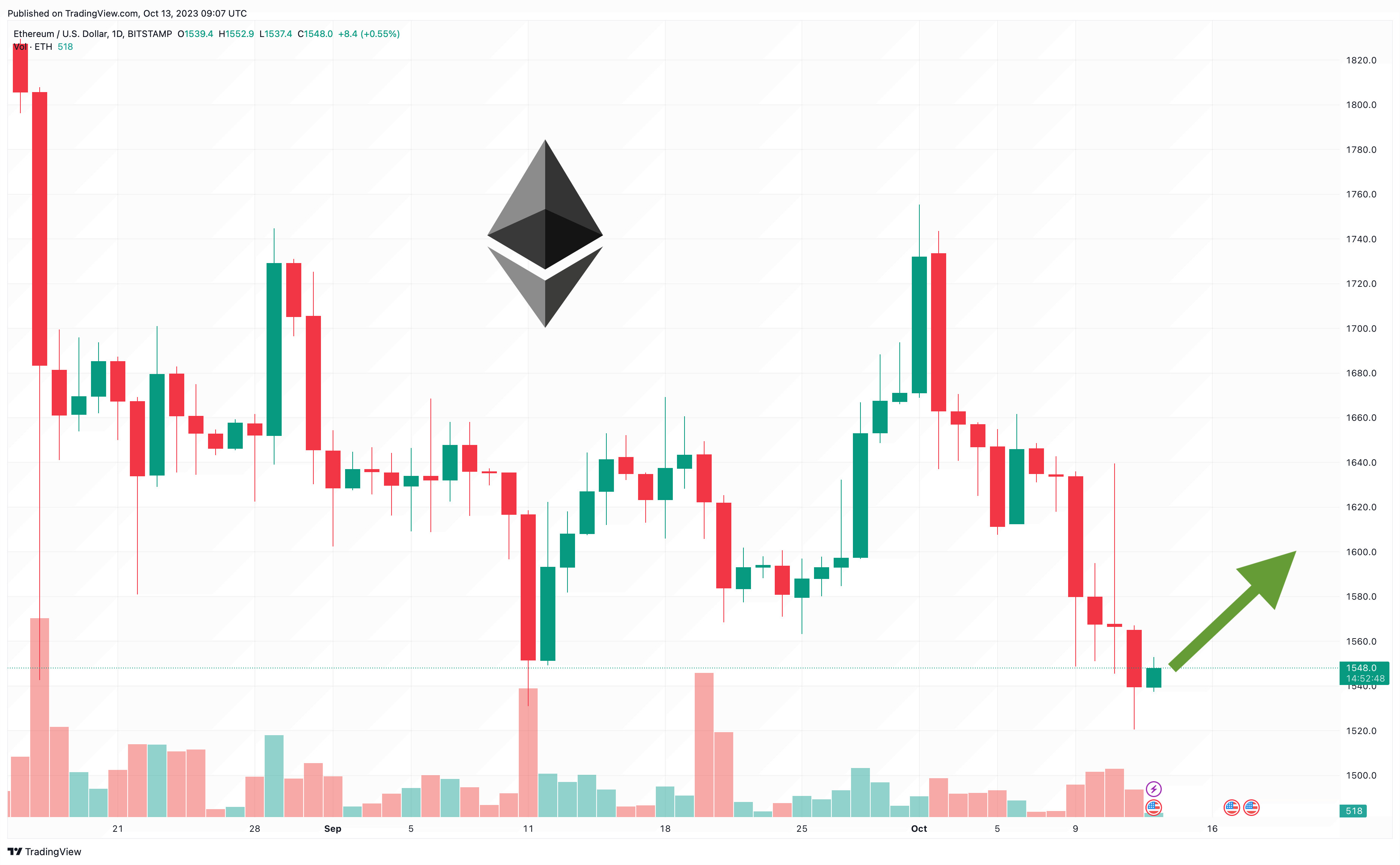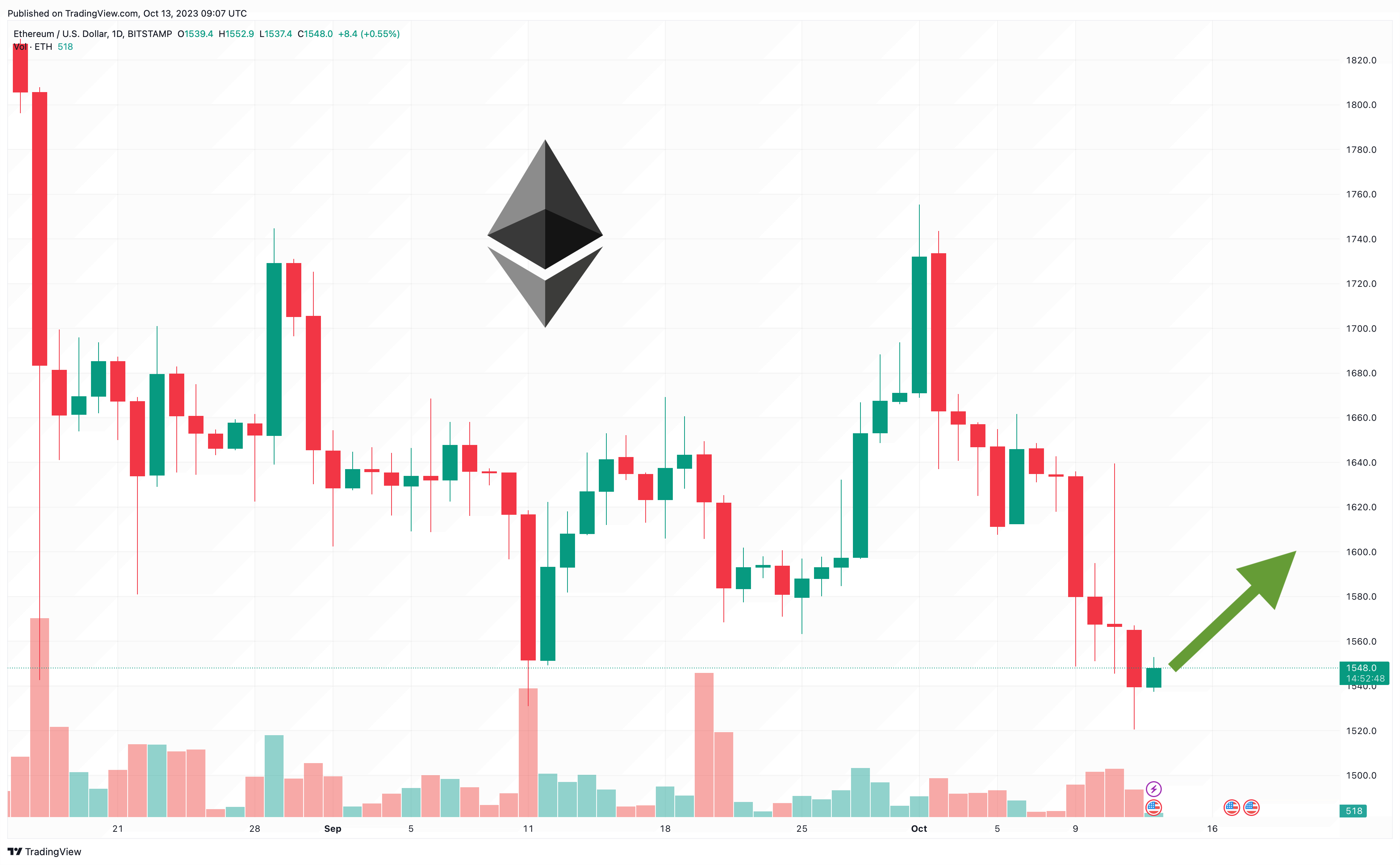 Ethereum has dipped again today, with its fall to $1,550 representing a 0.5% decline in 24 hours and a 5% drop in a week that has been largely negative for the cryptocurrency market.
This loss of momentum also means that the ETH price has fallen by 8% in a fortnight and 2% in the last 30 days, although the market's biggest altcoin remains up by 29.6% since the beginning of the year.
It's picture therefore remains pretty mixed, yet its overselling in the past few weeks has likely set the asset up for a rebound in the coming days and weeks, especially when its fundamentals remain as strong as ever.
Ethereum Price Prediction as ETH Experiences a 5% Weekly Decline – Is the Bearish Trend Set to Continue?
Ethereum's price has been taking a beating for a couple of months now, with the coin's indicators looking very weak since the middle of August, when the overall market suffered a big drop.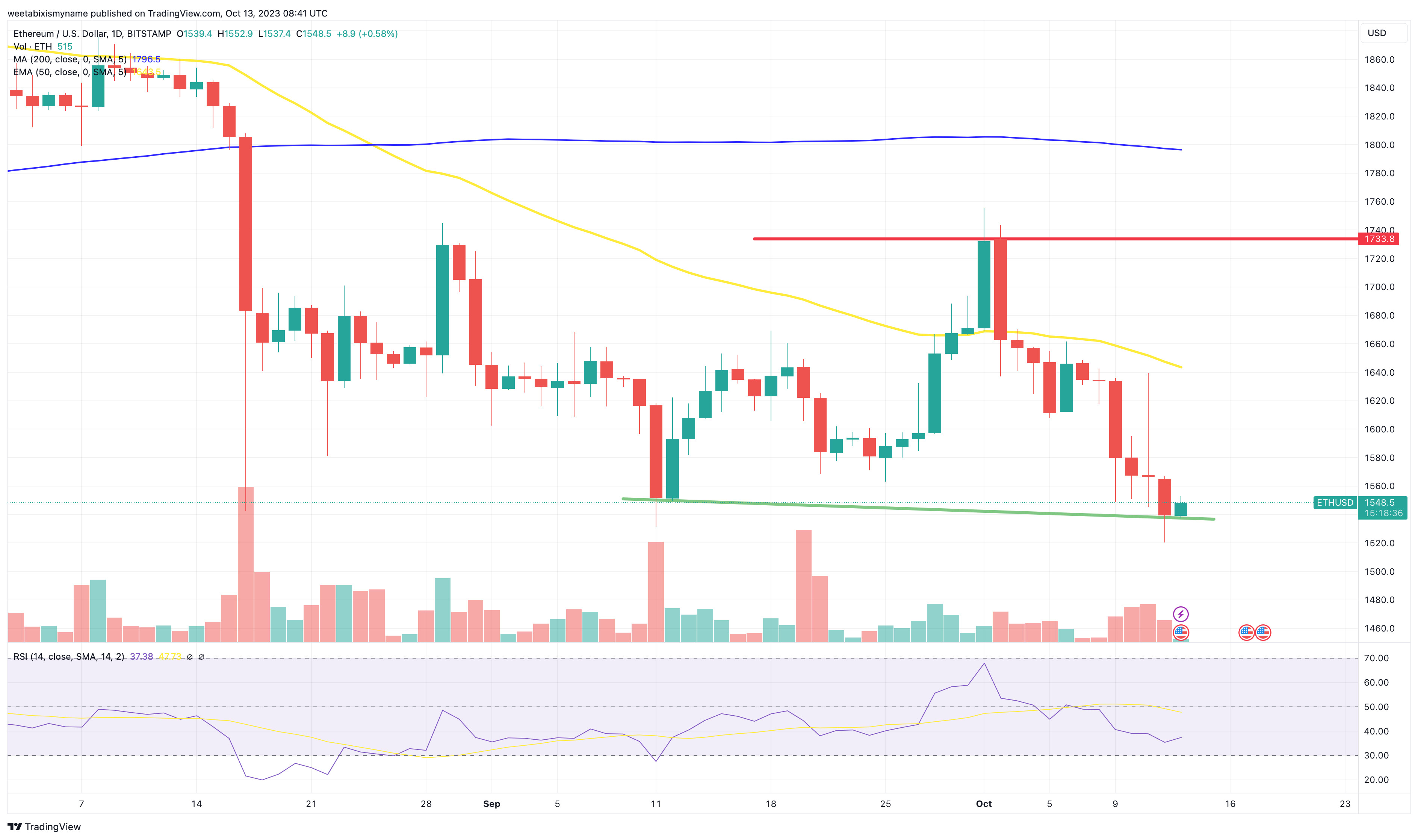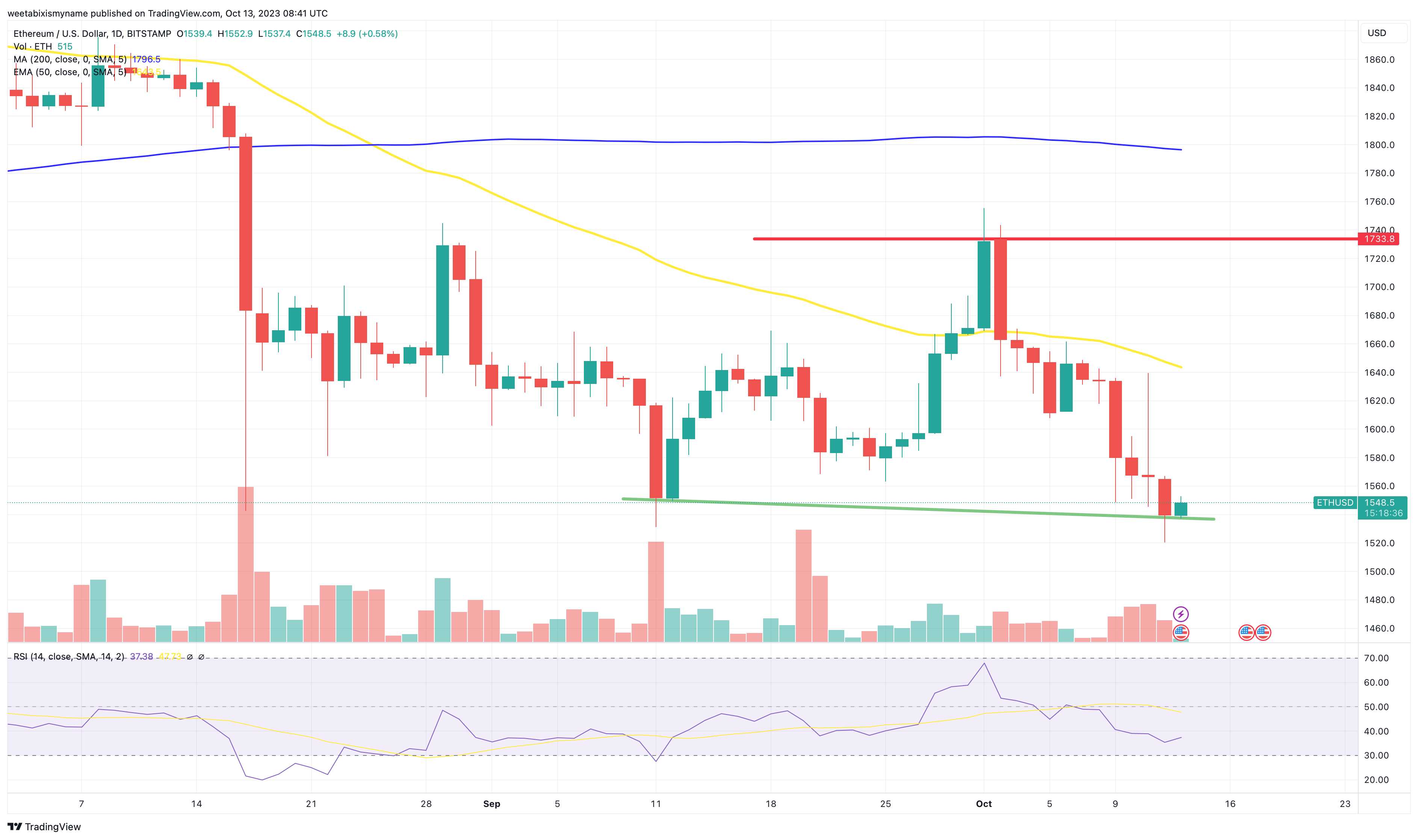 ETH's relative strength index (purple) has fallen from nearly 70 at the start of the month to 35 this morning, and while it has inched up slightly in the past few hours it still looks weak, meaning that the coin is being oversold.
It's much the same with ETH's 30-day exponential moving average (yellow), which continues to slide even further below its 200-day average (blue), providing another indication of strong selling pressure.
Possibly the most discouraging signal right now is that provided by the token's support level (green), which has actually declined in the past few days, meaning that ETH may not be able to resist further dips in the next few days.
However, while further minor falls may be possible in the very near future, the sheer fact that ETH has been so heavily sold recently should mean that, sooner or later, traders begin swooping in to buy the coin at an attractive discount.
Indeed, ETH is so undervalued relative to its fundamentals that now is a very good time to buy the altcoin, which more than any other alt can be expected to make a full recovery.
As we've repeatedly reported, Ethereum continues to dominate the crypto ecosystem in terms of TVL, with its own network and that of its main layer-twos (e.g. Arbitrum, Optimism, Polygon and Base) accounting for about 63% of the sector's total TVL.
And it continues to grow and develop, with this month seeing the launch of the Holesky testnet, which will help Ethereum work towards the eventual rollout of proto-Danksharding (which will greatly improve scalability).
The first Lido deposit on Holesky is here 🎉https://t.co/rLfNzj7OeE pic.twitter.com/7YHI3yol4X

— Lido (@LidoFinance) October 6, 2023
Ethereum also continues to attract more major adoption than its main rivals, as attested by PayPal's recently announced stablecoin, as well as by Visa's ongoing stablecoin pilot.
As such, ETH can be expected to return to $1,700 in the next few weeks, with a bullish end to the year potentially pushing it beyond $1,800.
New High-Return Altcoins
ETH should arguably be included in almost every cryptocurrency portfolio, yet it isn't the only altcoin with a high potential for growth at the moment.
There are also a number of newer alts emerging at the moment, with many of these holding presales that could end with successful exchange listings.
One of these is TG.Casino (TGC), a decentralized casino platform that operates on popular social messaging app Telegram.
The $TGC presale is live – your golden ticket to exclusive rewards and benefits from casino profits.
Don't miss out!

⭐️What's Live from https://t.co/1CivTnIx4Z⭐️

⏰ Token Presale
💵Token Staking for Rewards
🎰Casino

⌛️ Coming Next⌛️

📢 Huge Marketing
🪙Token Launch pic.twitter.com/TdHvbI7GV1

— TG Casino (@TGCasino_) September 29, 2023
TG.Casino has already brought in more than $850,000 in its presale, which was opened only three weeks, providing a strong indication of how popular it's quickly becoming.
What has set TG.Casino apart from superficially similar platforms is that it's based largely on Telegram, with games and bets being announced and conducted on the messaging app.
The use of Telegram is enabling TG.Casino to cultivate a large and thriving community, which will not only provide the platform with users and holders, but which will also help recruit additional community members, and so on.
It's because of its strong social element that it's been able to raise more than $800,000, with its presale on course to raise a total of $5 million.
25% cashback on casino net losses when you play with $TGC. pic.twitter.com/ooe4EgQqnb

— TG Casino (@TGCasino_) October 12, 2023
Its native token, TGC, will have a total supply of 100 million, with the presale being allocated 40% of this total.
20% will also go to staking rewards and 10% to gaming rewards, with the coin also providing users with 25% cashback on their losses.
This provides the coin with real utility, and will mean that TGC rises in price in parallel with the growth of TG.Casino as a platform.
Investors can buy the coin by going the official TG.Casino website, where they can connect their wallets and join the presale.
1 TGC will cost $0.125 for the entire sale, although it's likely to rise much higher once the sale ends and the token lists on trading platforms.
Disclaimer: Crypto is a high-risk asset class. This article is provided for informational purposes and does not constitute investment advice. You could lose all of your capital.
---