Ethereum Price Prediction as $6 Billion Trading Volume Rushes In – Are Whales Buying?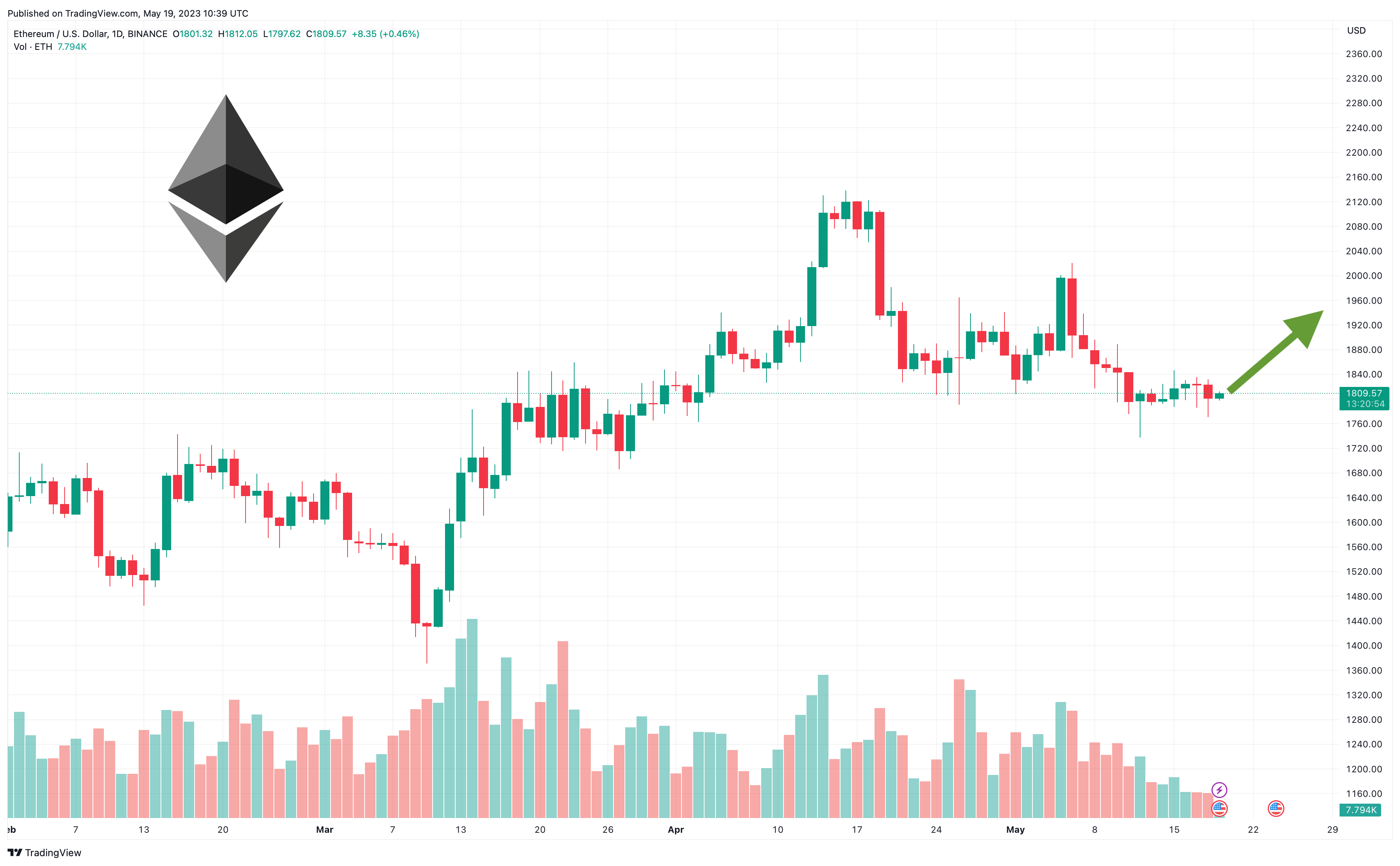 The price of Ethereum (ETH) has dropped by 1% in the past 24 hours, slipping to $1,805 as the cryptocurrency market suffers a similar 1% dip.
ETH has risen by 2.5% in the past week but is down by 9% in the last 30 days, although the second-biggest cryptocurrency has also gained by 50% since the beginning of the year.
Its movements come as its 24-hour trading volume raises slightly above $6 billion, suggesting a gradual increase in liquidity that could result in significant rises somewhere down the line.
This is also suggested by data on large whale transfers of ETH, which may combine with Ethereum's strong fundamentals to cause a big rally sooner or later.
Ethereum Price Prediction as $6 Billion Trading Volume Rushes In – Are Whales Buying?
Despite today's slip, ETH's indicators are in a position that suggests the altcoin may recover soon enough.
After a fall towards 20 and fully oversold territory, ETH's relative strength index (purple) has begun rising again and has just crossed 50, signaling that it has begun regaining some positive momentum.
At the same time, the coin's price is just about to climb over its 30-day (yellow) and 200-day (blue) moving average, something which also points towards growing buying pressure.
Taken together, these two changes suggest that ETH is likely to recover soon, as does the aforementioned increase in its trading volume, although it should be noted that $6 billion is still some way below the peaks of $16 billion seen in April and $60 billion in March.
At the moment, it does seem that whales have mostly been preparing to sell ETH, at least based on recent big transfers.
This may seem disappointing, but it's arguable that this puts retail investors in a good position to buy ETH at a discount, seeing as how undervalued it remains at the moment.
And it really is undervalued, with the coin probably boasting the strongest fundamentals of any cryptocurrency in the market.
This assessment is based not only on the fact Ethereum commands more than half of the total value locked in of the entire cryptocurrency sector but also because of recent adoption news.
This includes major French bank Société Générale trialing a euro-denominated stablecoin on the Ethereum blockchain, as well as Visa testing USDC payments and Microsoft piloting an Ethereum wallet in its Edge browser.
It's likely that Ethereum will continue attracting more usage and adoption than its rivals, while the rollout of staking and withdrawals in recent weeks makes it more attractive to investors.
Data from Dune Analytics reveals that the ratio of staked ETH to non-staked ETH is now at 16.6%, up from 10% a year ago.
This is significant because it points towards a scenario where increasing quantities of ETH will be taken out of circulation, in the process helping to drive the coin's price.
And with ETH also having a tendency to be deflationary during periods of peak usage, its price could really surge during the next bull market.
From $1,800 now, it could easily reach $2,000 in the next few weeks, before potentially rising back up to $3,000 by the end of the year.
AiDoge Could Be Better
As strong as Ethereum is, it's the kind of altcoin that is more likely to see gradual rises than big rallies and surges.
This means that traders looking for quicker and more dramatic gains may prefer investing in newer altcoins, including presale tokens, which can rally in a big way when listing for the first time.
One of the hottest presale coins right now is AiDoge.com, an AI-powered meme-generating platform that has already raised more than $9.5 million since the sale for its $AI token began at the end of April.
AiDoge uses a mix of advanced AI algorithms and extensive datasets to generate memes, which can span pretty much every theme and topic users could think of, although it has a particular focus on crypto-related memes.
Its platform has been designed to be very user-friendly, with the user being able to generate memes simply by entering a short text-based description.
Users will also be able to upvote and downvote each other's memes, with the most popular earning their creators rewards in the form of $AI.
And aside from paying to access AiDoge's meme-generating features, $AI can also be used for staking purposes, earning holders credits in the process.
Investors can join its presale by visiting AiDoge's official website and connecting their wallets, before using ETH, BNB, USDT or fiat currency to buy $AI, which currently costs $0.0000312.
This price will rise to $0.0000316 during the sale's next stage, while $AI will list on exchanges at $0.0000336.
Of course, if it attracts one or two big exchange listings, its price could end up rising much higher.
---