Ethereum (ETH), with its Upcoming Shapella Upgrade alongside RenQ Finance (RENQ), can Fuel the Next bullrun in 2023
Disclaimer: The text below is an advertorial article that is not part of Cryptonews.com editorial content.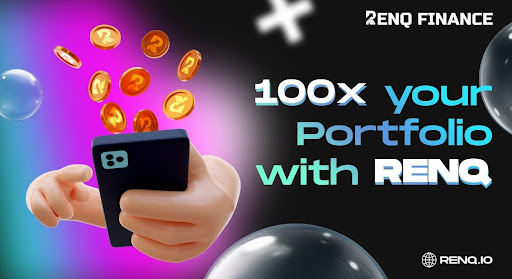 The cryptocurrency market has been abuzz with excitement over the upcoming upgrades for Ethereum (ETH) and the potential of the newcomer RenQ Finance (RENQ). Following the Shapella upgrade on April 12, many investors believe Ethereum (ETH) is on the verge of a major bull run. At the same time, RenQ Finance (RENQ) has been gaining traction with its unique DeFi platform and strong community support. Together, these two projects could fuel the next major uptick in the crypto market.
Why Ethereum (ETH)'s Shapella Upgrade Can Fuel Next Bull Run
The Ethereum (ETH) Shapella Upgrade has been enabled on the Ethereum mainnet, allowing validators to un-stake ETH for Beacon Chain withdrawals. The update went live at epoch 194,048 on April 12 at 10:27 p.m. UTC, releasing about $3.37 billion in Ethereum (ETH), or over 15% of the entire Ethereum (ETH) supply.
Withdrawals have seen the unlocking of approximately 116,334.75 Ethereum (ETH) in 44,621 withdrawals since the hard fork. Of the 546,169 active applications for partial or complete withdrawals, the validator count was 285,423. Surprisingly, the majority of withdrawals ranged from 2.8 to 3.2 ETH. Huobi controls over 30% of the entire withdrawable Ether.
The Shapella Upgrade will be subsequently followed by Verge, which will introduce Verkle trees, boosting the network's scalability. This would enable developers to store a big quantity of data, but users would just need a single or brief proof to have a root of that tree. Using this cryptographic technique, Verkle trees would make efficient data proofs possible.
Many market participants believed releasing the staked Ethereum (ETH) would result in significant sell-offs. However, due to strong demand, completing the unstaking request may take weeks or months. The price of Ethereum (ETH) has consequently continued to rise and is currently at a year high following the upgrade.
RenQ Finance (RENQ): A Unique DeFi Platform with Strong Community Support
RenQ Finance (RENQ) is a decentralized finance (DeFi) platform that aspires to make the financial ecosystem more inclusive and accessible to everyone. It is a cutting-edge multi-chain non-custodial decentralized exchange (DEX) that elevates decentralized trading by offering users a direct trading option via the RenQ Wallet app.
RenQ Finance (RENQ)'s AI-Blockchain link is one of its most significant features. This link enables the platform to evaluate market patterns and improve investment portfolios using artificial intelligence (AI) algorithms, offering customers more efficient and effective investing choices.
RenQ Finance (RENQ) also includes a decentralized exchange (DEX), which allows users to trade altcoins in a transparent and safe environment. The platform's DEX is convenient and straightforward, with a user-friendly interface for accessing liquidity pools and making transactions. RenQ Finance (RENQ) integrates multiple DEXs into a single platform via the RenQ wallet app, providing users with access to a wider pool of liquidity.
RenQ Finance (RENQ) provides staking services. Token holders can stake their tokens in liquidity pools I the platform for juicy rewards. Staking secures the network and raises the token price because staked tokens are removed from circulation. RenQ Finance (RENQ) provides liquidity provision services, allowing users to contribute liquidity to the platform's DEX in exchange for incentives. Enough liquidity, in turn, allows for smooth trading.
RenQ Finance (RENQ) is poised to continue its expansion and development after an exceptionally succesful presale campaign. The project intends to debut its platform in the third quarter of 2023 on a top-tier CEX and will gradually add new products and services. These consist of a distributed insurance platform, a forecasting market, and a platform for synthetic assets.
RenQ Finance (RENQ)'s strong community and distinctive features lay the groundwork for the project to lead the impending bull run in 2023. RenQ Finance (RENQ) has the potential to become a dominant player in the DeFi industry thanks to its unique concept, creative offerings and amenities, and skilled staff.
Click Here to Buy RenQ Finance (RENQ) Tokens.
Visit the links below for more information about RenQ Finance (RENQ):
Website: https://renq.io
Whitepaper: https://renq.io/whitepaper.pdf
---