Ethereum Classic and Arbitrum Price in Red on the Weekly Chart, Pomerdoge Predicted to Outperform Shiba Inu in 2023
Disclaimer: The text below is an advertorial article that is not part of Cryptonews.com editorial content.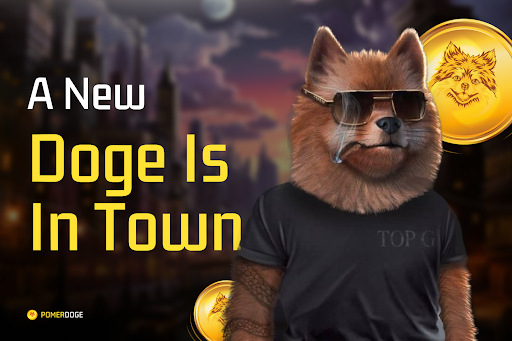 Ethereum Classic (ETC) and Arbitrum (ARB) price dip in the red zone throughout the weekly chart, this now marks a solid point in time to diversify. Pomerdoge (POMD) is seen as the top-performing cryptocurrency for 2023 and can be the next blue-chip token to outperform even the most rapid growth of Shiba Inu (SHIB). Today, we will analyze each altcoin's value to see how far it can climb.
Summary
The Ethereum Classic price is down 11.2% in the past 30 days
The Arbitrum crypto dipped by 7.9% in the past two weeks
Pomerdoge (POMD) can surge in value by 100x at launch
Click Here To Find Out More About The Pomerdoge (POMD) Presale
Ethereum Classic (ETC) Price In Red
The Ethereum Classic (ETC) price is projected from the 200-day EMA, and it's in a position to face a downward trend. Its price is stuck between the $17 and $22 range.
Moreover, the Ethereum Classic crypto's price performance does showcase that it can bounce back. However, the prices will gain momentum when buyers break past the $20 price barrier. In addition, as of July 31, 2023, Ethereum Classic trades at $18.73.
During the past 30 days, it's been down by a total of 11.2%, and it's down 53% year-to-date. Its trading volume is at $211,088,299, spiking by 182.45% in the last 24 hours, and its market cap is at $2,660,946,884. Subsequently, according to an Ethereum Classic price prediction, the highest point it can reach in 2023 is $24.72.
Arbitrum (ARB) Red on Weekly Chart
Arbitrum (ARB) has seen significant attention, especially after its DAO approved an improvement proposal. The proposal will lock up $770 million in ARB tokens. This new vesting schedule is meant to drive tokenomics. However, while this was a major step, the value has declined rapidly.
In addition, as of July 31, 2023, the Arbitrum crypto trades at $1.18. During the past two weeks, it went into the red zone and saw a drop of 7.9%. The Arbitrum market cap was at $1,504,017,293, and the 24-hour trading volume surged by 110.11% to $128,538,438.
However, based on the Arbitrum price prediction, the cryptocurrency can climb to $1.56 by the end of the year. As a result, many investors have begun to diversify.
Pomerdoge (POMD) Predicted to Outperform Shiba Inu (SHIB) In 2023
Pomerdoge (POMD) is a Play-to-Earn (P2E) ecosystem where each player and participant can get rewarded for their time spent enjoying some of the various experiences on offer.
Subsequently, the project has already made massive waves with its appeal to blockchain gaming actors, and it has the potential to dominate the industry.
The Shiba Inu (SHIB) cryptocurrency surged from $0.000000000056366 to an all-time high of $0.00008616 from 2020 to 2021, marking a massive growth in value. Analysts believe that, from its starting value of $0.007 per POMD token, the cryptocurrency can surge by 100x or even outperform SHIB's performance.
Not only that, but its vast ecosystem consists of Pomergame, Pomerplace, and a dedicated NFT collection. In addition, anyone can create a Pomer avatar throughout the Pomergame and level it up, after which they can build the character and create custom items.
Then, when they reach Gold Status, they can begin buying, selling, or trading valuable items collected in-game on top of the Pomerplace marketplace.
There's even a dedicated arena where players can compete against one another. The NFT collection will feature 7,777 unique NFTs only available to POMD holders. As a result, analysts are bullish on the future of Pomerdoge (POMD) as it provides a high level of utility.
Making The Right Investment Decision
With its strong ecosystem, innovations in the P2E sphere, and dedicated marketplace, Pomerdoge appeals to investors and traders globally. Publications are calling it the biggest meme coin of the year, and the presale is selling out quickly. As a result, those aiming to get the highest possible outlook for their portfolio will want to diversify before this explosion in value.
Find out more about the Pomerdoge (POMD) Presale Today
Website: https://pomerdoge.com/
Telegram Community: https://t.me/pomerdoge
---