Essentia Tries to Improve Interoperability and Data Management
In our Quick reviews series we introduce interesting initial coin offering projects that might inspire you to do your own research and decide whether an idea and its development is worth your investment. It's not an endorsement.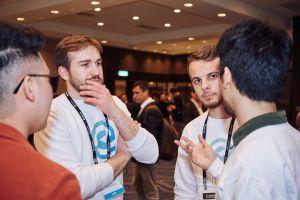 Today we are looking at Essentia.
What problem(s) does it target?
Essentia aims to help users to own their data and do with it what they want, through their own operating system ESS-OS that can be accessed from any device, anywhere.
Essentia is aiming to provide greater ease of use to the blockchain community, including individuals and businesses. There are two primary components: Essences and Synergies. Essences are the platform function where entities own all of their personal information/data, and links them across multiple platforms. Synergies are the links between different platforms, resources, and modules, allowing for the intended interoperability.
Who are the team members?
In total, the team is comprised of 33 members, with a development team of 20 based in Ukraine. The CTO is maintaining anonymity of name and picture. The rest of the team has experience in their respective fields.
At what stage is the project?
Awaiting the end of token sale, currently creating the Essentia Wiki and integrated a decentralized exchange called IDEX. Essentia can also now be accessed by hardware wallets such as Trezor and Ledger.
What are the main future milestones in their roadmap?
Q3 2018 promises the second beta for their framework, as well as a hackathon and security/bug reporting bounties. The fourth quarter, meanwhile, should see the launch of Essentia for both government and enterprise solutions.
Fundraising status:
Token sale ends on June 28th. Raised 93%, USD 23 million out of USD 25 million according to the website of the company. Tokens should be issued within 7 days of the end of the token generation event.
Most important partnerships?
Orca: a banking platform for cryptocurrency users;
Akasha: a social media platform;
The Central Union of Agricultural Producers and Forest Owners in Finland will integrate Essentia.
How large is their community?
35,000 Telegram members, 18,500 Twitter followers and 6,500 Reddit subscribers. Interestingly, on Reddit, only approved users may post in their subreddit. The community does not seem very active and arguably the only people posting are team members.
What are other similar projects?
VRBex, BidiCoin, Civic, TheKey, SelfKey, Remme.
---