EOS Mainnet Launch: Fixing Bugs and Learning to Vote
After almost a year, the EOS initial coin offering (ICO) is approaching USD 4 billion as it nears its conclusion and the mainnet launch, set for June 2nd, and everybody is holding their breath in the face of the launch. What is the big deal all about?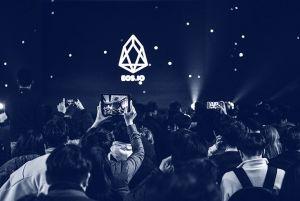 Calling itself the most powerful infrastructure for decentralized applications, EOS is a blockchain-based, decentralized system that should enable the development, hosting, and execution of commercial-scale decentralized applications (dApps) on its platform. EOS promises to be able to process thousands of transactions per second—compared with Ethereum's 15—while using much less power.
A mainnet is an original and main network for crypto transactions, where tokens have real economic value. This is not to be confused with a testnet, which is a global testing environment in which developers can obtain and spend tokens that have no real-world value on a network that is very similar to the mainnet.
The ERC-20 EOS token distribution will end on June 1st at 22:59:59 UTC.
"Per the EOS crowdsale Ethereum smart contract, the ERC-20 tokens will be frozen 23 hours after the end of the token distribution.<...>The ecosystem will be wrought with scams during this time. Do not import your private key until you have seen a joint statement released from at least five Block Producers that you trust which states when it is safe to do so," GenerEOS, EOS Block producer candidate, warned in a blog post.
However, the mainnet launch is bound to extremely interesting, as the China-based security firm Qihoo 360 said it has notified EOS about "a series of epic vulnerabilities" discovered on its platform. Loopholes found in the EOS platform could expose nodes on the network to attackers, the firm said, giving them the ability to execute code remotely. The firm claims that such an attack could potentially "decimate" the entire cryptocurrency network, while EOS said the problem has been fixed.
Also, the solution EOS came up with was to take to Twitter, offering USD 10,000 to anyone who can find "unique bug that can cause a crash, privilege escalation, or non-deterministic behavior in smart contracts." Charlie Lee of Litecoin was not so easily sold, tweeting, "Raises $4B, offers to pay only $10k for catastrophic bugs 2 days before mainnet launch. Strange."
Another problem with EOS is that the public is confused how to vote. Programming-literate token holders can vote via a command line interface, but less tech-savvy users will likely have to rely on crowdfunded projects like EOS Portal, as reported by Coindesk.
The project's consensus algorithm is delegated Proof of Stake (dPoS). Here, a set number of nodes – in the EOS case, 21 – will be chosen to act as validators (or "block producers"). Since these validators will have a lot of responsibility, they will also be rewarded for their work with newly-minted EOS tokens (similar to how Bitcoin rewards miners.)
This is a great incentive to become a validator: vying for those spots, as well as backup node spots, are several dozen organizations, mostly from China. However, as Vitalik Buterin, co-founder of the competing Ethereum platform, points out, it would be very easy for cartels to form in this system.
"They have set the bar very high for themselves in terms of delivery expectations," William Mougayar, managing partner at JM3 Capital and author of "The Business Blockchain, told CNBC." "Now is the time to not just deliver the coins but the technology with it."
Mougayar called Block.one, a Cayman Islands registered developer of EOS, an anomaly, on the "extreme" side of the fundraising spectrum.
According to CNBC, the company has already said it will spend USD 1 billion of its bounty recruiting developers, with billions more to hypothetically spend on lobbying global regulators and building relationships with banks.
__________
Overview: Phases of Launch
There are no times associated with each phase because ensuring each phase is completed successfully is more important than each being completed quickly. The launch process may take days to complete.
Verify Snapshot & Boot: Snapshot taken and verified by EMLG and third parties. Boot process initiated.
Testing: Allow time for EOS Mainnet Launch Group and third parties to verify that the tokens have been loaded according to the snapshot file, and that the software performs well.
Enable: Release joint statement from Block Producer community that it is safe to import private keys and vote. Voting beings.
Activation - Declare the EOS Mainnet active.
Only after all 4 phases are complete we have an irreversible blockchain. Until then rollback and restart of the chain is possible. This essential technical due diligence, including validation testing, could take days to complete.
Source: GenerEOS
________
EOS price chart before the mainnet launch: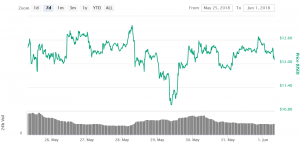 ---