EOS (EOS) and The Sandbox (SAND) See Renewed Price Action, Here's Why Orbeon Protocol (ORBN) Is Set For Further Gains
Disclaimer: The text below is an advertorial article that is not part of Cryptonews.com editorial content.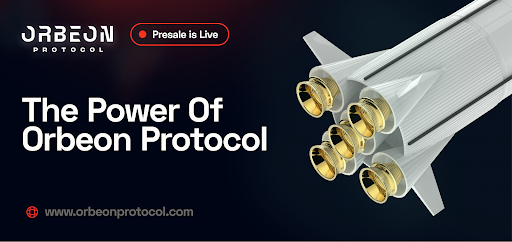 EOS Network Ventures commits $20m to development of dApps and games on the EOS (EOS) blockchain. The Sandbox (SAND) sets up an educational platform in DubaiVerse, whilst Orbeon Protocol (ORBN) is in 11th stage of presale with impressive 2203% gains, ready to take the market by storm with only days of presale left before listing. Read below why this matters for your portfolio.
$20M commitment accelerates EOS (EOS) ecosystem
In anticipation of the EOS (EOS) EVM launch next month, EOS Network Ventures has decided to invest $20 million in development. The main focus is on applications and gaming products, and a significant influx of developers for EOS (EOS) is expected. EVMs allow developers to build dApps similar to how they would on Ethereum (ETH), which is why the deployment on non-native blockchains is possible.
The EOS (EOS) project is unique in quite a number of ways. EOS (EOS) was initially created to replace web-based applications with blockchain applications, with the goal of helping businesses maintain the same structure and avoid the need to reinvent corporate processes. The EOS (EOS) blockchain features an ownership model where no transaction fee concept is involved while offering high scalability as the network can perform millions of TPS.
This development has caught attention in the EOS (EOS) price action as recent developments could boost the EOS (EOS) price in the coming months.
The Sandbox (SAND) and DubaiVerse
DubaiVerse is a virtual project that will host Dubai's major partners based on Dubai's metaverse version, where users can enjoy diverse experiences, including music, film, entertainment, gaming industries, finance and real estate.
The Sandbox (SAND), a subsidiary of major metaverse developer Animoca Brands, recently partnered with GCEX. The leading digital prime brokerage and Animoca Brands are collaborating to develop an education and client engagement platform in DubaiVerse. This offers an immersive experience to all companies interested in entering the metaverse. Education about decentralized finance is essential, and institutional clients will benefit from GCEX's digital prime brokerage offering.
The partnership also provides gamers and users with opportunities to build and publish in DubaiVerse and offers a great opportunity to bridge to web3. Early adopters and clients benefit from the community around the metaverse and can start building the future for digital assets.
Additionally, The Sandbox (SAND) is considering using generative AI to empower creators with a faster development process and offer a better The Sandbox (SAND) user experience. The potential for enhancement through tools like AI has the possibility to supercharge productivity and simplify tasks.
Founded in 2012, The Sandbox (SAND) has seen significant growth with a thriving community behind it. Built on the Ethereum (ETH) blockchain, The Sandbox (SAND) ensures transparency and security of transactions and ownership. Notably, The Sandbox (SAND) hosts an NFT marketplace for minting and trading NFT tokens and collections and The Sandbox (SAND) is well set up for the rise of the metaverse.
Orbeon Protocol (ORBN) presale in countdown – only days left
Orbeon Protocol (ORBN) offers several benefits to investors and companies by using NFTs-as-Service (NFTaaS) to make the investment process cheaper and faster. After evaluation, NFTaaS are minted to issue equity-backed NFTs of startups to raise funds for their ventures.
The DeFi crowdfunding platform streamlines the process and allows organizations to generate and distribute these NFTaaS. Orbeon Protocol (ORBN) guarantees investor funds will be reimbursed if the funding goal is not met, including security features like the "Fill or Kill" mechanism in the smart contract. The primary focus of Orbeon Protocol (ORBN) is on security and has been audited by Solid Proof.
With its revolutionary business model, Orbeon Protocol (ORBN) makes the investment process more cost-effective and efficient for all participants. Additionally, Orbeon Protocol (ORBN) holders receive platform and trading fee discounts, staking opportunities to generate revenue, and governance voting rights, providing them with additional privileges.
Orbeon Protocol (ORBN) has skyrocketed an impressive 2203%, placing it in the 11th stage of its presale with only days left before it is listed on Uniswap (UNI). Experts predict a 60x return for early investors. At the time of writing, Orbeon Protocol (ORBN) is trading at $0.0921, offering a promising opportunity and is expected to reach $0.24 before the end of the presale.
Find Out More About The Orbeon Protocol Presale
Website: https://orbeonprotocol.com/
Presale: https://presale.orbeonprotocol.com/register
---