End Of The Pump? "Smartphone Coins" Correct Lower As Hype Wanes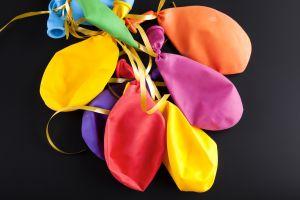 The last few days have been huge for blockchain smartphone enthusiasts. Multiple news and announcements by Samsung, Pundi X, Electroneum, and HTC have been making waves in the market.
However, despite all the hype surrounding blockchain and cryptocurrency-related phones over these past days, it seems most of the touched coins have already peaked.
It all started with the Samsung Galaxy S10 announcement about its integrated crypto wallet. The flagship phone, whose release date is set for March 8, will have a wallet which will reportedly support Bitcoin (BTC), Ethereum (ETH), Cosmo Coin (COSM), and Enjin Coin (ENJ). Images circulating on the internet also showcase Basic Attention Token (BAT) and "add new token button" which gave rise to speculations that Samsung Blockchain Keystore App will support all ERC20 tokens.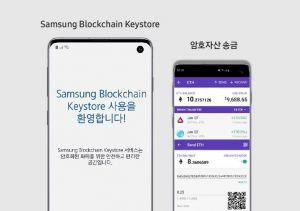 As such, most of the smaller cap coins have experienced intense pumps, but at the moment (UTC 02:00 PM) it seems that the run is nearing its end.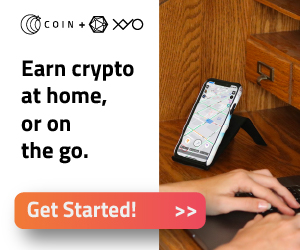 For example, ENJ price movement mirrors a similar pattern. At first, the coin soared a whopping 131% price increase but has already retracted more than 20% along with the trading volume.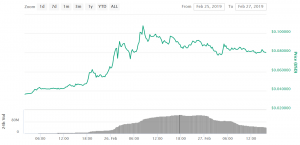 __
Meanwhile, COSM, the token for South Korean beauty review dapp Cosmee, has doubled in trading volume and surged nearly 60% in price right after the statement. However, at this point, price has corrected a bit lower and volume is leaning towards the downside.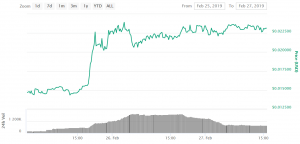 __
Following the images, BAT has also enjoyed a price increase from USD 0.13 to USD 0.18 but now is fluctuating in the USD 0.15 — USD 0.16 range.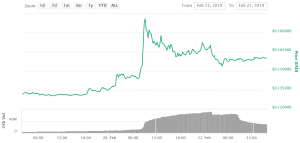 __
Samsung's announcement was the most exciting, but not the only mobile-related story in recent days. Pundi X has unveiled new features of their much-anticipated XPhone at the Mobile World Congress in Barcelona. Although its NPXS token has not experienced jaw-dropping gains, it is steadily climbing upwards.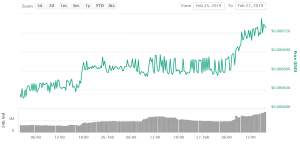 __
Meanwhile, Electroneum has also entered the blockchain phone race with its new USD 80 Android smartphone. The budget phone allows users to mine Electroneum's ETN token using its integrated cloud-mining technology. Despite the pioneering news, ETN token is up by only 0.39% in the past 24 hours.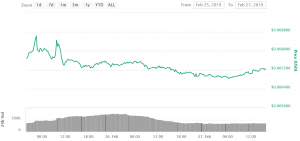 __
Last but not least, the virtual reality startup Decentraland had a major mobile partnership announcement, too. The company is going to work with HTC to bring the Decentraland ecosystem to HTC's first native blockchain smartphone Exodus 1. Following the report, its native MANA token jumped over 30% in the first two hours but has stabilized below USD 0.05 region ever since. However, trading volume is still growing.