Elevate Blockchain Gaming With Project Seed 2.0: Outland Odyssey, Staking & More!
Disclaimer: The text below is a press release that is not part of Cryptonews.com editorial content.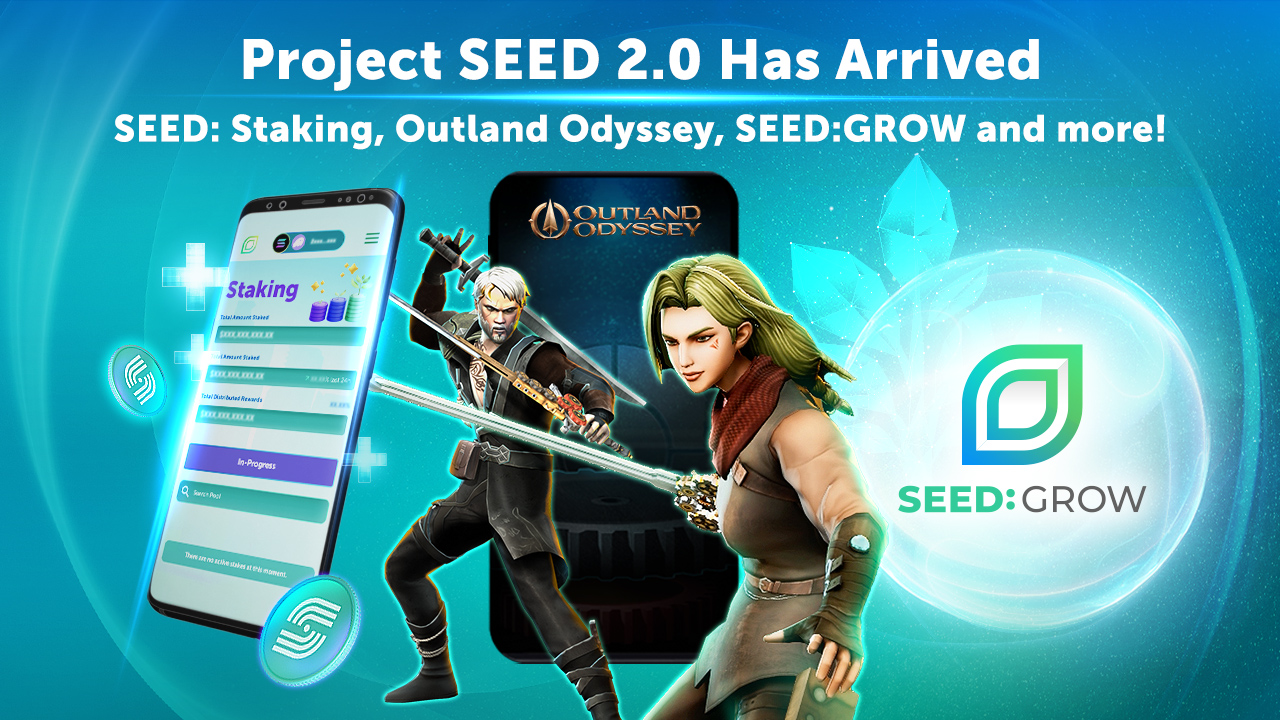 Project SEED, an innovative blockchain gaming ecosystem poised to revolutionize the mobile gaming industry, is set to launch its groundbreaking mobile game 'Outland Odyssey' this August, alongside 'SEED: GROW' and 'SEED: Staking'. With an approach that combines blockchain technology, Free-To-Play & Own mechanics, and community-driven governance, Project SEED aims to redefine the gaming landscape going forward.
What makes Project SEED 2.0 unique?
The heart of Project SEED lies in its commitment to fostering mass adoption by integrating blockchain technology to offer players the truest form of Free-To-Play & Own. Backed by a creative team of gifted artists and passionate developers, Project SEED's Game Studio is dedicated to pushing the boundaries of gaming innovation.
A cornerstone of the ecosystem is the Free-To-Play & Own system which empowers players to earn $O2 Tokens and seamlessly convert them into fiat currency. $O2 Tokens will be allocated based on the Proof-of-Play mechanism.
A launch to look forward to
August brings the realization of Project SEED's promises, as it unveils its inaugural mobile game, Outland Odyssey (the soft launch is on August 29th, 2023). This highly anticipated launch marks a milestone in the journey towards a gaming metaverse ecosystem that bridges the gap between blockchain technology and entertainment.
Liko, Project SEED's CEO, stated that "Outland Odyssey is a Free-To-Play & Own game, meaning players can start playing without needing to own NFTs or tokens. They will have the opportunity to craft NFTs in the game, and in-app purchases will also be available."
Outland Odyssey aims to be a testament to Project SEED's evolution, offering players an enriched experience featuring enhanced ARPG core mechanics, immersive narrative-rich missions, and post-apocalyptic settings with engaging Zed companions. With an emphasis on streamlined gameplay, players can delve into this world and its action-packed gameplay to start having fun instantly.
Staking with purposes
Project SEED also introduces an innovative "burn" mechanism, whereby 70% of in-game revenue is burnt, while 30% contributes to the community reserve. Furthermore, SEED: Staking provides users with the opportunity to stake their $SHILL tokens, earning rewards and enhancing their engagement with the platform.
Guga, the General Manager, said that "SEED: Staking (within the realm of Project SEED) serves a unique purpose as it involves token holders or players locking up their tokens to gain various benefits. These perks range from in-game items, power-ups, to enhanced opportunities for in-game activities. If you're someone who enjoys speculation, staking can also earn you additional APY (Annual Percentage Yield), leading to an increase in tokens. Expect to experience these features firsthand within the upcoming weeks."
Looking to the future, Project SEED's visionary SEED: GROW program introduces an IP sharing model that looks to redefine Web3 gaming. By fostering collaboration with innovative revenue sharing models between IP Owners and Game Studios, Project SEED envisions a diverse array of games produced under this pioneering approach. The synergy between IPs and game development not only revitalizes established properties but also generates new and immersive experiences for gamers.
Putting the community first
Incorporating a community-driven ethos, Project SEED puts its users at the forefront of its mission. The community's input will be pivotal in shaping the direction of Project SEED, fostering a stronger ecosystem and a vibrant gaming community. With a firm belief in prioritizing the community, Project SEED is integrating DAO (Decentralized Autonomous Organization) governance for project development, ensuring that every voice is heard and valued.
The DAO Flow within Project SEED is designed to empower users to actively participate in decision-making. By staking a minimum amount of $SHILL tokens, users can propose ideas for consideration by the Project SEED governance counsel. After a thorough review process, approved proposals enter a voting phase accessible to users who meet the active playtime requirement. With a majority vote of 50% + 1 or more, selected proposals are greenlit for development, demonstrating Project SEED's commitment to community-driven innovation.
About Project SEED
Project SEED consists of more than 100 entrepreneurs, designers, artists, and developers with extensive experience in their fields. The core Project SEED team is united by a strong passion for gaming and revolutionizing this booming industry.
In any case, the launch this August marks the start of a new era in blockchain gaming, where innovation, community empowerment, and immersive experiences converge. The gaming ecosystem's fusion of technology and entertainment promises a transformative journey for players and creators alike.
For more information and regular updates, visit the official website as well as Twitter, Discord, Telegram, and YouTube channels. Download Outland Odyssey & start Staking now!
---