$ECOTERRA Listed On Major Exchanges, Staking Also Available for 12% APY
Disclaimer: The text below is a press release that is not part of Cryptonews.com editorial content.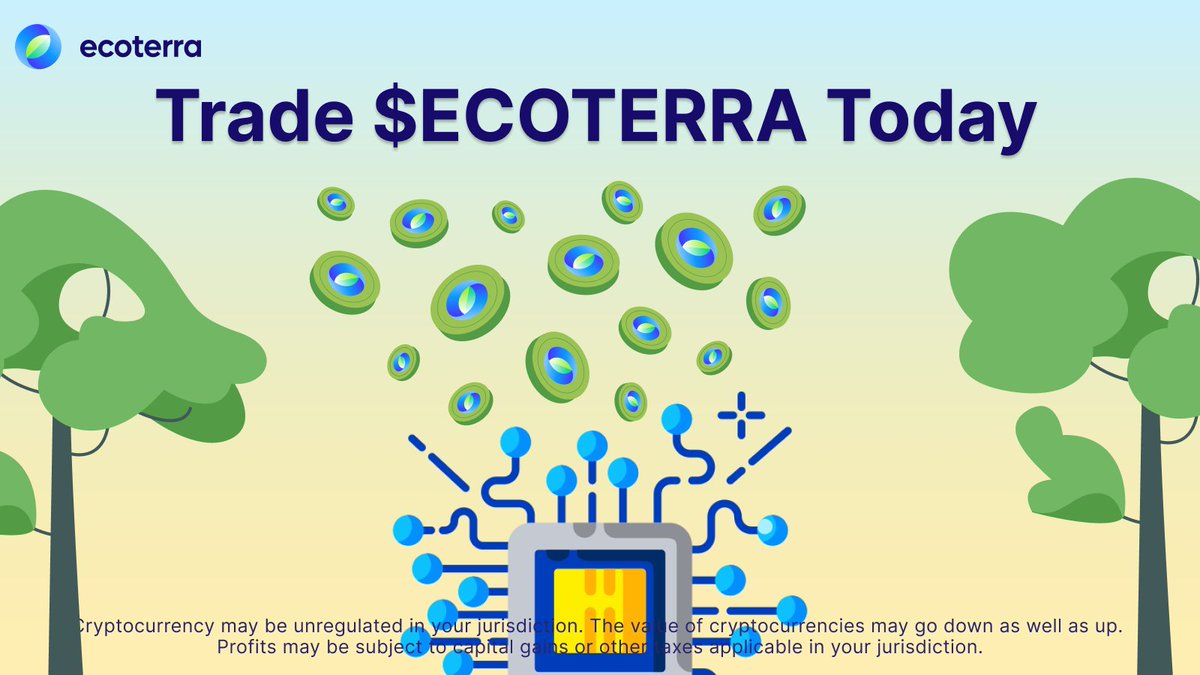 Numerous cryptocurrency projects are currently centered on financial applications, which is commendable. However, it's crucial to recognize that blockchain technology offers far more diverse possibilities. The extensive range of potential use cases is what generates excitement around this technology - especially when it is used for noble causes like helping the environment.
Ecoterra (ECOTERRA) is doing just that. The token just got listed on BitMart, LBank, and Uniswap, and was listed on CoinMarketCap a short while before that. Let's take at recent developments, as well as features such as staking.
ECOTERRA Listed on 3 Exchanges, Staking Also Available
Ecoterra was a major hit when it was first announced and that hype is only growing as the token gets more exposure. Following the end of the presale, the token was listed on major data platform CoinMarketCap, and yesterday it was listed on BitMart, LBank, and Uniswap exchanges. These listings will make the token far more accessible to the wider crypto community, who will no doubt bring their enthusiasm for helping the planet to the Ecoterra ecosystem.
LBank has also announced that the staking of the ECOTERRA token is open, offering an APY of 12%. This is a further incentive for users, who will be eager to see that there is yet another way to earn with this token.
Speaking of additional ways to earn revenue, it's worth noting that you can earn ECOTERRA simply by switching to more sustainable energy sources. All you have to do is scan your electricity bills with the Ecoterra app to get the rewards.
On the subject of apps, it's worth learning more about Ecoterra's Recycle2Earn App.
Playing a crucial role within the Ecoterra ecosystem, the Recycle2Earn app captures and records user activities related to environmental conservation, integrating them into individual profiles. Likewise, companies are provided with "impact trackable profiles," enabling them to purchase impact packages containing various material types from users. This innovative approach empowers companies to offset the negative environmental impacts of their production processes, demonstrating their commitment to sustainability.
Ecoterra offers two other impressive features: the carbon offset marketplace and the recycled materials marketplace. In the carbon offset marketplace, both users and companies can utilize Ecoterra tokens to counterbalance their carbon emissions by contributing to globally recognized and verified projects. These contributions translate into tangible achievements, convertible into non-fungible tokens (NFTs).
Additionally, the recycled materials marketplace serves as a platform for companies to connect with recyclers, explore recycled materials, and participate in relevant transactions. This further fosters the use of sustainable resources and supports a greener future.
Ecoterra's most exhilarating feature is undoubtedly the Recycle2Earn app, which serves as their flagship product, revolutionizing the way businesses and individuals interact. With the app now live, exploring how to utilize it presents a golden opportunity to contribute to the planet's well-being while earning rewards. Additionally, it's worth noting that the first 5000 sign-ups for the app will receive free ECOTERRA tokens!
To get started, you'll need to download the Ecoterra app. Once installed, you can utilize the scan barcode feature to identify recyclable products. The app's AI-powered database contains various plastic, glass bottles, and aluminum can barcodes. Moreover, you can earn ECOTERRA by scanning your electricity bill if it reflects the usage of green energy-producing technology. Factors considered for recyclable products include brand, volume, weight, and material, among others.
Once you've recycled an item, upload your RVM receipt, and witness instant Ecoterra deposits into your account. The app also provides GPS geolocation of nearby RVM machines. Every recycled item that matches the database earns you Ecoterra rewards.
Beyond recycling, the app offers additional avenues to contribute. By donating tokens, you can participate in tree-planting initiatives and projects associated with various environmental campaigns that Ecoterra has partnered with. Furthermore, you can support verified cleaning projects and investments in green energy. Educational programs focused on teaching eco-friendliness are also funded through the app. Lastly, you have the option to use your hard-earned ECOTERRA tokens to purchase sustainable and eco-friendly products from the marketplace.
The Ecoterra platform and its Recycle2Earn app offer a wealth of options for users to participate in ecological endeavors. As the ecosystem continues to expand, there will be even more exciting opportunities on offer!
With Ecoterra, You Can Help the Planet
Ecoterra represents a groundbreaking blockchain-driven platform with a mission to combat climate change through active participation in recycling endeavors among individuals and businesses. At its core lies the Recycle2Earn initiative, a program designed to promote environmental awareness and incentivize recycling by distributing Ecoterra tokens. These tokens have the potential to increase in value and can be staked to passively earn dividends from Ecoterra's revenue streams.
The positive impact of Ecoterra extends not only to individual users but also to companies engaged in recyclable material production and recycling businesses. When eco-conscious consumers responsibly dispose of recyclable packaging, they empower recycling companies to collect and transport these materials to nearby facilities, where they undergo transformation into valuable raw materials.
Ecoterra's primary objective is to foster collaboration between recycling companies and product manufacturers, thus driving the advancement of a circular product life cycle. To realize this vision, the platform envisions a shared marketplace where recycling companies can sell their raw materials, and product companies can purchase them to create sustainable products.
Conclusion
Ecoterra is at the forefront of a novel trend in the cryptocurrency market, prioritizing social and environmental justice. While similar platforms may emerge in the future, Ecoterra stands out as the most comprehensive and well-rounded among them. With the token available on different exchanges now, expect some explosive growth. You should also try staking on LBANK for that 12% APT, as well as earn ECOTERRA tokens through the Recycle2Earn app now.
---