Earn Bitcoin from Your Living Room in Just 5 Minutes a Day
Disclosure: Crypto is a high-risk asset class. This article is provided for informational purposes and does not constitute investment advice. By using this website, you agree to our terms and conditions. We may utilise affiliate links within our content, and receive commission.
Disclaimer: The text below is a press release that was not written by Cryptonews.com.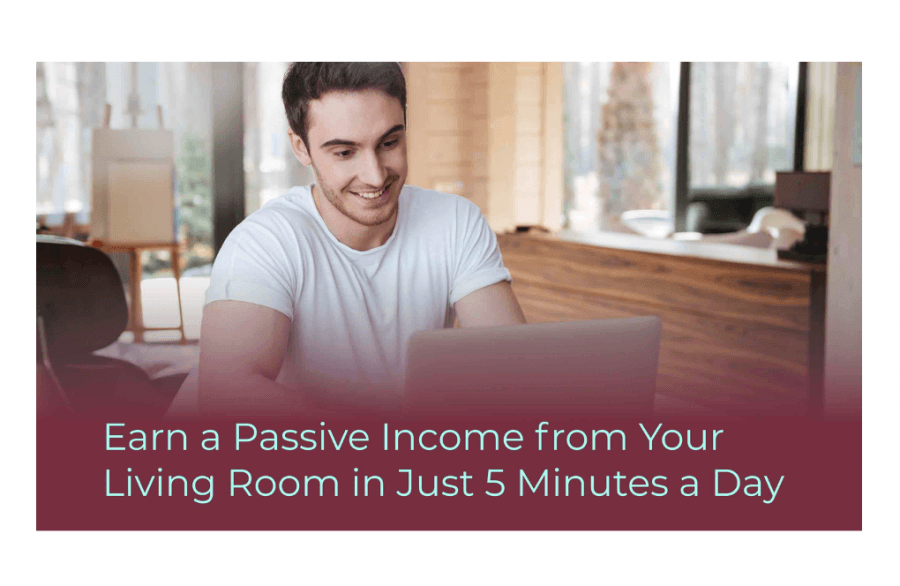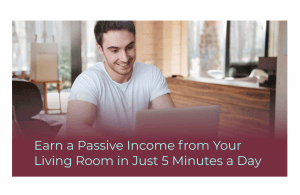 When it comes to making money from home, you need to be clear from day one about what is going to work for you. You need to find an earning opportunity that is suited to your level of investment experience and amount of available capital, while involving minimum risk and maximum returns.
Choosing an Investment Option
Investing online can be a complex and time-consuming business. Assets vary with regard to profit potential, levels of market volatility and risk exposure. The type of strategy you select will also have a huge impact on the stability and growth rate of your investment.
For example, while day trading can be highly profitable, it can be extremely risky. Also, it may require hours in front of a screen, performing fundamental and technical analysis, researching asset history and market trends, executing trades and monitoring price movements.
For those without a background in finance or the time available to dedicate to hands-on investing, automated trading is by far the best option. It will lessen your risk, as an automated system will never act irrationally, responding with greed or fear to sharp price reversals. In addition, a sophisticated algorithm can execute transactions on your behalf across multiple markets simultaneously, with a speed and efficiency that a human being cannot match, working on your behalf 24 hours a day to ensure you never miss a market opportunity.
One of the lowest risk forms of automated investing with the highest returns, is crypto arbitrage.
The Crypto Arbitrage Advantage
Crypto arbitrage involves using an automated system to take advantage of the fact that temporarily, a cryptocurrency can be available on multiple exchanges at once, at different prices.
The idea is that an automated crypto arbitrage system can scan numerous exchanges simultaneously, 24/7, searching for crypto arbitrage opportunities. When it identifies a coin with price discrepancies, it will buy it on the exchange where it is being sold at the lowest price and then instantly sell it on the exchange where it is offered at the highest price, before the price difference is resolved.
This type of investing involves almost zero risk and uses an automated system, allowing you to focus on other priorities, while the algorithm earns you a steady passive income.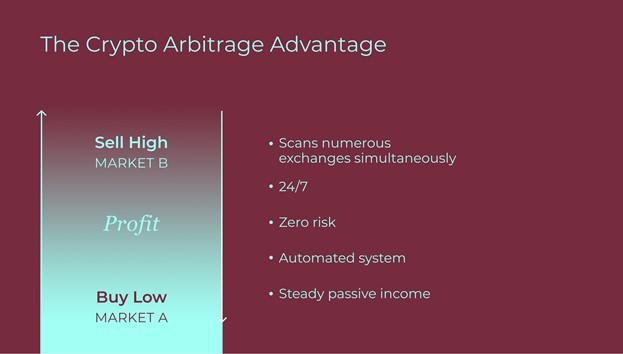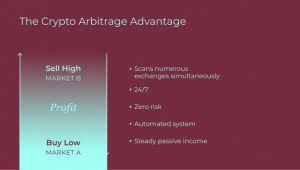 One of the major players in this field is a company called ArbiSmart, which we can use as an example of how crypto arbitrage platforms work.
The ArbiSmart AI-based platform is connected to over 20 exchanges, which it monitors around the clock looking for crypto arbitrage opportunities. All you need to do is register, fund your account and then put your feet up while the algorithm takes over. You don't need to own cryptocurrency to use the platform, as you can make a deposit either in digital currency, or traditional fiat currency. Your funds are then transferred into RBIS, the native token of the platform and used for crypto arbitrage trading, but you can withdraw your balance at any point, in BTC, ETH, or EUR.
It should be noted that for those who are nervous about putting their savings in the hands of a machine, at ArbiSmart there is also a risk management team tracking the markets 24/7 that can intervene in the event of significant market upheaval, as well as technical staff on shift around the clock, ready to jump in and prevent any glitch interfering with trading.
Guaranteed Profits
One of the primary benefits of crypto arbitrage is the fact that it can offer outstanding returns. These will differ from platform to platform but essentially, your profit potential will be determined by the amount you invest. Where possible, you will want a company that offers pre-set rates, so there are no surprises and you can manage your money, knowing what is coming in and when.
For example, ArbiSmart guarantees a specific rate of return, based on your account type. Profits start at 10.8% and reach as high as 45% a year, and you can project exactly how much you will make from a specific investment sum, over a set time period using their investment calculator.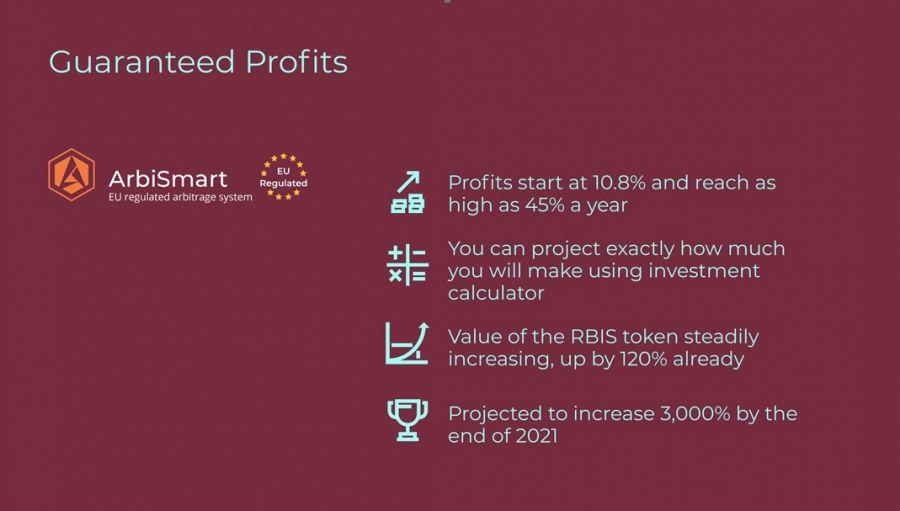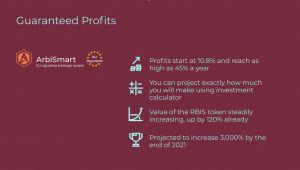 At ArbiSmart, you also benefit from the steadily increasing value of the RBIS token, which is the currency powering the platform. It has already gone up by 120% in the year and a half since it was introduced and is projected to increase by an incredible 3,000% by the end of 2021 generating huge capital gains as it appreciates, which go straight into the investor's pocket along with their crypto arbitrage profits.
Putting Safety First
However tempting it is to follow the promise of the highest rates of return, any time you enter the crypto arena, you have to be sure you are dealing with a reliable, trustworthy investment platform. Since digital currencies are a newly emerging asset class, regulation is one step behind the curve and not all platforms have oversight and accountability. To avoid scams and hacks and to protect your savings, you need to only deal with a regulated financial services provider.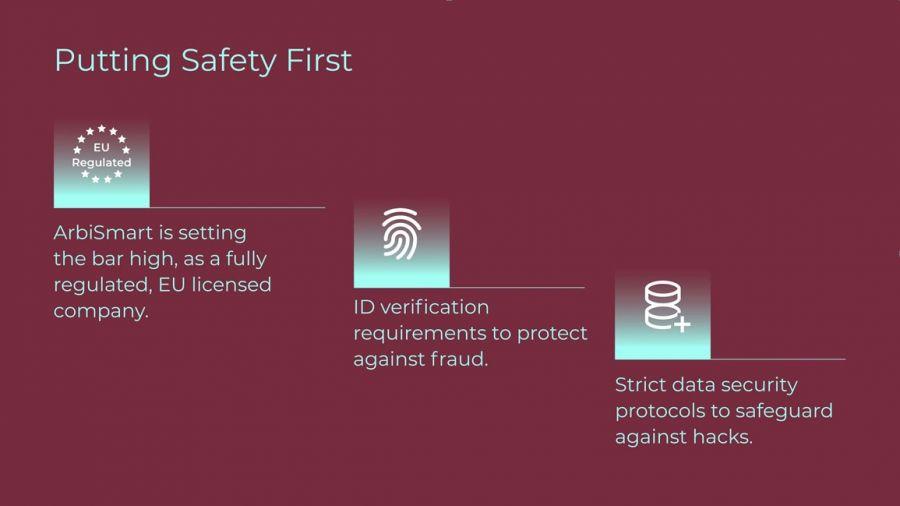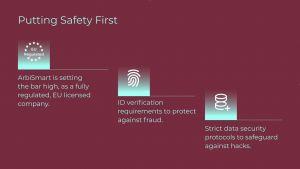 Here too, ArbiSmart is setting the bar high, as a fully regulated, EU licensed company. Regulation reassures the company must meet tough ID verification requirements to protect against fraud, submit to external auditing and implement exceptionally strict data security protocols to safeguard against hacks. Were the system ever to be breached, savings would be safe, as the company is required to maintain a client insurance fund covering all operational capital.
Some top tips
Before diving in and handing your funds over to an online entity you need to check them out thoroughly. Firstly, see what kind of reputation they have online. Look at Twitter, Telegram and other social channels and don't forget consumer review sites. These are going to be unbiased opinions and you will know to steer clear if clients are complaining that they had no way to reach a human being if they needed assistance or if they experienced excuses and delays when they wanted to access their own money. ArbiSmart shines in this respect too, offering multiple support channels, with great online reviews including social media and a five star, Trustpilot rating.
One last factor to consider is what to do with your profits once you have earned them. You can always reinvest, withdraw your funds and spend the additional income, or alternatively put it to work elsewhere.
A great option, particularly if you are investing in crypto is an interest-bearing wallet. Instead of just sitting idly in an account, waiting to appreciate over the long term, your crypto could double in value within a year. For example, ArbiSmart's EU licensed wallet enables you to deposit funds in crypto or fiat into a savings account and earn interest rates of up to 45%. The size of your return will depend on the amount you deposit, your account currency, and whether you choose to place your money in a closed savings account, where funds are locked, for a set period.
Clearly, there are plenty of ways to successfully invest from the comfort of your couch in just a few minutes a day, even if you don't have a great deal of spare capital, time or market experience. Just make sure to choose a form of investment that minimizes your risk while offering generous profits and an investment platform that is secure, reputable and reliable. Go to arbismart.com to find out more about different types of arbitrage, or to start investing directly.
{no_ads}
---