Early Bird Alert: Don't Miss Out on This New Metaverse Presale With 20x Potential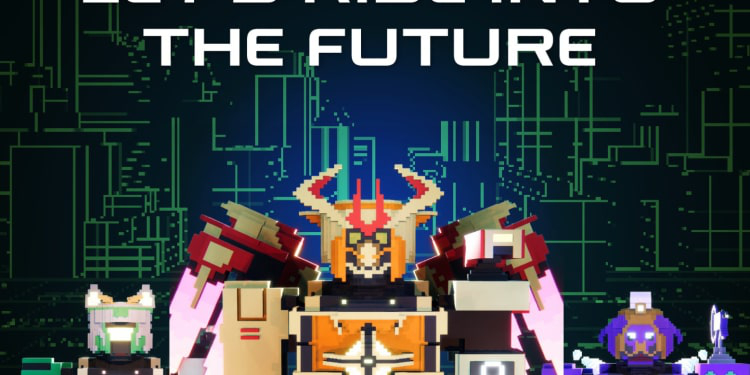 The cryptocurrency space has grown exponentially, permeating several industries and sectors, notably the play-to-earn (P2E) sector.
The rise of the P2E genre in the crypto sphere has piqued the interest of gamers and traders as they seek to provide participants with an immersive gaming experience and commercial ventures.
One such project is RobotEra, a revolutionary metaverse-based gaming platform that enables users to buy lands, build estates, interact in the metaverse, and earn its native token, $TARO, as a reward.
Already on presale, the metaverse token is selling fast, with over $1.11 million raised from early adopters in just a few weeks.
Tipped to be one of the fast-paced crypto tokens to generate over 20x gain returns in 2023, here is what distinguishes $TARO from its competitors.
RobotEra Metaverse – An Immersive Platform to Create and Earn
RobotEra is a Sandbox-like blockchain planet-rebuilding gaming project that enables users to create, interact, and collaborate with the metaverse world via unique non-fungible token (NFT) robot avatars.
The structure of this gaming platform ensures that every player is eligible to create their virtual world and experience via the metaverse.
Players embody robots to create virtual worlds, enabling them to regulate and govern their territory.
The metaverse project is anticipated as the new mover of the virtual world due to its intuitive way of creating new opportunities for entertainment, education, and commerce.
The gaming platform also owns a native token called TARO, an Ethereum-based utility token.
Players can use TARO for various in-game transactions like in-game purchases, access to games and social features, event entries, and more.
One of the major advantages of the RobotEra blockchain gaming technology is its intuitive interface that accommodates players to interact with virtual worlds naturally.
Players can communicate more realistically and engagingly using robotic avatars resembling real humans.
There are also educational training opportunities, enabling gamers to learn new concepts in a virtual environment much more similar to the real world.
RobotEra's unique avatars can move, react, and express emotions like humans.
This means the metaverse could become an immense and binge-worthy space to expedite games and other forms of stellar entertainment.
By purchasing TARO tokens, players can access even better special features that give more value to the native token.
This could also create new opportunities for businesses and entrepreneurs that operate in the entertainment world.
Furthermore, the development team behind the RobotEra project wittingly incorporated non-fungible tokens (NFT) technology with the play-to-earn (P2P) mechanism to bring a fantastic and innovative crypto project.
The merger is what ensures members of the gaming ecosystem raise passive income.
The gaming ecosystem comprises players, who are represented by their robot NFTs. Users will also be able to stake, which is the most effective integration of RobotEra.
It is worth noting that RobotEra is entirely decentralized – no centralized authority governs the metaverse-based gaming platform.
Instead, it incorporates a decentralized autonomous organization (DAO) to give token holders a say in platform upgrades and overall development.
Real Estate in the Metaverse World
One of the exciting features of RobotEra is the integration of real estate into its metaverse sphere.
Players on the RobotEra gaming ecosystem can purchase virtual plots of land and build real estate, factories, and other infrastructures, including a villa, casinos, swimming pools, bars, saloons, stadiums, offices, and many more.
The possibilities are endless regarding metaverse real estate within the RobotEra platform.
Moreover, all lands, real estate, and infrastructures are powered by Ethereum NFT.
This means they're valuable and often determined by demand and supply, like all valuable commodities.
As such, players can sell their NFTs assets on the game's marketplace, powered by $TARO tokens.
Now on presale, $TARO is set to leverage its ecosystem's stellar lists of use cases and generate massive gains for early investors.
$TARO Is Selling Fast – Buy Now and Earn Over 20x Gains
Now is the best time to purchase the metaverse-based token, $TARO.
RobotEra asserts to spread its metaverse and NFT technology benefits to a wide range of prominent sectors, such as real estate, virtual surveying, and interaction, similar to the real world.
$TARO will power these upcoming projects on the ecosystem, reflecting its price growth as it soars and incorporating a spate of use cases beneficial to the global industries.
Since its presale debut in November 2022, $TARO has generated an astounding $1.11 million from early birds.
Investors can lock into this project and purchase the digital token discounted price of $0.020, as the price will further increase as more stages are rolled out.
Disclaimer: The Industry Talk section features insights by crypto industry players and is not a part of the editorial content of Cryptonews.com.
---