Dyor's Wallet Wars Giveaway!
Disclaimer: The text below is a press release that is not part of Cryptonews.com editorial content.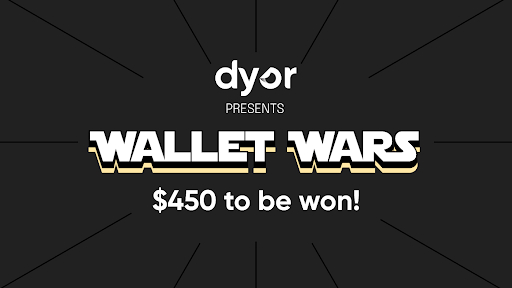 Dyor Decentralized Investment App—the dynamic DeFi and Web3 exchange and social investing platform—is stirring up a storm with its incredible giveaway campaigns! Let's take a look back at some of Dyor's thrilling giveaways that have left lucky participants grinning from ear to ear.
In their first giveaway this month, Dyor rewarded five lucky winners with 100 USDT each, offering them a taste of the crypto realm's financial possibilities. Additionally, ten other winners received a staggering 2,000 Dyor tokens each, unlocking the potential for future gains.
The excitement was palpable as participants eagerly entered the waitlist before the deadline, hoping to secure their spot among the winners. This giveaway showcased Dyor's commitment to rewarding its community with valuable assets.
After this, Dyor hosted another giveaway—one that sent shockwaves through the crypto community on Twitter. But that certainly wasn't all, because our reward pool is $333,333 and that is a lot of money! And a little birdie has told us a little about what's coming. Mark your calendars!
Wallet Wars
Get ready for an exhilarating showdown as Dyor presents Wallet Wars: 6 wallets, 1 victor, and 3 lucky voters. Followers will have the opportunity to vote between three pairs of wallets, each with unique features and benefits. By simply voting for their favorite wallet and entering Dyor's waitlist, 3 lucky voters stand a chance to win a whopping 5,000 Dyor tokens each! The giveaway starts on 28th June. For live updates, follow @dyorexchange on Twitter.
AMA with the Founders of Dyor
Prepare for an exclusive AMA (Ask Me Anything) session with the brilliant minds behind Dyor. This AMA presents an exceptional opportunity for crypto enthusiasts to engage directly with the founders, gain valuable insights, and ask burning questions. As an added incentive, 5 attendees will walk away with an astounding 3000 Dyor tokens each as a lucky reward.
Make sure to stay connected with Dyor to stay up-to-date with the latest news and updates (and also exciting chances to win valuable rewards!
Official Website: dyor.exchange
Dyor Blogs: https://dyor.exchange/blog
Twitter: twitter.com/dyorexchange
LinkedIn: linkedin.com/company/dyor-exchange/
Dyor Promises to Deliver a "People-Friendly" DeFi
With its team of DeFi veterans and user-focused product experts, Dyor is driven to deliver a platform to help investors discover and invest in high-quality Web3 opportunities easily, with an interface that is unique to DeFi, but quite popular otherwise.
Swipe-to-Invest Web3
Swipe through high-quality Web3 project cards—Swipe right to invest, swipe left to skip and swipe up to add to watchlist.
Start Social Investing with Dyor
Connect with new and veteran Web3 investors and contributors in Dyor's mobile community.
Coming soon!
✔ Swipe to invest, skip and add projects to your watchlist
✔ Invest across multiple chains in a single click, using one wallet
✔ Buy any crypto easily with 30+ fiat currencies
✔ Enjoy full security of your assets in a 100% decentralized, non-custodial ecosystem
✔ Earn Dyor tokens in-app by engaging in challenges and community activities
✔ Network, collaborate and learn with Dyor's community of Web3 investors
Disclaimer: This article is for informational purposes only and does not constitute financial advice. Participants should refer to the official rules and regulations provided by Dyor for each giveaway campaign.
---