Don't Miss Out Crypto Gains With XRP (XRP), TRO, and Collateral Network
Disclaimer: The text below is an advertorial article that is not part of Cryptonews.com editorial content.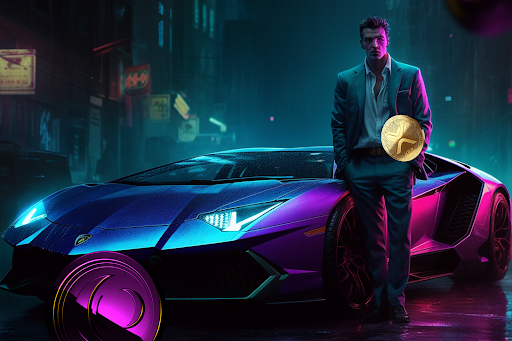 In the turbulent seas of the cryptocurrency market, certain projects are making waves. XRP, TRON, and the emerging Collateral Network are turning heads and priming their sails for a surge. As the market stands at the precipice of dynamic change, the COLT token readies itself for its exciting presale.
XRP: A Bullish Wave on the Horizon
Dancing at the edge of a breakthrough, XRP presents itself as a major player in the crypto market.
This digital token, hailing from the powerhouse Ripple, offers quick and low-cost international transactions, a boon for banks and payment providers globally. The beauty of XRP lies in its scalable framework. It allows it to support a vast array of transactions at impressive speeds, marking it as a formidable opponent in the payment protocol sector.
Recent developments in the XRP landscape point to promising prospects. Its bullish trend is hard to ignore, with price movements implying a trajectory aimed at the stars. Particularly, XRP found support at a notable level, fueling the prediction of its upward trend.
Crypto lawyer John Deaton's bullish outlook further fortifies this view, pegging a $2 target for XRP before the FOMO kicks in. This blend of positive sentiment and market behavior hints at the potential for remarkable returns on investments in XRP.
TRON: Against the Tide, Ready to Rise
In the world of digital entertainment, TRON emerges as a game-changer. This is especially true in light of its recent performance.
As a blockchain-based decentralized platform, TRON strives to build a free, global digital content entertainment system with distributed storage technology. The central tenet of TRON is to democratize content creation and sharing, allowing creators to cut out intermediaries and directly reap the rewards of their efforts.
Despite the market turbulence, TRON has been defying the odds, demonstrating remarkable resilience. In a market where the majority of cryptocurrencies, including the market leader Bitcoin, have experienced losses, TRON remains stable.
In the past seven days, Tron's revenue has surged, placing it just behind Ethereum in terms of financial success. This remarkable achievement underscores Tron's growing popularity and its ability to attract users and developers alike.
Collateral Network: Breaking Ground in Decentralized Lending
At the cutting edge of blockchain innovation emerges Collateral Network, poised to revolutionize the lending industry. Symbolizing a novel chapter in blockchain application, Collateral Network challenges traditional lending by transcending conventional boundaries.
Leveraging blockchain tech and NFTs, Collateral Network empowers users to leverage real-world assets as collateral. This includes a wide array of tangible assets, from real estate and vintage automobiles to high-end art pieces. This mechanism offers an innovative spin on traditional lending practices. Additionally, it is marked by swift transactions, competitive interest rates, and transparent loan agreements.
What sets Collateral Network apart is its diverse range of features and advantages. For borrowers, it unveils the potential to free up liquidity from tangible assets without surrendering ownership.
This provides an avenue for fund access while maintaining their assets. Conversely, lenders can benefit from a secure and potentially lucrative revenue stream thanks to weekly passive returns on their investments.
Collateral Network implements a comprehensive system for credit assessment and asset appraisal, promoting a safe and equitable lending environment. It employs decentralized oracle networks for reliable, real-time asset valuation, inspiring confidence among both lenders and borrowers.
Driving Collateral Network is its native token, COLT. Predictions point to a substantial price surge for COLT during its current presale. The projected growth is at a staggering 35x increase before being listed in major exchanges and a further 100x once it hits them. This potential marks it as an enticing prospect for crypto investors and aficionados. With the COLT token's current price at $0.014, the best moment to acquire the token is now.
Find out more about the Collateral Network presale here:
Website: https://www.collateralnetwork.io/
Presale: https://presale.collateralnetwork.io/register
Telegram: https://t.me/collateralnwk
Twitter: https://twitter.com/Collateralnwk
---