Dogecoin Trading Volume Hits $200 Million: Price Prediction - Is it the Right Time to Buy DOGE?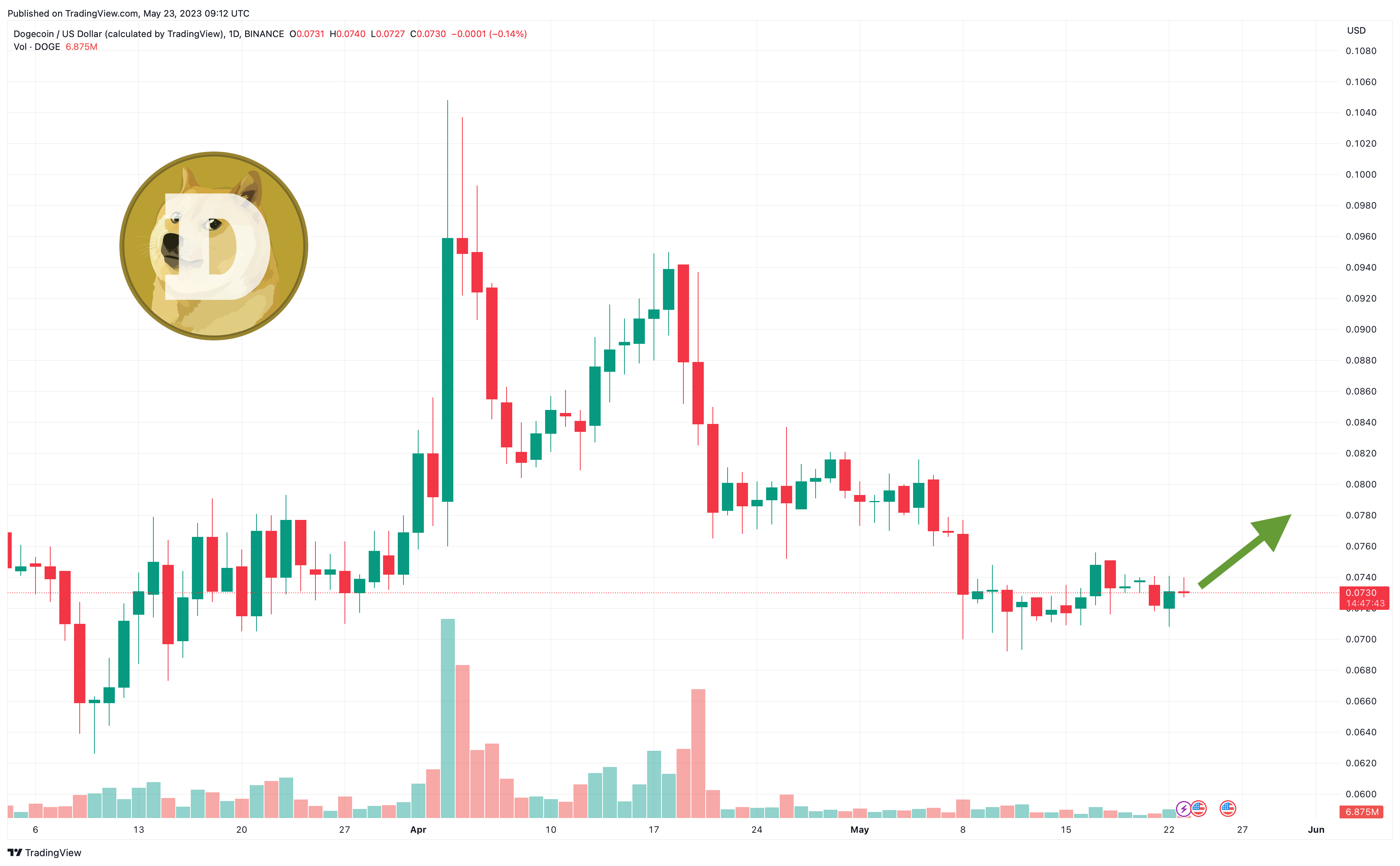 The price of Dogecoin (DOGE) has risen by 1.5% in the past 24 hours, climbing to $0.073251 as the cryptocurrency market gains by a similar percentage.
DOGE is also up by 1.5% in a week but down by 9% in the last 30 days, with the meme token having risen by a modest 4% since the beginning of the year (in contrast to 65% for BTC and 55% for ETH).
However, today's gain for DOGE comes as its 24-hour trading volume rises steadily to $250 million, up from about $140 million only a few days ago.
This suggests that Dogecoin's momentum is slowly building again and could result in a rally in the coming days, while the longer term prospect of DOGE payments on Twitter continues to galvanize its community of holders.
Dogecoin Trading Volume Hits $200 Million: Price Prediction - Is it the Right Time to Buy DOGE?
DOGE's chart suggests that things are steadily improving for the mem token, with its relative strength index (purple) rising from below 30 in the past couple of days to above 50 today.
This signals a transition from selling to buying, as does the fact that DOGE's 30-day moving average (yellow) is now rising towards its 200-day average (blue), a move which could end up indicating a breakout.
In this respect, it's also encouraging to observe that Dogecoin's support level (green) is now rising again after a brief period of dips, meaning that it's consolidating its position at increasingly higher levels.
This all suggests that the next few days and/or weeks may be positive for DOGE, which is currently witnessing increased trading.
This includes trades involving whales, with a number of large DOGE transfers being executed yesterday (e.g. here, here, here and here).
As such, it seems like at least some traders are now taking advantage of the fact that DOGE arguably remains oversold and undervalued, buying the meme token on the cheap in the expectation of a big rise somewhere down the line.
Dogecoin has recently witnessed a big rise in transactions on its blockchain, as users take advantage of the new DRC-20 token standard to mint their own Dogecoin-based NFTs (known as Doginals).
Such a spike in usage may point to a future where Dogecoin gains some actual utility, although it could also just be a fad that falls away in due course.
Either way, it doesn't change the fact that what most DOGE holders are hoping for is the eventual introduction of Dogecoin payments on Twitter.
While this may end up being nothing more than an expensive daydream, Elon Musk has long been a champion (and holder) of DOGE, while reports have indicated that Twitter is moving ahead on its plans to launch digital payments (initially involving fiat currency).
For this reason, DOGE payments on Twitter certainly can't be ruled out, and if there are introduced, the meme token is likely to witness one of the biggest rallies in cryptocurrency history.
It could easily rise as high as $1 in a scenario where Twitter does integrate with it, while a scenario without such an integration may see it only rise gradually to $0.1 by the end of the year, perhaps with the help of a new bull market.
New Meme Tokens, New Rallies
Even if DOGE does eventually benefit from being used on Twitter, any integration could take months or years to happen.
This means that traders would be advised to diversify their portfolios and look to other altcoins for big gains in the short- and medium-term.
Fortunately, there's no shortage of high-potential altcoins in the market at the moment, including several new meme tokens and a few very promising presale tokens.
One exciting new meme coin is SpongeBob (SPONGE), an Ethereum-based altcoin has enjoyed gains of well over 1,000% since listing directly on Uniswap on May 4.
SPONGE's price has been propelled by growing community interest and a run of listings on such exchanges as Gate.io, Poloniex, MEXC, LBANK, CoinW and Toobit.
More exchanges are likely to follow in the coming weeks, meaning that SPONGE is due a few more surges in the not-too distant future.
Much the same applies to Copium (COPIUM), which is another meme token that has listed directly to Uniswap, albeit more recently (May 18) than SPONGE.
Based around the idea of helping its holders cope with missed opportunities in the cryptocurrency market, COPIUM has a hard cap of one billion tokens and features a burn mechanism that will ultimately destroy 300 million COPIUM.
It has already gained by as much as 650% since listing on Uniswap a few days ago, while it's up by around 60% in the past two days alone.
Importantly, COPIUM hasn't received any major CEX listings yet, so when the first few arrive, it could really take off.
One new token that hasn't even listed yet is AiDoge, an AI-powered meme-generating platform that is currently holding the presale for its $AI token.
This presale already raised more than $11.5 million since kicking off near the end of April, providing some indication of just how effectively it has already captured the interest of the market.
Employing advanced AI algorithms and large datasets, AiDoge's platform can be used to generate a wide variety of memes.
Users need simply to enter a short text-based description to create their desired memes, while they can also vote on the memes they each create, with the highest-ranked creations earning their owners rewards in $AI.
$AI can be used for staking and for paying to access AiDoge's meme-generating feature, meaning that it has some genuine utility, unlike many other meme tokens.
Because of this utility, it could easily surge once it lists on exchanges in the next few weeks, taking its place alongside COPIUM and SPONGE as one of the most successful new tokens of the year.
---