Dogecoin and Shiba Inu Under Pressure While This New Meme Coin Soars – How to Buy Early?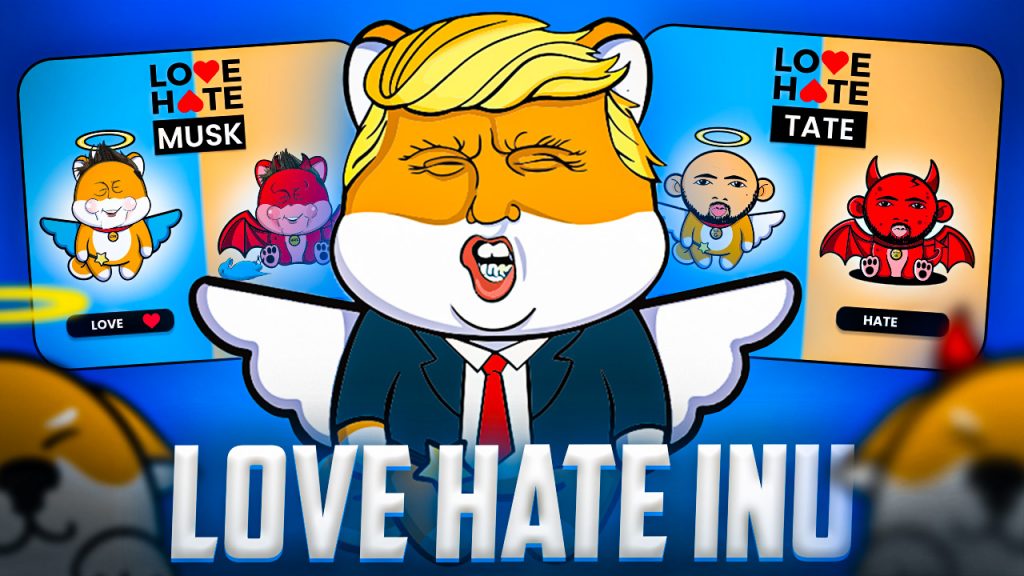 Dogecoin (DOGE), is currently trading at $0.09, shows a modest 24-hour change of +2.06%.
The coin seems to be consolidating after retracing from a significant +37% pump on April 4, 2023, following Elon Musk's temporary Twitter logo change.
With an April percentage change of +22.35%, Dogecoin is riding high off support from its 20 and 200-day moving averages.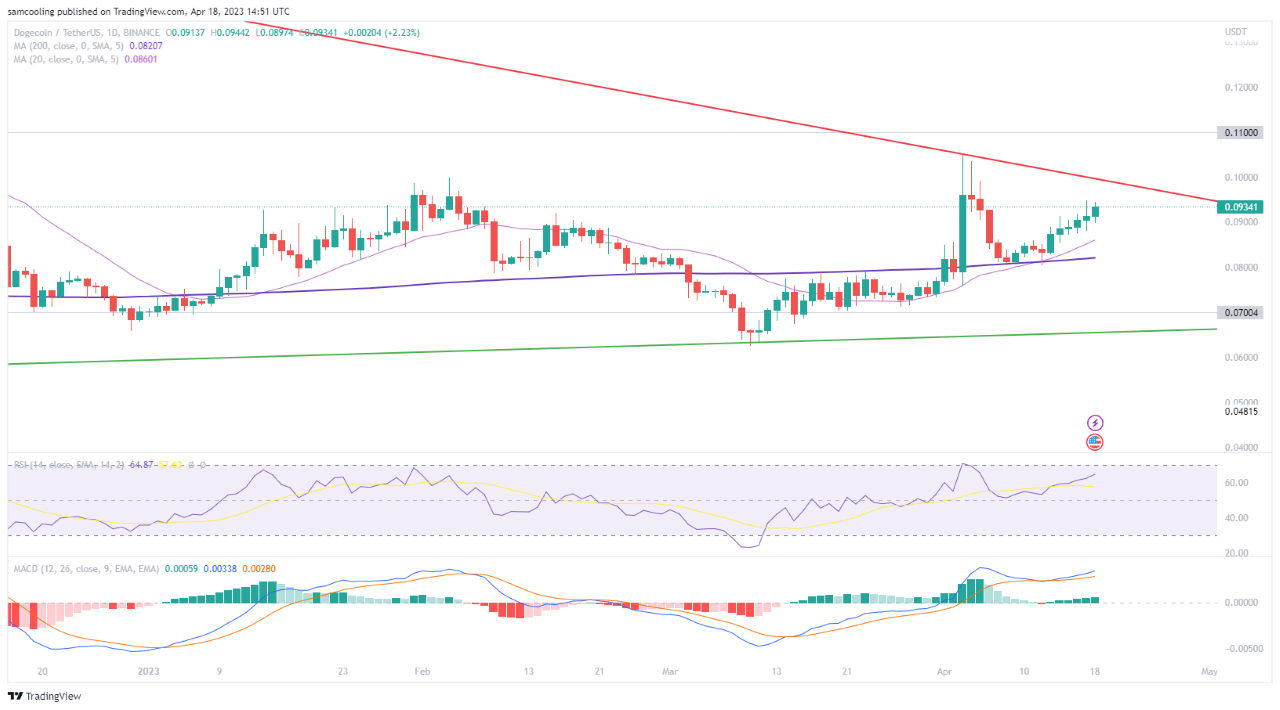 However, the RSI hints at an overheated market at 64, and while there's potential for growth to $0.125 (+33%), downside risks persist, which could lead the price back down to $0.08 (-14.6%).
Shiba Inu (SHIB) Price Analysis
Shiba Inu, on the other hand, trades at $0.00001155 with a meagre +1.58% gain.
The coin remains trapped in a descending pendant pattern, and the retracement bleed-out continues following February's hype.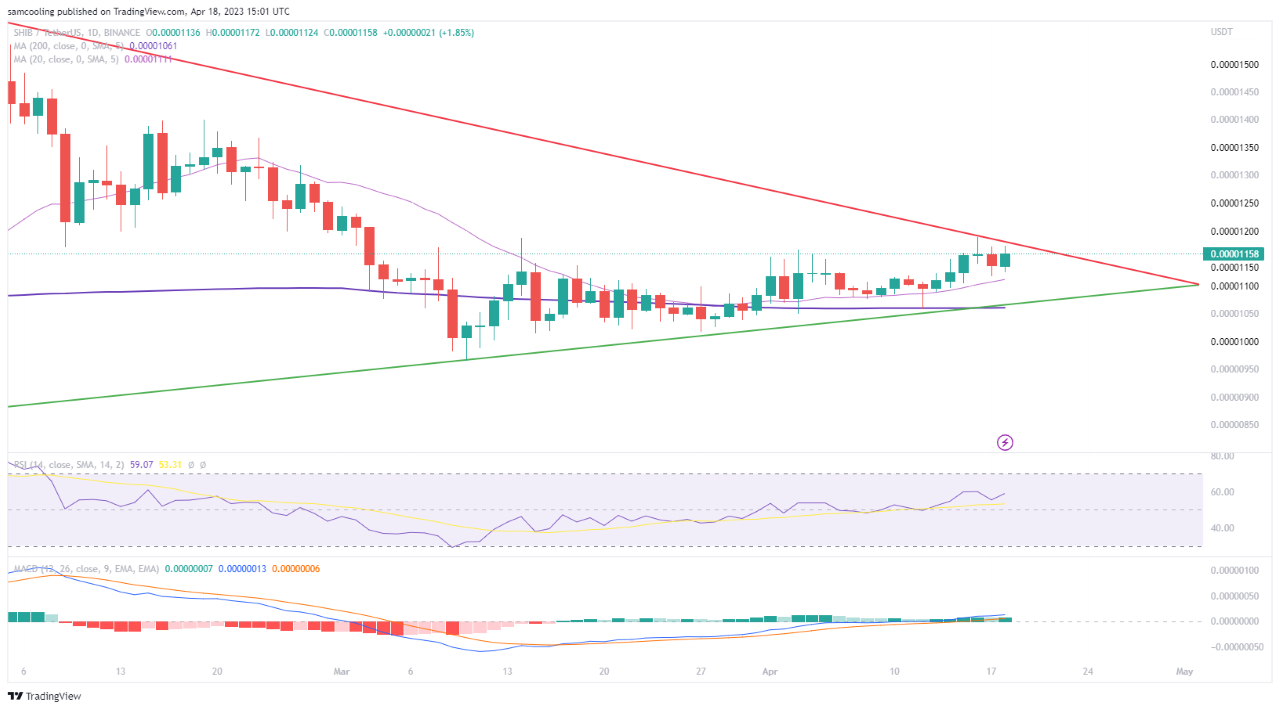 April's percentage change of +8.74% leaves much to be desired, and although SHIB consolidates above its 20 and 200-day moving averages, the RSI is heating up to overbought levels at 58.
With the MACD indicating very minor bearish divergence, and the upside target is set at $0.0000125 (+8.30%).
However, downside risk looms large at $0.0000100 (-13.35%), making it a less attractive option for investors seeking a favorable risk-to-reward ratio.
For those seeking a more promising opportunity in the meme coin market, Love Hate Inu might just be the investment you've been searching for.
Introducing Love Hate Inu (LHINU)
The meme coin sensation that's sweeping the internet with its innovative Vote-2-Earn platform, blending the tokenomics of meme coins with the power of blockchain-based voting.
This daring brainchild of crypto mastermind Carl Dawkins is poised to disrupt both Web3 social media and the $3.2 billion survey industry.
New Presale Milestone Achieved - Over $4.5 Million Raised!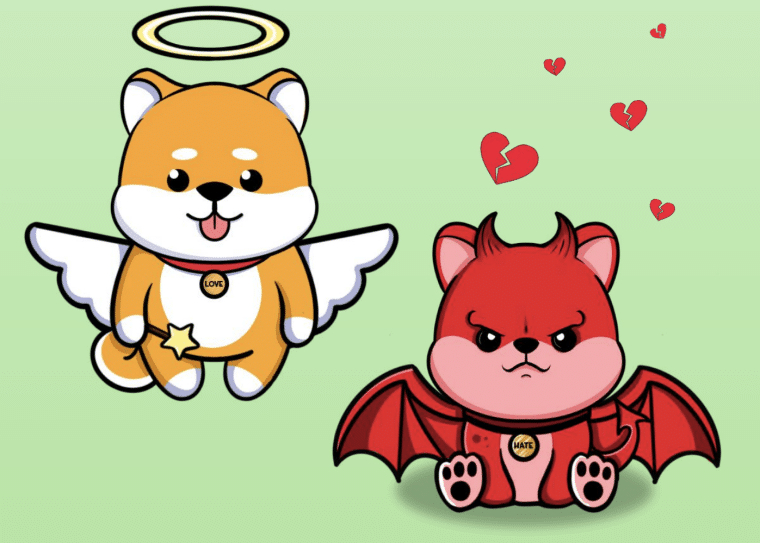 Love Hate Inu has raised a staggering $4,539,777.62 in its presale, with only 6 days left until the price increases to $0.000125.
This is your last chance to secure LHINU tokens at just $0.000115 USDT each before the price takes off.
With a launch price set at 1 LHINU = 0.000145 USDT, the potential for returns is undeniable.
The Ultimate Vote-2-Earn Platform: LHINU's Viral Love-Hate Andrew Tate $10k Voting Competition
To celebrate its fundraising success, Love Hate Inu has launched a demo vote competition with a chance to win $10,000.
Do you love or hate Andrew Tate? Head over to the Love Hate Inu homepage and join this off-chain, free-to-enter competition.
Love Hate Inu is a meme token that offers real utility through its Vote-2-Earn system.
Users can participate in polls on trending topics and issues, as well as contribute to the creation of the latest meme sensations, all while earning valuable LHINU tokens.
By staking LHINU tokens, users can participate in polls and earn tokens for voting.
Secure, Transparent, and Community-Driven
Love Hate Inu's platform ensures secure and transparent voting, preventing spam and manipulation.
The staking mechanism is secured by smart contracts, making the voting process both verifiable and anonymous.
This powerful use case for blockchain technology offers a new level of security and community confidence in voting.
Additionally, CEO Carl Dawkins has emphasized that voting won't be limited to trending issues and personalities.
The community will be involved in project governance, decision-making on marketing budgets, and more.
A KYC system for companies looking to conduct more serious polling activity is also under development, with partnerships being negotiated to deliver the system.
Presale Frenzy: Love Hate Inu, the Next Shiba Inu?
Love Hate Inu's presale is quickly becoming one of the most popular of the year, with analysts pointing to LHINU as among the best cryptos to buy now.
With its unique utility setting it apart from other meme coins, Love Hate Inu could easily be the next Dogecoin or Shiba Inu.
Don't miss this once-in-a-lifetime opportunity to join the Love Hate Inu revolution. Secure your LHINU tokens now and prepare for the thrilling journey ahead!
Disclaimer: Cryptocurrency projects endorsed in this article are not the financial advice of the publishing author - cryptocurrencies are highly volatile investments with considerable risk, always do your own research.
---