Dogecoin Price Prediction as Tokens Built on Dogecoin Blockchain Reach All-Time High – Can DOGE Reach $1?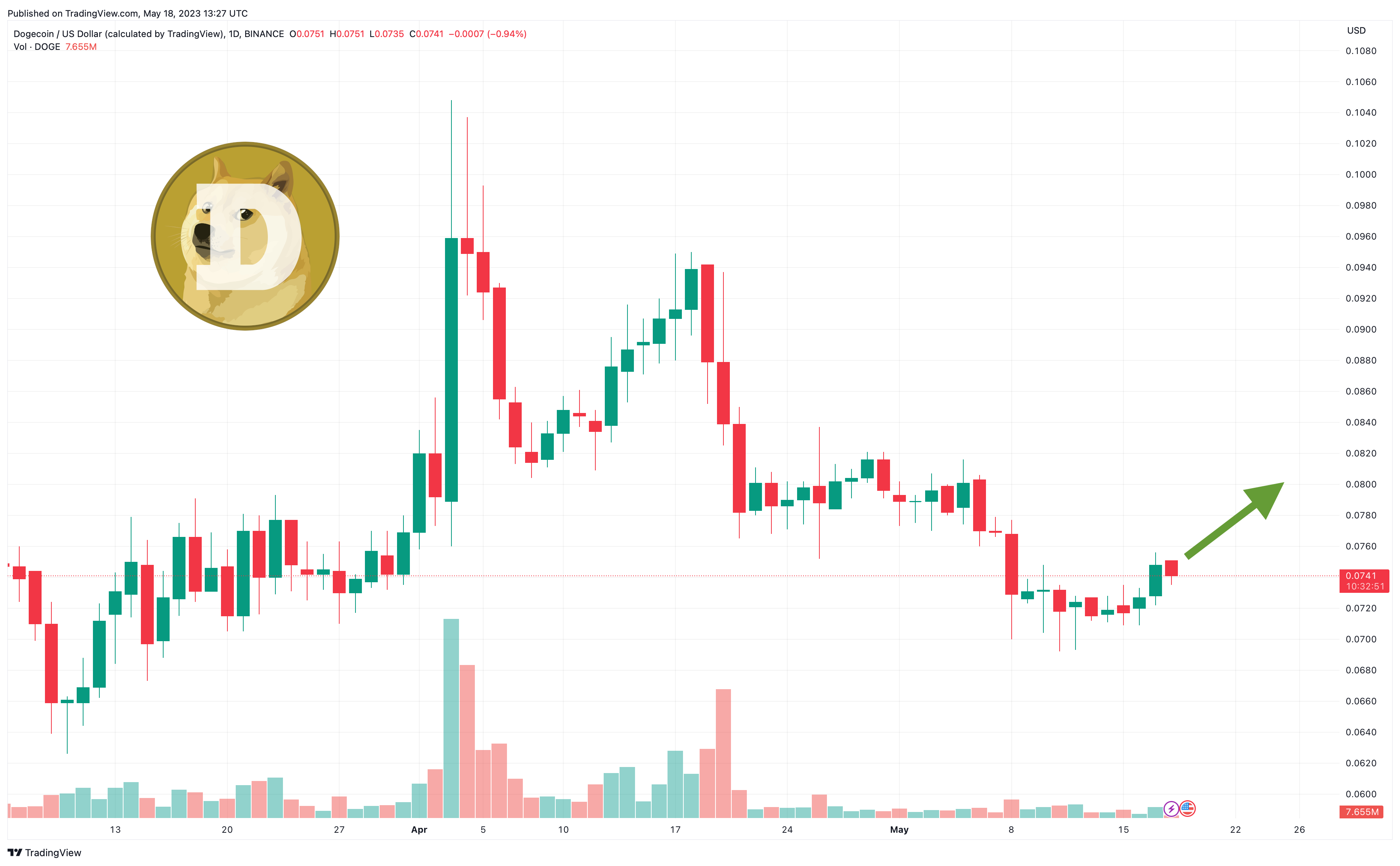 The price of Dogecoin (DOGE) has risen by 2% in the past 24 hours, rising to $0.074565 amid a similar gain for the cryptocurrency market as a whole.
DOGE's current price means that it has gained by 3.5% in the past week, with the meme token down by 20% in the last 30 days but up by 6% since the beginning of the year.
Despite its underwhelming performance in the past few weeks, DOGE's increase today comes as data emerges showing that transactions on the Dogecoin blockchain have risen to an all-time high, driven largely by the issuing of new DRC-20 tokens.
Given this surge in demand for space on the Dogecoin blockchain, DOGE could therefore continue seeing rises in the coming weeks and months, with more of the token needed to pay transaction fees.
Dogecoin Price Prediction as Tokens Built on Dogecoin Blockchain Reach All-Time High – Can DOGE Reach $1?
DOGE is clearly on an upswing at the moment, yet what's encouraging about this is that it looks like it could still be some way from reaching a peak.
Most notably, the coin's 30-day moving average (yellow) overtook its 200-day (blue) yesterday, forming a 'golden cross' that tends to signal a breakout to a new level.
This level may have already been reached, given that DOGE failed to break the $0.075 resistance level (red), yet it has begun rising again and may test this ceiling in the next few hours.
Its relative strength index (purple) suggests the kind of continued momentum that may help it reach new levels, with the RSI rising back over 50 after a brief dip below earlier today.
And more fundamentally, the fact that the Dogecoin blockchain is currently witnessing more use points to a steadily rising DOGE price.
It seems that what's happening is that users are rushing to mint Dogecoin's own version of Bitcoin's Ordinals, using the DRC-20 token standard to create NFTs.
While it's not clear how long such a trend may last (and Dogecoin developer Patrick Lodder has cast doubt on its longevity), it at least provides an example of Dogecoin showing some kind of utility.
And given that Dogecoin offers lower fees than Bitcoin and a bigger block size, it's arguably a more useful vehicle for minting NFTs than the original cryptocurrency.
As such, raised transaction levels may become a more permanent phenomenon, potentially supporting DOGE's price.
In the short term, however, it could just easily dip again following this short-term rally, given that some whales seem to be preparing to sell.
But DOGE remains undervalued and oversold, meaning that it's still potentially a good time to buy the token, before it sees bigger gains.
Such gains could end up coming if the Dogecoin community's wildest dreams are made true and Twitter introduces cryptocurrency and DOGE payments, as suggested by reports that the social network is pushing ahead with its digital payment plans.
If Twitter does go ahead and do this, then there's no doubt that DOGE could pass through a number of big levels, moving to $0.1, $0.5 and then potentially to $1.
AiDoge Could Be Better
Assuming that the effect of Doginals on Dogecoin activity may be shortlived, it could be more prudent of investors to place their attention with fundamentally stronger coins.
Indeed, one particularly promising avenue right now is presale tokens, which can potentially see big gains when they list on exchanges, especially if they belong to interesting platforms.
A prime example of this is provided by AiDoge, an AI-powered meme-generating platform that has already raised over $9 million since the offering for its native token $AI began at the end of April.
AiDoge combines advanced AI algorithms and extensive datasets to generate memes, with the only input needed from the user being a short text-based description of the meme they want to generate.
From there, users can upvote and downvote generated memes, which can earn their creators rewards in $AI if they receive enough votes.
On top of this, $AI can also be used for staking and for paying to use AiDoge's meme-generating features, giving the token some genuine utility.
Investors can take part in its presale by visiting AiDoge's official website and connecting their wallets, before using ETH, BNB, USDT or fiat currency to buy $AI, which currently costs $0.0000308.
This price will rise to $0.0000312 during the sale's next stage, while $AI will list on exchanges at $0.0000336, although its fundamentals may very well push it much higher soon afterwards.
---