Dogecoin Price Prediction as Popular Crypto Trader Predicts 50% Move Up – Time to Buy?
Disclosure: Crypto is a high-risk asset class. This article is provided for informational purposes and does not constitute investment advice. By using this website, you agree to our terms and conditions. We may utilise affiliate links within our content, and receive commission.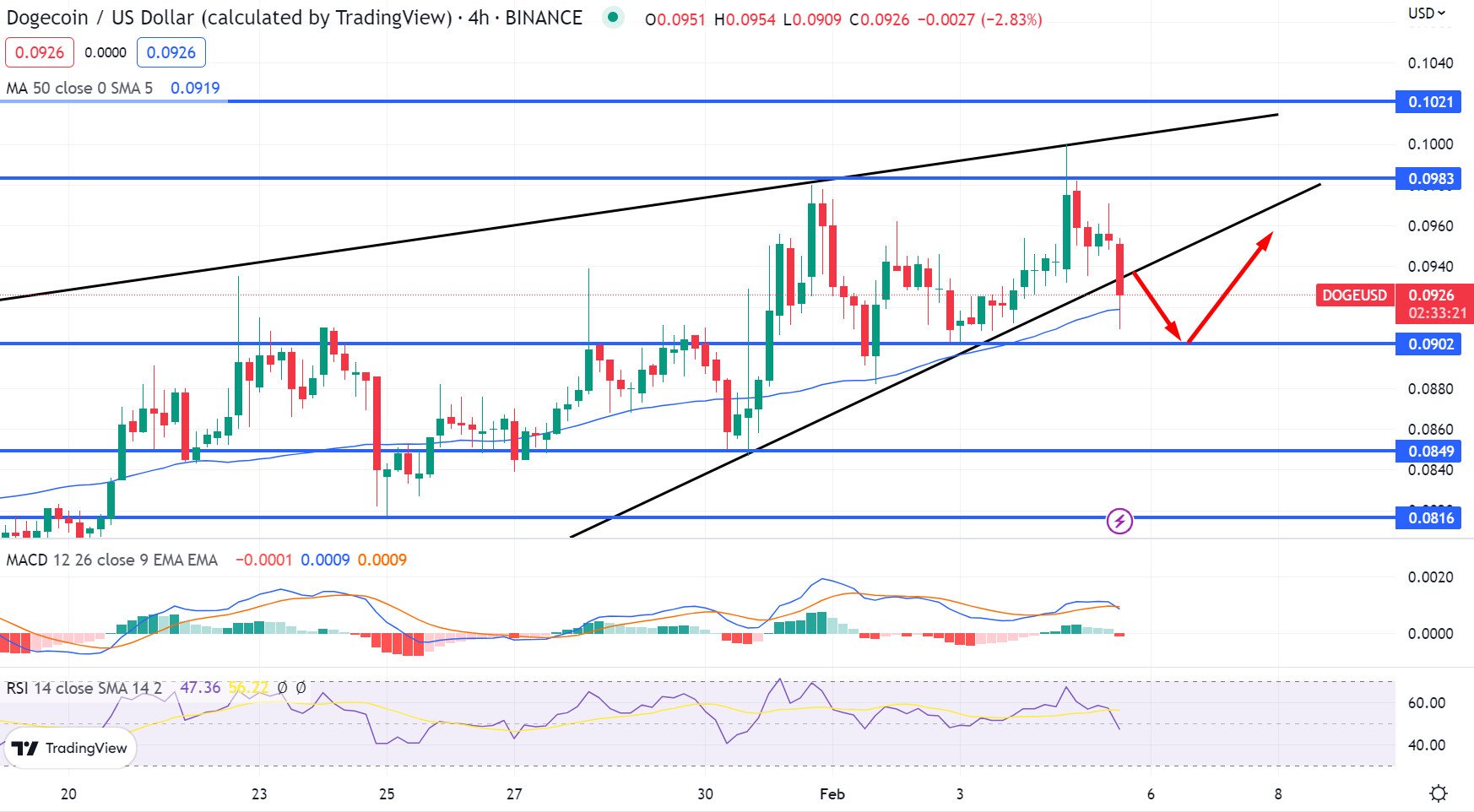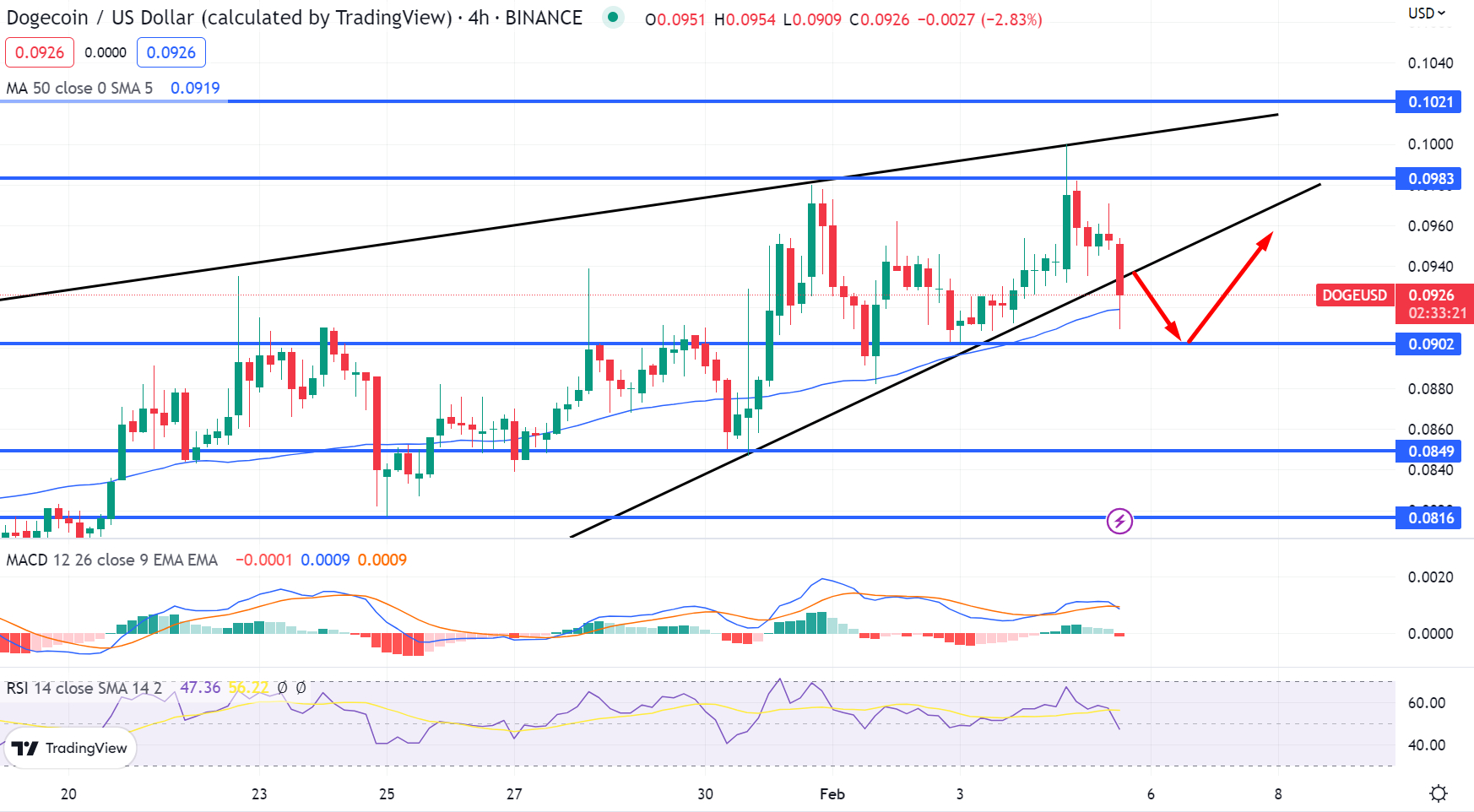 Dogecoin has been gaining popularity in the cryptocurrency space due to its low price and potential for massive gains. Recently, a popular crypto trader predicted that Dogecoin could move up by 50% in the near future. This has caused some investors to wonder if now is the time to buy Dogecoin or not.
https://www.twitter.com/Pentosh1/status/1621923186597154817?s=20&t=AIQrt1PI2vPIpGU8Noc_3g
In this article, we will explore the current market conditions of Dogecoin and analyze whether investing in it now could be a good idea or not.
Dogecoin (DOGE) has seen a surge in its value and is now trading at $0.098. Yesterday, it reached an all-time high of $0.099 but failed to sustain that level, although it remains bullish and is still flashing green at the moment.
#Dogecoin on the rise 🚀 🌝 pic.twitter.com/yaqToOBHQ5

— Alicia Miranda (@AliciaM54129339) February 4, 2023
The crypto market has been quite bullish recently, with numerous cryptos such as Dogecoin benefiting from the surge in optimism. This could be one of the reasons why Dogecoin has seen such a huge increase in value.
Cryptocurrencies such as Bitcoin (BTC) and Ethereum (ETH) have grown in value considerably, with each of them surpassing the $23,000 and $1,600 marks respectively.
⚡️In January, #NFT trading skyrocketed to over $945 million during the recovery of the #Crypto market. pic.twitter.com/2dwz4q10pe

— Technical Crypto Analyst (@TechCryptoAnlst) February 5, 2023
There has been a tremendous increase in the value of cryptocurrencies recently, which is largely attributed to the US Federal Reserve reducing the interest rate by 25 basis points. This has resulted in a surge of investors and buyers in the crypto market, creating a positive environment for digital assets.
Crypto Market On The Rise: Seizing On Positive Momentum To Make Big Gains
The crypto industry is constantly evolving, with various innovative developments helping to increase the popularity of cryptocurrencies. These innovations have played a key role in the rapid rise of virtual currencies.
Noteworthy is that Dogecoin, presently having the highest market capitalization among meme tokens, is among the 10 most actively traded cryptocurrencies by big whales on Binance Smart Chain.
Total crypto market cap logarithmic regression pic.twitter.com/nN8bVyEOeP

— BINANCE SPOT AND FUTURES SIGNALS (@binancespotTeam) February 5, 2023
However, the previously released upbeat US data show that the US economy is on the rebound, which was seen as one of the primary factors that provided crypto investors confidence and contributed to cryptocurrency increases.
Notably, the US economy generated more than 500,000 new jobs last month, bringing unemployment to its lowest level in decades.
DollarIndex Outlook: Dollar appreciates upbeat US data#DollarIndex pic.twitter.com/34XGe3XWeN

— RealOne Defi (@real1defi) February 5, 2023
In the US, there was sizable growth in the number of new jobs created in January 2020 with an increase of 517,000. This was more than double compared to December and almost tripled the estimate of 185,000. The unemployment rate has also dropped to 3.4%, which is a 53-year low.
Rising Interest in Crypto in the UK
An examination of eight key data indicators revealed that London has the highest readiness for businesses and startups to adopt cryptocurrency. As we all know, the broad adoption of cryptocurrencies requires crypto-friendly regulations and an infrastructure that enables the general public to access and become exposed to the ecosystem.
However, London emerges as the most cryptocurrency-ready city in the world for enterprises and start-ups when eight important variables related to taxation, ATMs, jobs, and events are taken into account.
#London emerges as world's most #crypto-ready city for business. pic.twitter.com/13Ejk6Mvpa

— Vibrant (@vibrantordinals) February 5, 2023
Thus, the UK has the highest percentage of people working in industries related to cryptocurrencies among all cities, indicating a higher level of public interest in the crypto ecosystem. This was seen as another key factor that could have a positive impact on cryptocurrency prices, including Dogecoin prices.
Why DOGE Adoption Is Growing: The Benefits Of Crypto's Cutest Coin
Binance recently sent approximately $300,000,000 worth of Dogecoin to anonymous wallets, which is equivalent to $27.4 million at current exchange rates. These transactions indicate that crypto whales have likely been accumulating DOGE, a strong indicator.
184 Million DOGE out of Binance, Dogecoin Price Acts Positively https://t.co/SGW4DXc4VL #Bitcoin #Crypto #Nft pic.twitter.com/1waez9NeLN

— Realized_Gains (@REALIZEDGAIN5) February 3, 2023
Additionally, DOGE is gaining more recognition with time as evidenced by recent consumers voting for FCF Pay's blockchain payment processor to allow Dogecoin payments through their virtual debit cards.
Elon Musk Wins SEC Case
A jury in court found Elon Musk, the most enthusiastic supporter of Dogecoin, not guilty of the allegations brought against him by the SEC in 2018. The Tesla CEO was accused of violating federal securities laws by the regulatory body after he tweeted that he had secured funding to take Tesla private for $420.
However, Elon Musk thanked the jury in a tweet for finding him not guilty of the charges in the Tesla 420 take-private case, which was seen as another positive factor that could hasten the rally in Dogecoin.
Dogecoin Price
The price of Dogecoin is currently $0.0958, with a 24-hour trading volume of over $1 billion. It has risen by over 2% in the last day and is now the ninth biggest cryptocurrency by market capitalization, worth more than $12.7 billion.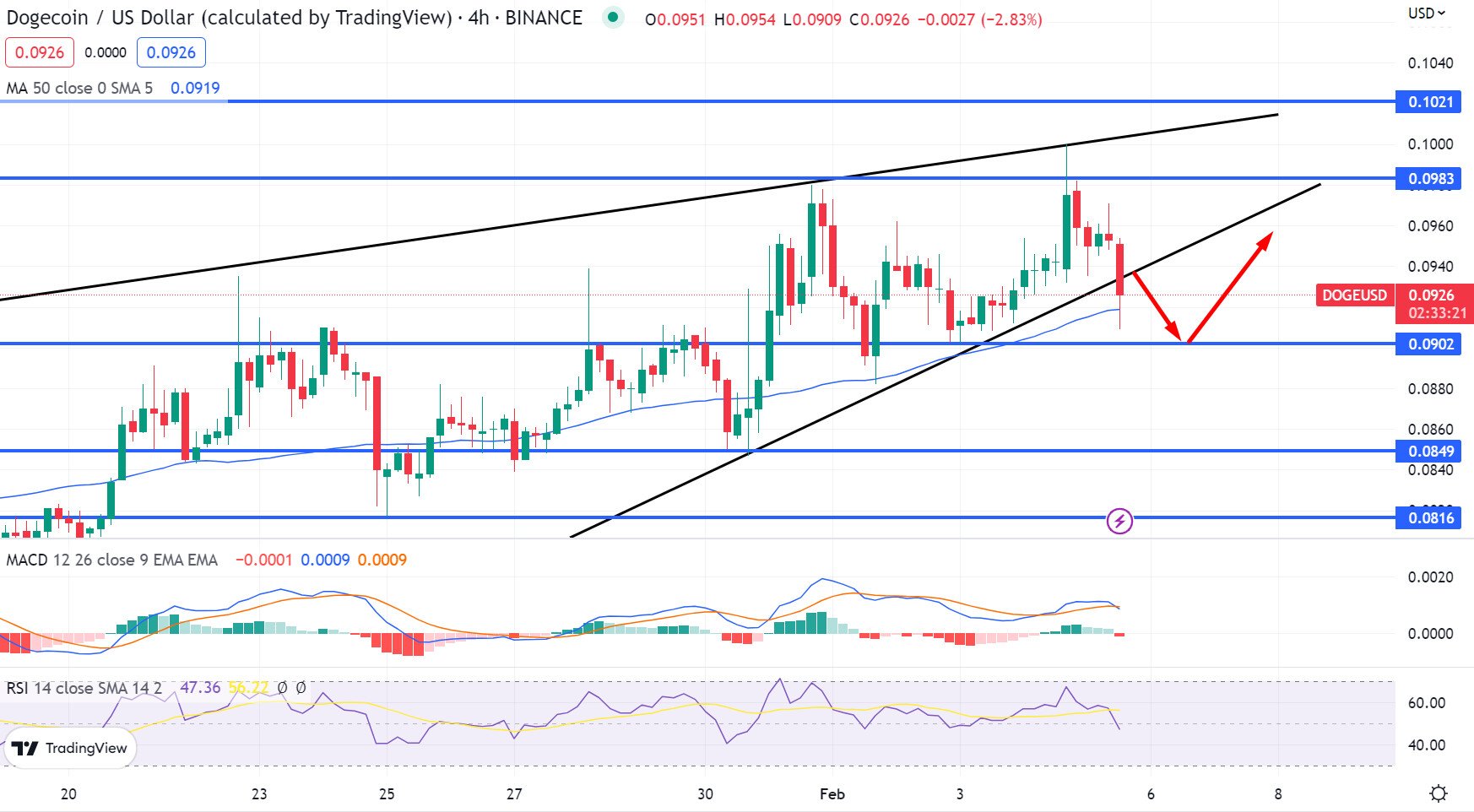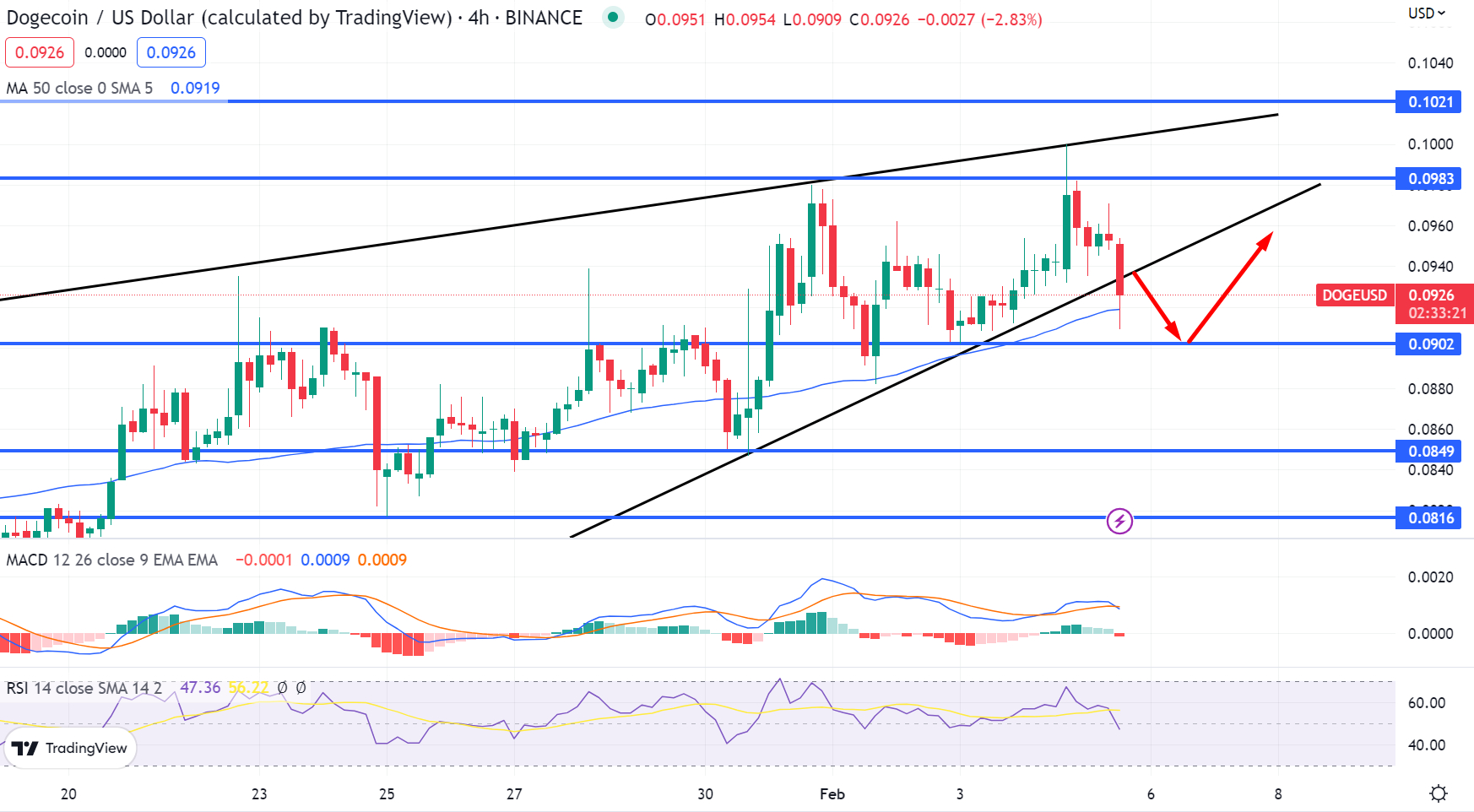 On the technical front, Dogecoin has failed to break above the double top resistance level of $0.983, and candle closings below this level have resulted in selling.
On the downside, Dogecoin's immediate support is at $0.0902, and a break below this level could take DOGE to $0.0850 or $0.0815 levels.
Alternatively, if DOGE holds above $0.0900, we can expect a bullish rebound to $0.0985 or $0.1020.
Dogecoin Alternatives
The top 15 cryptocurrencies for 2023 have been assessed by CryptoNews Industry Talk. There are lots of alternative projects worth investigating if you're searching for a better prospective investment opportunity.
New altcoins and ICO projects are added to the list on a weekly basis.
Disclaimer: The Industry Talk section features insights by crypto industry players and is not a part of the editorial content of Cryptonews.com.
---