Dogecoin Price Prediction as DOGE Whale Moves Millions of Tokens to Unknown Wallet – What's Going On?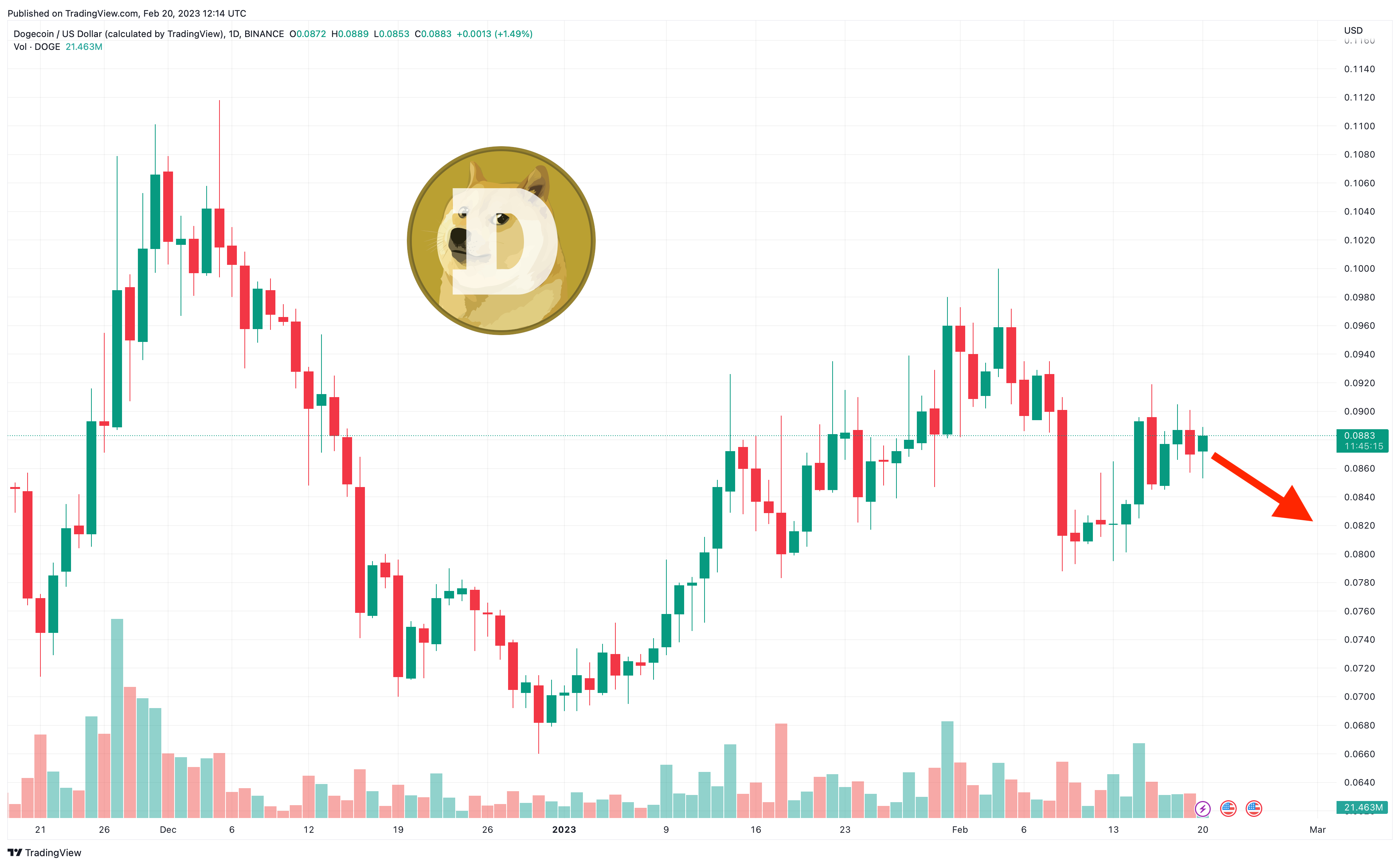 The Dogecoin price has barely moved in the past 24 hours, with its current price of $0.088410 representing a 7.5% gain in the past week. It also marks a 2% gain in the past month, with DOGE benefitting in this period from Elon Musk continuing to make cryptic allusions to the meme token.
The Dogecoin price has shown little reaction so far to reports yesterday that over $2.75 million in the token was transferred from multiple addresses to a single wallet. This could represent a whale preparing to sell its holdings in Dogecoin, with other whales also having moved large amounts of the token in recent weeks.
Dogecoin Price Prediction as DOGE Whale Moves Millions of Tokens to Unknown Wallet – What's Going On?
DOGE's indicators look fairly promising, even if they could be interpreted both ways at the moment. Its relative strength index (purple) has risen above 50 after sinking to 40 earlier in the month, a sign that it's regaining some momentum.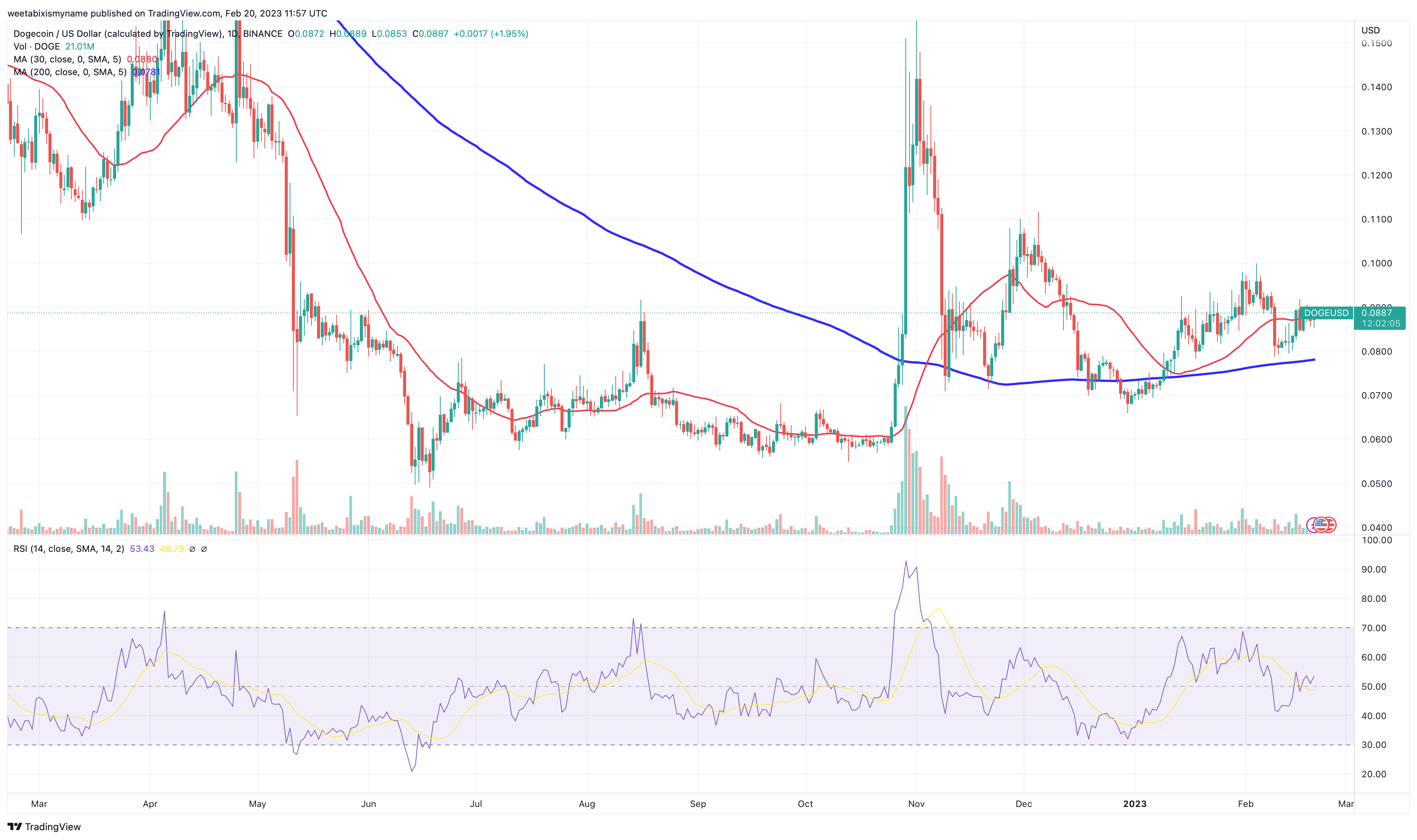 On the other hand, the coin's 30-day moving average (red) has stopped climbing above its 200-day (blue), signaling that it may be due a fall.
This suspicion is supported to some extent by recent whale activity. Yesterday, one large holder moved 31,158,390 DOGE (now worth about $2.75 million) from several addresses to a single wallet.
So far, this quantity of DOGE hasn't moved, but transfers from other whales in recent days heighten the fear that larger investors may be preparing for a selloff. For instance, the past four hours saw a similar set of transfers, worth around $2.5 million.
Perhaps even more alarmingly, yesterday also witnessed a DOGE transfer worth over $5 million, with the dogecoin in question moving from a top-20 wallet to an unknown wallet.
It gets even worse because February 17 also saw a wallet that had been dormant for over two years move DOGE worth $28 million to a new address.
While this can only remain speculation for now, it's entirely conceivable that bigger investors are preparing to sell. Indeed, DOGE's indicators are in the right kind of position for a loss, while the wider market's gains of the past week or so have lost their momentum.
Even if DOGE is due to fall from its current position of $0.08841, it remains set up for renewed gains in the future. This is largely because of Elon Musk, who continues to be a vocal supporter of the meme token.
For instance, last week saw the Tesla and Twitter owner reference Dogecoin in a viral tweet of his Shiba Inu dog, Floki.
Similarly, he also attended Super Bowl LVII in a Dogecoin T-shirt, with the entrepreneur sitting next to Fox Corp. and News Corp. owner Rupert Murdoch.
Such stunts all feed the expectation that, sooner or later, Twitter will introduce dogecoin payments. Such expectations reached a new intensity a few weeks ago, when the Financial Times ran an article reporting that the social network was pushing ahead with its digital payment plans, and that it had even been applying for regulatory licenses across the US.
Given Elon Musk's long-standing support of dogecoin -- as well as hints last year that he may consider introducing DOGE payments-- this news lends some credibility to claims that dogecoin will eventually be a payment option on Twitter.
Of course, the most recent report made no explicit mention of DOGE, so it remains anyone's guess of whether Musk's vague hints will become a reality. If they do, there's no doubt DOGE would rally massively, perhaps reaching whole numbers a few weeks after any hypothetical Twitter integration.
For now, however, a more realistic target for 2023 would be somewhere close to $0.13, as suggested by a recent report by crypto-exchange Changelly. And while this is hardly headline-grabbing, it would make for a 47% gain from its current level.
High-Potential Alternatives to Dogecoin
While DOGE may not surge just yet, there other high-potential crypto projects that may be more promising in the shorter term (as well as longer-term). Accordingly, we've reviewed the top 15 cryptocurrencies for 2023, as analyzed by the CryptoNews Industry Talk team.

The list is updated weekly with new altcoins and ICO projects.
Disclaimer: The Industry Talk section features insights by crypto industry players and is not a part of the editorial content of Cryptonews.com.
---