Dogecoin Price Prediction as DOGE Starts Forming Bullish Chart Pattern – Can DOGE 10x From Here?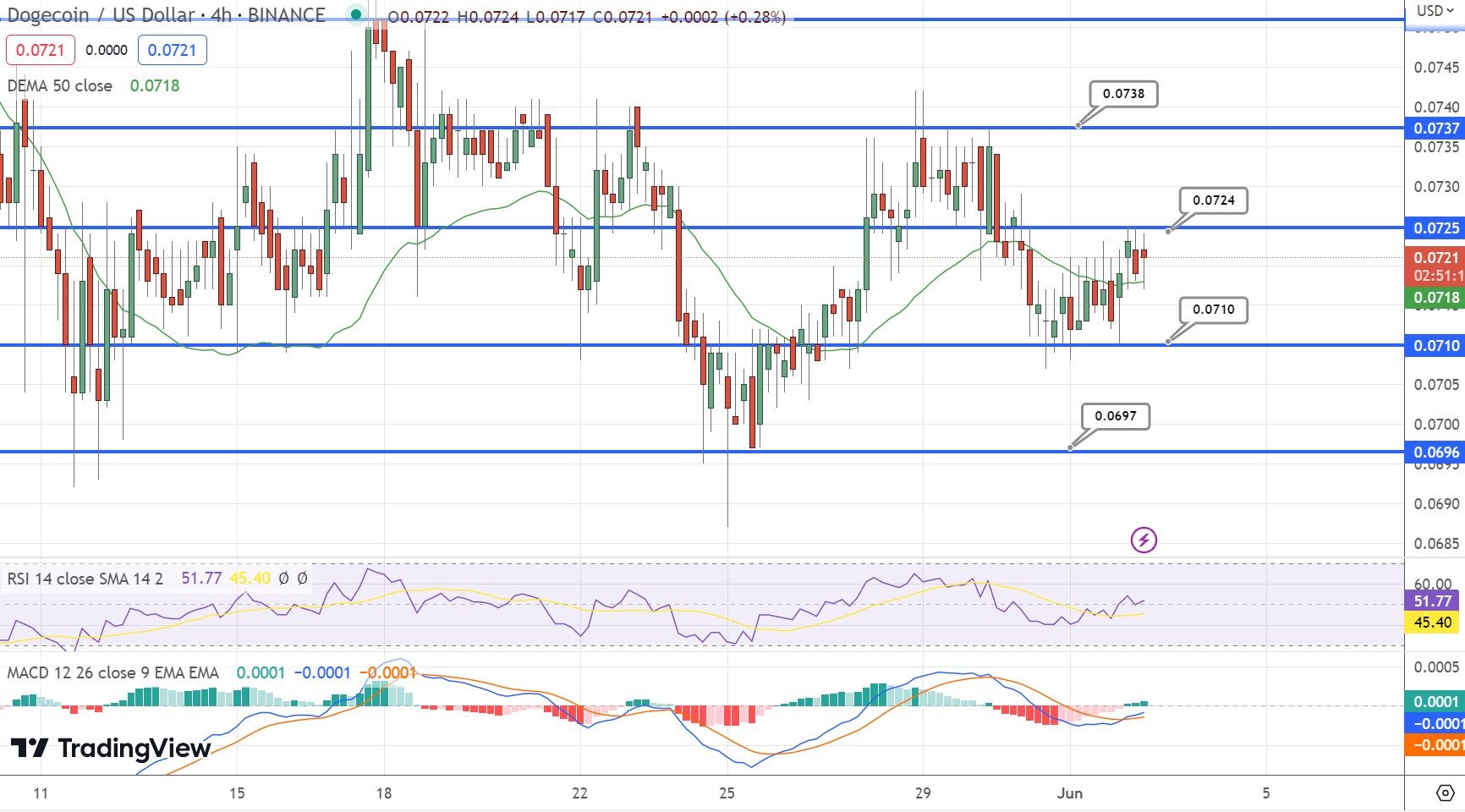 Dogecoin, the popular cryptocurrency known for its meme-inspired origins, is attracting attention once again as it starts forming a bullish chart pattern.
With investors eagerly watching its price movements, many are wondering if Dogecoin has the potential to surge tenfold from its current levels.
Indeed, Dogecoin has garnered significant interest as enthusiasts and traders analyze the market dynamics and factors that could propel DOGE to new heights.
In this Dogecoin price prediction, we will explore the latest developments and trends surrounding Dogecoin and delve into its future price movement possibilities.
Dogecoin Price Prediction as DOGE Starts Forming Bullish Chart Pattern
Dogecoin (DOGE) is currently experiencing a downward trend, sliding after finding some support around the $0.0709 level.
In the four-hour timeframe, it has formed spinning top candles, indicating indecision in the market. The immediate target level for DOGE is around 0.0725, which is currently acting as resistance.
If DOGE breaks through this level, the next target could be around $0.0740.
However, there is a significant hurdle at the 0.0745-0.0740 area, which has acted as a strong resistance in the past.
If the bullish sentiment dominates and DOGE surpasses the 0.0740 level, the next target could be 0.0750 or even 0.0755.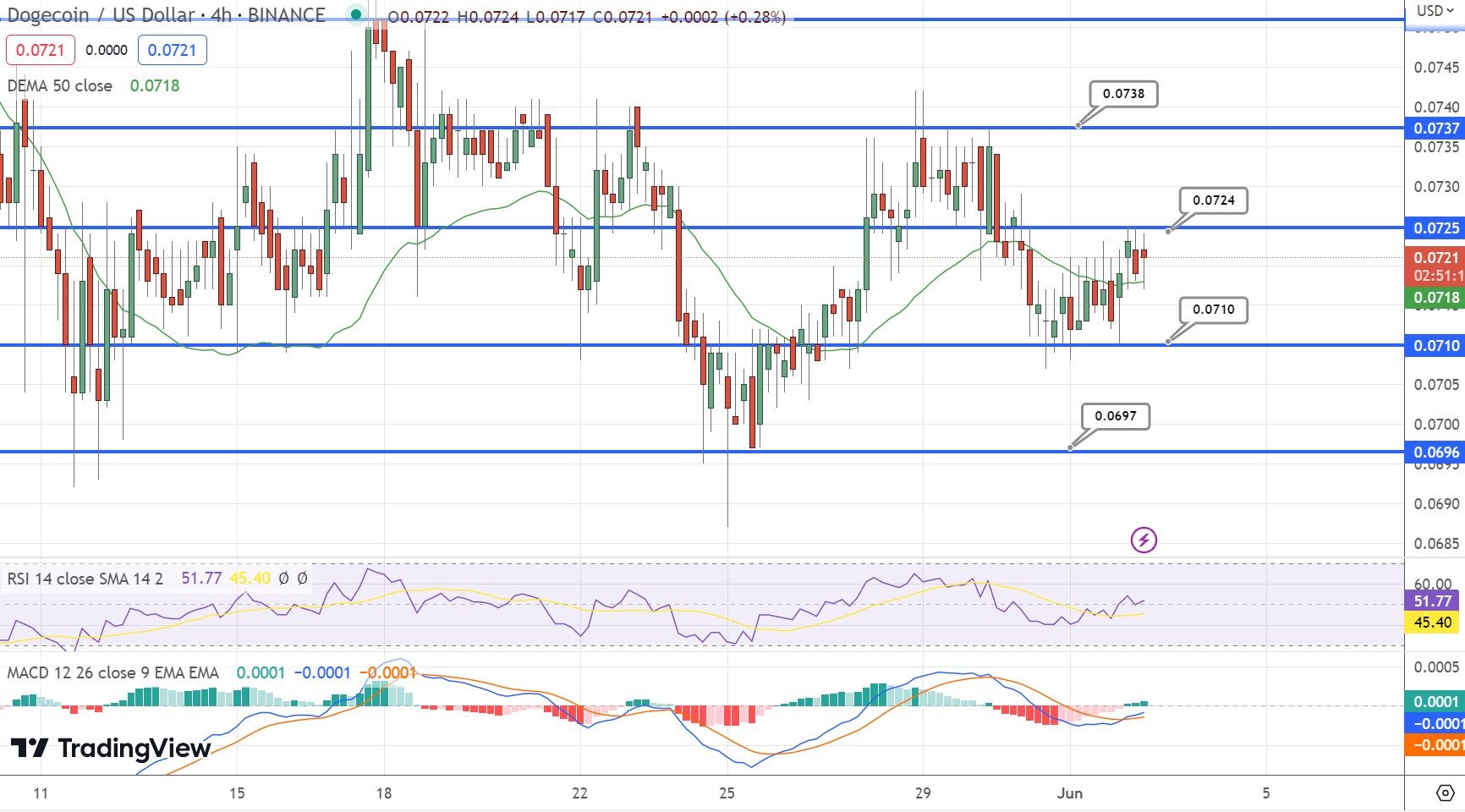 Analyzing the leading technical indicators, such as the Relative Strength Index (RSI) and Moving Average Convergence Divergence (MACD), both indicators are holding within favorable ranges, suggesting a potential continuation of the upward trend for DOGE.
If DOGE remains above the support level at 0.0710, there is a good probability of upward movement.
Additionally, the 50-day exponential moving average supports the 0.0715 level. The current close of the candlestick around this level further indicates the likelihood of the upward trend continuing.
However, if DOGE breaks below the 0.0709 level, the next support levels to watch for are around 0.0697 and potentially even lower towards 0.068.
It's important to note that cryptocurrency markets can be highly volatile, and price movements can change rapidly.
Traders and investors should closely monitor the price action and adjust their strategies accordingly to navigate the dynamic nature of the market.
Alternative Coin with Huge Potential: yPredict
yPredict, the AI-powered crypto platform, has reached a major milestone with $2 million raised in its ongoing presale.
This innovative platform offers traders and analysts advanced tools and insights, including chart pattern identification, technical indicators, and AI-driven price predictions.
It also provides a social trading feature for learning and replicating successful strategies.
In addition to its cutting-edge technology, yPredict rewards users through its Learn-to-Earn program, where engaging with educational materials earns them YPRED tokens.
The platform also implements a decentralized governance model, giving users a voice in decision-making through voting mechanisms.
With each YPRED token valued at $0.09 during its sixth presale stage, yPredict is gaining momentum with $2 million on the horizon.
Following the presale, the tokens will be listed on exchanges at a price of $0.12.
Don't miss out on the opportunity to be a part of yPredict's success. Join the world of intelligent cryptocurrency trading and experience the benefits of yPredict firsthand!
---