Dogecoin Price Prediction as $1.5 Billion Trading Volume Comes In – Are Whales Buying?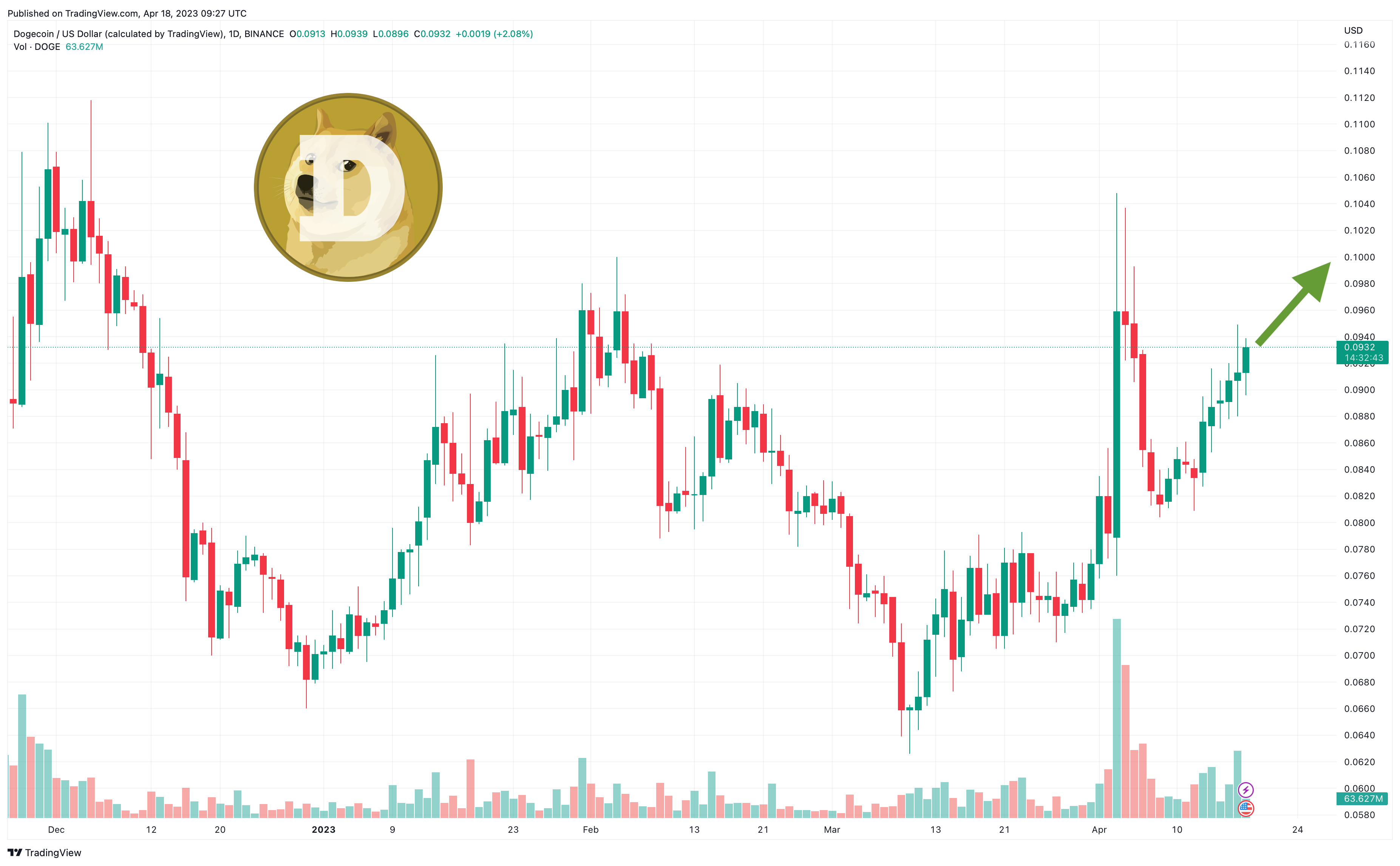 The Dogecoin price has dropped by 1% in the past 24 hours, with the cryptocurrency market as a whole barely moving in the same timeframe.
At $0.092602, DOGE has risen by 9% in the past week and by 26% in the last 30 days, with the meme token enjoying a return of 31% since the beginning of the year.
Today's move comes as the coin's 24-hour trading volume rises $1.5 billion, its highest level in over a week, stretching back to when its price briefly stood at $0.10.
This suggests an influx of liquidity that could help the coin return to such levels, with whale alerts suggesting that large investors have been buying the token following its dip today.
Dogecoin Price Prediction as $1.5 Billion Trading Volume Comes In – Are Whales Buying?
DOGE's indicators are in a very good position right now, suggesting that the coin could be on the brink of another little rally.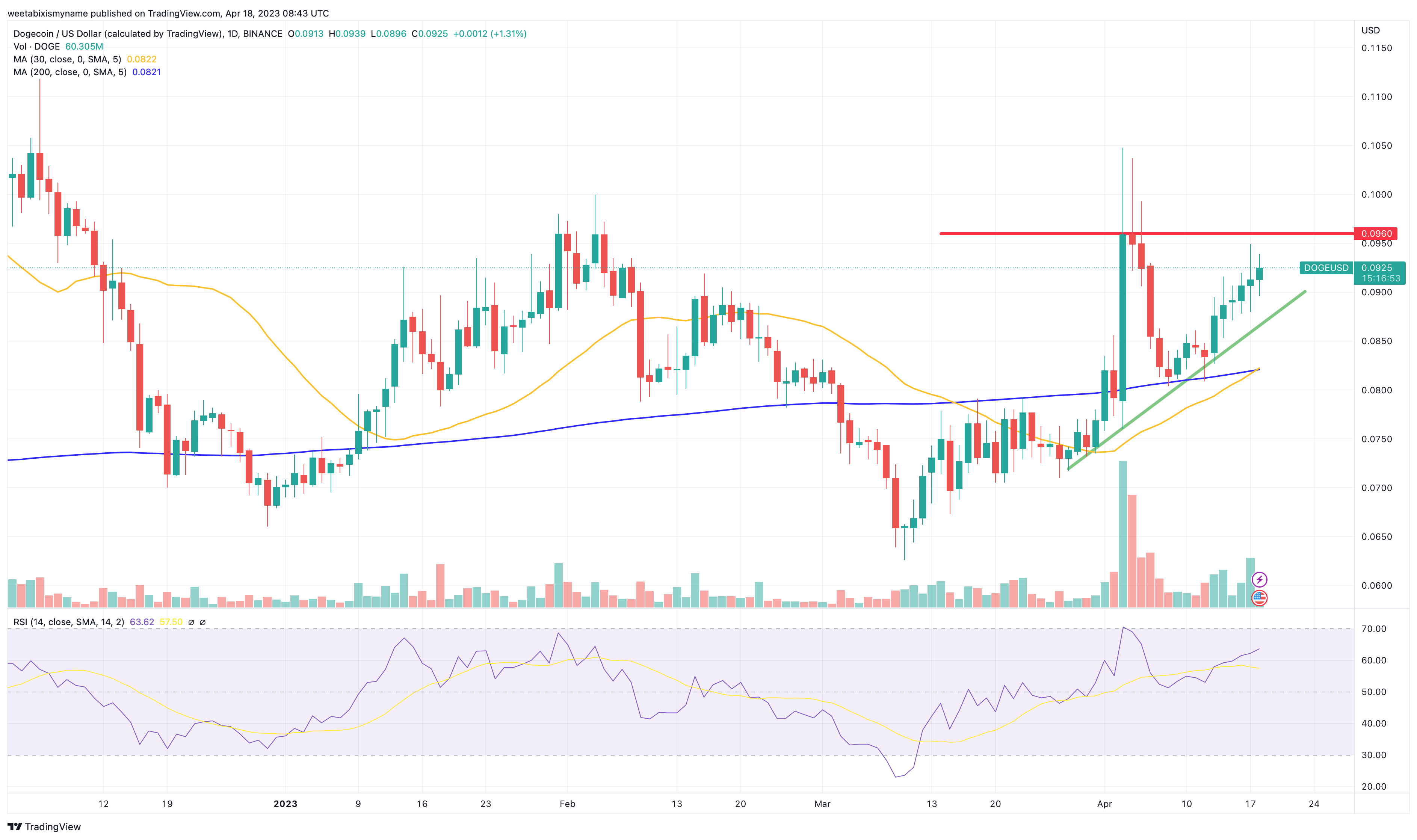 DOGE's relative strength index (purple) has risen from just above 50 in the past few days, with the token likely to see gains as the RSI moves to 70 and possibly higher.
Likewise, its 30-day moving average (yellow) is just about to rise above its 200-day average (blue), forming a 'golden cross' that can signal a breakout.
Indeed, the fact that DOGE's support level (green) has consistently risen in the past few weeks also suggests that the cryptocurrency could be about to squeeze out to a new, higher level.
This is supported by evidence suggesting that whales have begun accumulating DOGE again, with a number of alerts in the past week indicating some big transfers away from exchanges.
Whether DOGE can consolidate around a higher level probably depends on two things: 1) whether the wider market continues to see steady gains (dependent on the global economy), and 2) whether Elon Musk continues to namedrop and support the meme token.
Last week, the Twitter and Tesla owner tweeted that he would pay one million DOGE to anyone who could provide proof that he or his father own (or had owned) an emerald mine.
For whatever reason, the mere fact that Musk offered to pay a sum using DOGE resulted in a rally for the coin, and it's not the first time that something like this has happened this year.
Earlier this month, Musk even changed Twitter's bird logo to an image of a Shiba Inu dog (Dogecoin's mascot), which again sparked a DOGE rally.
Likewise, February saw him attend the Super Bowl wearing a Dogecoin T-shirt, and then a few days later he tweeted a picture of his Shiba Inu dog, Floki, with the caption, "The new CEO of Twitter is amazing."
Such tweets and displays have served to not only keep DOGE in the public eye, but also to give credibility to suspicions that Twitter may one day introduce Dogecoin payments.
Also feeding these suspicions was last week's news that Twitter is partnering with eToro to bring crypto and stock trading to its platform.
This partnership confirms that Twitter is aiming to move increasingly into the world of finance and payments, something which has also been confirmed by insider sources in recent months.
As such, there's a real chance that Twitter could end up bringing in some kind of DOGE integration in the not-too-distant future.
If so, there's no doubt that DOGE would moon, potentially returning to its all-time high of $0.731578, set back in May 2021.
DeeLance: An Alternative High-Potential Altcoin
But as we've indicated before, it may take months (or longer) for Twitter to follow through with DOGE payments, and when it does, these might come as part of a general package of cryptocurrency payments (meaning that DOGE would have no real priority over other coins).
As such, traders looking for big above-average gains may prefer to consider newer altcoins that have yet to see big rallies, with a number of presale tokens showing real promise at the moment.
One of the most interesting of these is DeeLance, a decentralized marketplace for remote work in the Web3.
DeeLance launched the presale for its DLANCE token several weeks ago, and has currently raised just over $250,000.
Running on Ethereum, DeeLance's platform enables freelancers to find work with businesses, and vice versa.
However, DeeLance also offers a number of innovative features that set it apart from previous freelancing platforms, including the ability to use NFTs to claim and transfer ownership over units and packages of work.
DeeLance will also enable businesses and freelancers to establish virtual locations within its own metaverse, providing both the opportunity to enhance and deepen the experience of working remotely.
Such novel concepts have enabled DeeLance's presale to take off in recent weeks, with one DLANCE token currently costing $0.025.
This will rise to $0.029 in the next stage of the sale, which is due to begin in five days.
Investors, therefore, have only a limited amount of time to buy one of the most exciting new tokens of the year at a discounted price, before it lists on exchanges and potentially goes big.
---