Dogecoin Price Continues to Sink – Investors look towards a Rising Star
Disclaimer: The text below is an advertorial article that is not part of Cryptonews.com editorial content.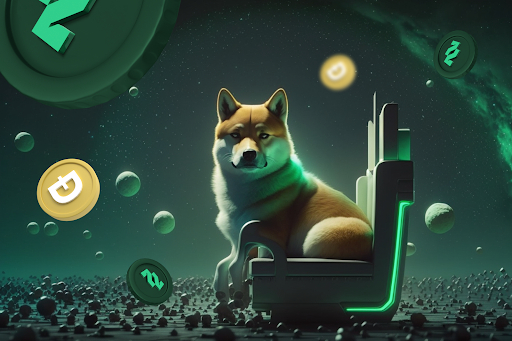 The recent drop in Dogecoin's price has left investors searching for more promising investment opportunities. One such option is the Tradecurve ($TCRV) presale, which has garnered significant attention from investors. Within days of its launch, the presale has already sold over 28,000,000 TCRV tokens, indicating strong demand for this promising project. With its innovative approach to trading and potential for growth, Tradecurve is emerging as a top choice for investors seeking better returns in the current market climate.
DOGE Struggles as Fear Overtakes Market
Dogecoin has been experiencing a rough patch in the market, with its value continuing to decline, leaving investors unsure about its future. Known for its reliance on Elon Musk's tweets and nods, the meme coin has been compared to SpaceX's new rocket that recently crashed. The DOGE Fear and Greed Index is currently at 38%, indicating that the market is overpowered by fear, which may lead to more slumps in the coming days.
As a result, investors are pulling away from DOGE and looking for more robust cryptocurrencies. While the broader market is expected to recover, it is uncertain whether DOGE will bounce back without stronger momentum within the meme coin community or external positive events, such as collaborations with big brands or a surge in BTC prices due to macroeconomic movements.
Investors look towards a Rising Star
As concerns over the stability of the United States banking sector continue to grow, investors are increasingly turning their attention to alternative investment opportunities such as cryptocurrencies. One such project that has been garnering significant interest and attention is Tradecurve ($TCRV), a promising and secure cryptocurrency platform that offers innovative features, a unique hybrid infrastructure model, and potential for growth.
One of the key selling points of Tradecurve is its focus on security and transparency for traders. The Tradecurve trading platform will enable users to trade cryptocurrencies, stocks and OTC derivatives all from one unified trading account. This is the world's first web3 hybrid trading platform and analysts have predicted the price of its presale token could rally 1,800% during the presale.
The initial presale price of TCRV tokens is set at $0.01 which is an excellent deal for early investors looking to get in at the ground floor. In addition, token holders will receive discounts on trading fees and can use their tokens to get discounts on subscription fees for signal and AI trading algorithms. Users can also stake their tokens and receive a passive income, with the funds used to provide liquidity to the exchange.
Tradecurve's unique approach to trading and its potential for growth make it a very attractive option for investors looking for profitable investment opportunities, especially in the face of banking turmoil. As more investors turn towards this rising star, it is expected to see a surge in demand and a bright future ahead.
Conclusion
As Dogecoin's price continues to decline, investors are on the lookout for more promising investment opportunities. One such emerging project that has caught the attention of investors is Tradecurve ($TCRV). With its unique approach to trading, innovative features, and potential for growth, Tradecurve has been gaining significant traction in the crypto market.
The project's presale, with a pricing of 1 TCRV = 0.01 USDT, has already sold over 28,000,000 TCRV tokens, indicating strong investor interest. As the banking sector faces instability and the broader market recovers, investors are turning their attention towards promising projects like Tradecurve in search of profitable investment opportunities.
For more information on the Tradecurve presale follow links below:
Buy presale: https://app.tradecurve.io/sign-up
Website: https://tradecurve.io/
---